Rajasthan is one of the most beautiful and colorful places to visit in India that attracts both domestic and foreign tourists every year to witness its vibrant culture. Rajasthan is home to massive forts, palaces and monuments, folk dance and music, exotic handicrafts, and traditional dresses. The vibrant culture and art of Rajasthan are lively and grandeur and mesmerizes everyone. The magic of Rajasthan lies in its sand dunes, vibrant folklore, magnificent architecture, and the history of its forts and palaces. Growing up in a Rajasthani family in Jaipur, I am familiar with everything here, be it strolling among the ruins of the massive fort, camping on sand dunes under the dazzling sky, or savoring Rajasthani cuisine. I have grown up listening to stories of our brave warriors from my grandparents since childhood e.g. Maharana Pratap, MeeraBai, Panna Dhai, Rani Padmini, etc. Wherever you go in Rajasthan, men in brightly colored turbans greet you with folded hands – a traditional greeting of "Namaste". When any tourist comes to Rajasthan, he/she feels like coming here again and again. The specialty of Rajasthan is that it keeps the tradition of Atithi Devo Bhava alive even today.
Today, I'm gonna share the culture and art of this beautiful state. I hope after knowing about the art and culture of Rajasthan, you would definitely like to visit here:
CUSTOM OF RAJASTHAN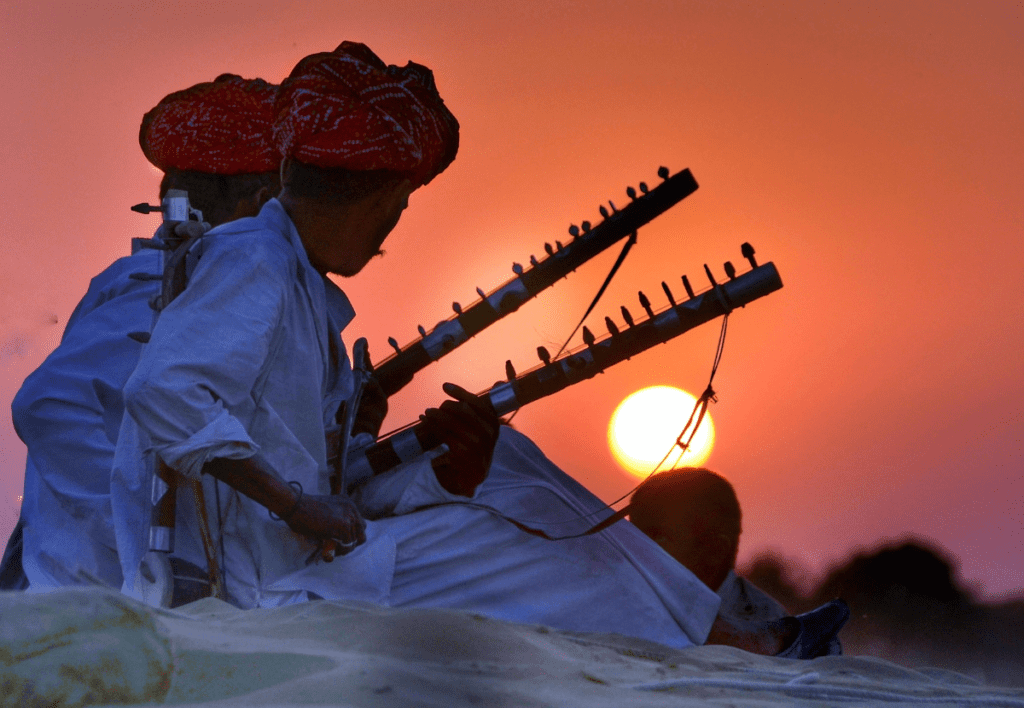 Here people believe in the concept of Atithi Devo Bhava, which means guests are like God that's why tourists coming here are welcomed by applying tilak on their foreheads and wearing a turban. You must have heard of the folk song Padharo Mhare Desh while coming to Rajasthan which literally means Welcome to my country. Rajasthan is famous for its tourism all over the world so most of the people are here engaged in tourism-related jobs and warmly welcome the guests by seriously following the principle of Atithi Devo Bhava.
RAJASTHANI FOLK DANCE AND MUSIC
As we are talking about Rajasthan, then it cannot happen if we do not talk about Ghoomar, one of the most famous dances of Rajasthan in which women dance in a circle on special occasions wearing traditional attire ghagra. I have also performed Ghoomar in cultural programs. Another famous dance of Rajasthan is Kalbelia, which is performed by the tribe of the same name. Women perform intricate steps and whirls by wearing a black swirling skirt that looks like a replica of a snake movement. Apart from that, Chari Dance, Teratali Dance, Kacchi Ghodi, and Bhavai Dance are included among famous folk dances.
Whenever you come to Rajasthan, you will hear the sound of Rajasthani folk music in every part. While visiting the palaces and forts in Rajasthan, you will see many folk artists playing traditional folk musical instruments including Sarangi, Morchang, Rawanhattha, Shehnai, Algoza, and Ektara. Manganiyar and Langa are the most prominent groups known for their unique style of music worldwide and can be seen performing in their traditional attire with a colorful turban. When these talented Rajasthani folk musicians sing folk songs while playing these folk instruments it seems as if a river is flowing without any hindrance and music lovers cannot help but be mesmerized.
RAJASTHANI CUISINE
Since Rajasthan is a desert region, preference is given to food that can last for several days and can be eaten without heating. Rajasthani people use dried spices and Ghee/Oil in Rajasthani cuisine to ensure and preserve its shelf life and to make it palatable. Whenever you come to Rajasthan, you are served food with great respect as people here believe in satisfying the appetite of their guests. Whenever guests come to us, we feed them hot Baati dipped in ghee with dal and hot Churma with ghee. These delicious delicacies you must try during your Rajasthan visit. 
The staple food of Rajasthan is:
Dal-Bati-Churma
Gatte ki Sabzi
Mawa Kachori
Pheeni-Ghevar
Pyaj kachori
Mirchi bada,
Ker Sangri
ARCHITECTURE OF RAJASTHAN
When you come to Rajasthan, you will get to see a mixture of both Mughal and Hindu architecture in the monuments here, which is really amazing. As there was a lot of Islamic influence here, you will get to see tombs (a unique feature) in the architecture of Forts and Chhatris. There is an incredible number of exquisite forts, palaces, and temples throughout the state which reflects its rich heritage culture including artistic and cultural traditions. You can see influences from both Hindu and Muslim cultures along with rose, peacock, parrot, and lotus patterns on the doors. The doors of the palaces of Bikaner, Jaipur, and Jodhpur are adorned with ivory. Redstone, Limestone, Sandstone, and Colored stone are used in forts and palaces. Such beautiful carvings have been done on these stones that onlookers get mesmerized.
RAJASTHANI HANDICRAFTS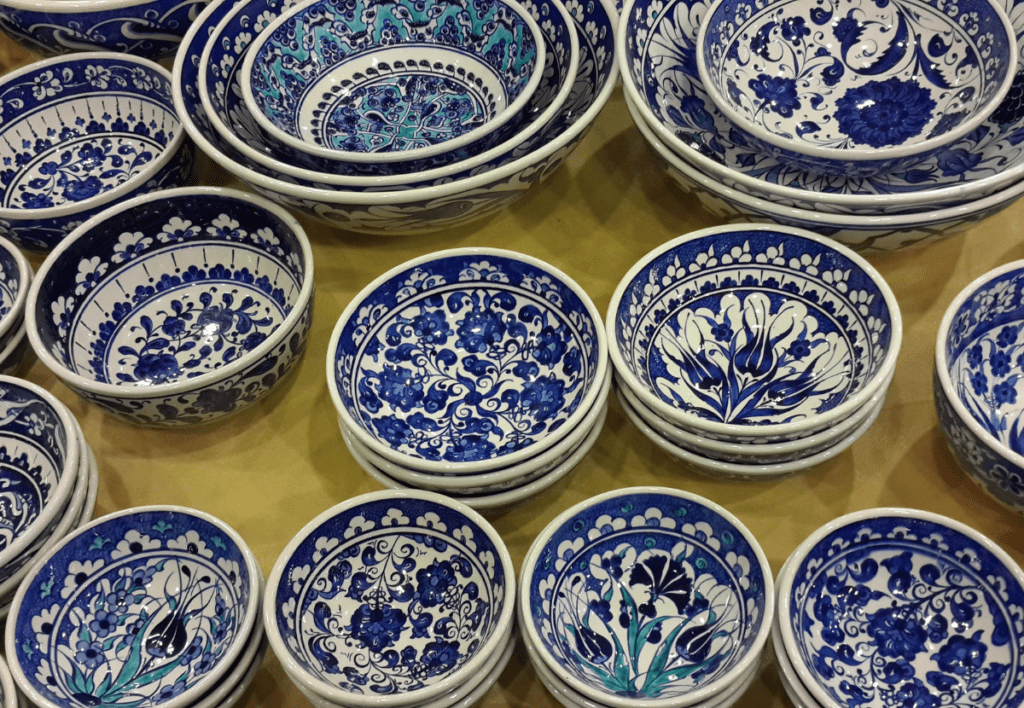 The exquisite handicrafts of Rajasthan are famous all over the world, so people come from far and wide to buy especially these handicraft items, and you can see rich culture in these souvenirs. Jaipur is home to the famous Blue Pottery handicraft products whose royal look attracts everyone. There is one special thing that distinguishes Blue Pottery from other traditional Pottery is that clay is not used and a special dough is prepared by mixing quartz powder, powdered glass, Multani Mitti (fuller's earth), borax, gum, and water to make vases and other wares. These beautiful products are made using blue color and decorated with motifs of animals and birds. With a plethora of handicrafts, Rajasthan offers jewelry, colorful fabrics, embroidered clothes, leather products, miniature painting, hand-woven carpets, Rajasthani textiles, tie-and-dye work, zari and mirror work, blue-pottery, metal thread embroidery, hand block prints, and puppets. If you like to collect antiques then Rajasthan won't disappoint you at all. The most unique thing about the famous exquisite embroidery of Rajasthan is that it is done entirely by hand hence machine is not used.
FESTIVALS OF RAJASTHAN
Rajasthani culture seems incomplete without talking about the colorful festivals of Rajasthan, which are celebrated in full swing every year and beautify the richness of art and culture of Rajasthan. Foreign tourists take great interest in these festivals to enjoy the real and traditional Rajasthani lifestyle and culture. People from all over the world come to witness the grand Teej celebration in which the palanquin of the Goddess is taken across the city in a grand procession accompanied by decorated camels, elephants, and horses. Pushkar Camel Fair is all about buying and selling camels, cows, sheep, and goats which is held every year in the month of November. Camels are the center of attraction at the fair because amazing sports are done by camels. Tourists from all over the world come here to experience this unique festival. You can also buy souvenirs from handicraft markets here. The Desert Festival is held in Jaisalmer to witness performing arts like Kalbeliya dance, Hot air balloon rides, folk songs and dance performances, puppet shows, etc, which lasts for 3 days. One of the major attractions here is the competition for the longest mustache among men.
RAJASTHANI DRESSES AND JEWELRY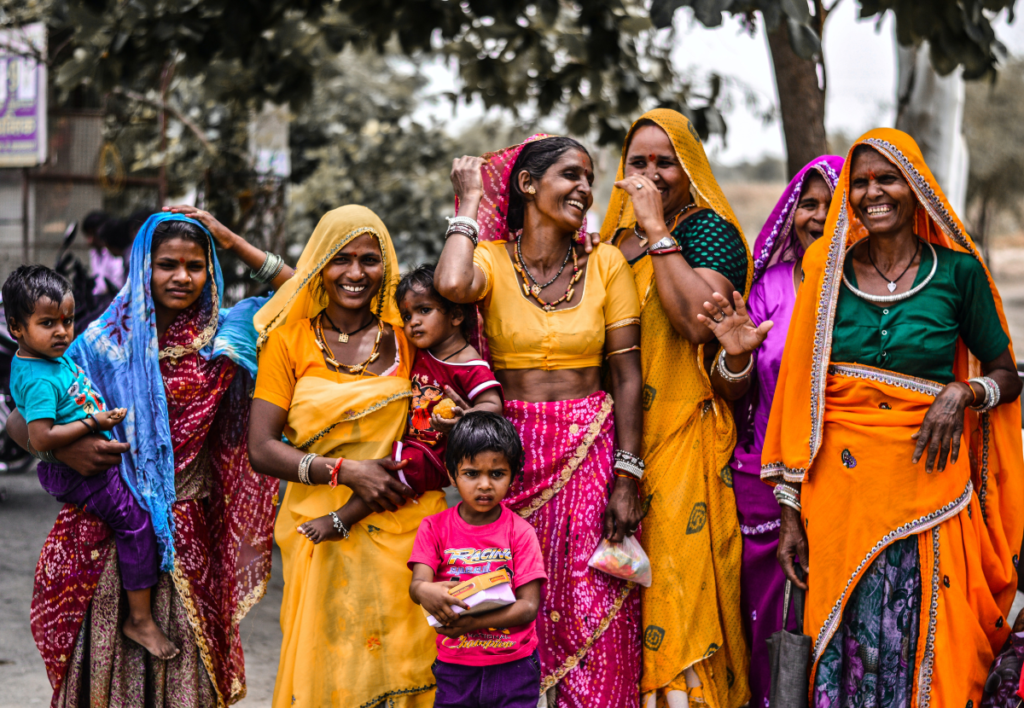 Rajasthani attire is the traditional colorful ghaghra-choli for women while angrakha and dhoti for men. Women cover their heads with odhani as a veil and men cover their heads with a turban which is an integral part of their dress. Lehriya, Bandhej, and Chunari are some of the well-known prints in dupattas, sarees, odhani, and ghagra. One can buy traditional attires from Jaipur, Udaipur, and Jodhpur as you will get a wide range of variety here.
Rajasthani jutties worn by both women and men are decorated with beautiful embroidery. Apart from that, women are fond of Rajasthani jewelry such as Kundan-Minakari, gold, and silver jewelry, bangles made up of lac. The ivory bangles found in Rajasthan are considered extremely auspicious by the women of the Rajput community which they wear during and after the wedding.
COLOUR-CODED ROYAL CITIES OF RAJASTHAN
As we know Rajasthan is known for its forts and monuments but there is one thing that set apart it from others which is the color-coordination of cities which is really spectacular like Jaipur- Pink City, Jodhpur- Blue City, Udaipur- White City, and Jaisalmer- Golden City.
Pink City: As soon as you step into old Jaipur you see buildings, houses, and monuments that are painted pink. City Palace, Hawa Mahal, and Amber Fort are painted in pretty terracotta Pink color.
Blue City: Why is Jodhpur called the Blue City? Because of the high temperature here, people paint their houses blue to keep the inside cool. The city is full of blue-colored houses, which seem like the sea.
White City: Udaipur will grab your attention as it is home to beautiful lakes. The pristine white buildings here are mesmerizing when reflected beautifully on the surfaces of the lakes.
Golden City: As soon as you step into Jaisalmer, you will feel that you have come to such a place that wherever your eyes look, everything is golden. Jaisalmer is home to forts to monuments and Jain temples to sand dunes and all is golden in color.
FORTS AND PALACES OF RAJASTHAN
The Forts and Monuments of Rajasthan in themselves contain its glorious history. You can see souvenirs of that golden era in these forts and monuments. Amber Fort, Nahargarh, City Palace, Kumbhalgarh Fort, Jaisalmer Fort, Chittorgarh Fort, etc are the most visited places by tourists. Whenever you come to Rajasthan don't forget to include these castles on your list.
TEMPLES OF RAJASTHAN
Apart from Forts and Palaces, Rajasthan is best known for its temples such as Karni Mata Temple, Tanot Mata Temple, Jain Temples, Brahma Temple, Meerabai Temple, Mehndipur Balaji Temple, etc. The most prominent Brahma Temple is Pushkar has the only temple in India dedicated to Lord Brahma. The specialty of Mehndipur Balaji Temple located in Dausa is that here people who are suffering from evil spirits get relief when visiting this temple. During the 1965 Indo-Pak war, the Tanot Mata Temple located in Jaisalmer remained safe as no bomb exploded even after being thrown at the temple. At that time bhajans were being performed when I stepped into Meerabai Temple located in Merta City and I felt devotion.
RAJASTHANI ART AND PAINTINGS
The beauty of Rajasthan is also reflected in its paintings. The Shekhawati havelis here are the epitome of opulence in which you can see the Frescoes. The Frescoes depict Gods, Goddesses, and folk mythology in which ochre, red, white lead, lamp black, and Indian yellow are used. The art is mesmerizing and gives a hint of a bygone time. Rajasthan's most popular romantic tale of Dhola-Maru is also featured in havelis. Miniature painting is an old art form known for its intricate painting and rich colors. The painting was first evidenced in Buddhist texts and most of its development took place during the Mughal period. The paintings depict royal families and their portraits and important events and festivals. The canvas may be of paper, ivory panels, wooden planks, leather, marble, or cloth. Originating from the Kishangarh district of Rajasthan, Bani-Thani paintings especially depict the love story of Radha-Krishna. Folktales and festivals such as Diwali and Holi are depicted in this style. Phad paintings are a reflection of the rich and vibrant culture of India which showcases folklore and stories. It is a scroll painting made on thick hand-woven cloth. Phad paintings are starched and rubbed with moonstone to make the canvas smooth. Specific colors are used in this painting, like orange for the limbs, yellow for the ornaments, and red for the royal clothes. The eyes are painted at the end as the artist believes the eyes give life to the painting.
PUPPET SHOW OF RAJASTHAN
The puppet show in Rajasthan is one of the popular sources of entertainment which consists of many wooden dummy dolls dressed in bright and colorful dresses. These puppets are attached to strings which are used to move puppets. Folklores and stories are performed under this puppet show. Puppet show performed by expert puppeteers, who belong to a community named – Bhat.
Rajasthan is not just a state but the exotic past of India where you can trace the cultural heritage of the country. You can get to know the lifestyle of the old rulers through forts, palaces, and monuments. You can experience the Padharo Mhare Desh Culture through the warm hospitality of the local people whose faces are always full of smiles. Explore the vibrant culture and art of Rajasthan which is colorful, incredible, and full of enthusiasm. So what are you waiting for? Immerse yourself in a culture where history, tradition, festival, food, dance, and music all come together under one roof.
PIN IT FOR LATER