Now what to say about Ladakh! People are much crazy about this beautiful place, so it attracts many tourists every year. When we explored this place, we came to know why this place is called extraordinary. The experience of traveling to Ladakh is unforgettable which we had added to our to-do travel list. We took this trip in June, considered the best season to visit this beautiful place. In this article, I'll share my travel experience in Ladakh and the best 6 days itinerary in Ladakh.
The Best 6 Days Itinerary in Ladakh
Day 1: Arrival, Leh Palace, Shanti Stupa, Leh Market
Day 2: Sham Valley – ( Magnetic Hills – Patthar Sahib Gurudwara – Indus Zanskar Sangam – Alchi Monastery ) and Hall of Fame
Day 3: Leh to Pangong Tso via Changla Pass
Day 4: Pangong Tso – Shey Palace – Thiksey Monastery – Sindhu Ghat – Druk Padma Karpo School – Leh
Day 5: Leh to Nubra Valley via Khardung La Pass
Day 6: Nubra Valley – Leh and Departure
Detailed Itinerary of the Best 6 Days
Day 1: Arrival, Leh Palace, Shanti Stupa, Leh Market
We reached 8 a.m. at Kushok Bakula Rimpoche Airport, Leh. When we stepped out of the airport, we were greeted by cold winds and winding roads. It took us 20 minutes to reach the hotel. After having breakfast, we first headed to Leh Palace, which dates back to the 17th century and gives you a glimpse of the golden era of Leh.
Then we went to the Shanti stupa and pay our visit to Lord Buddha. I got amazed by seeing the idol of Lord Buddha. After that, we took out time to stroll in the Leh Market. We bought some souvenirs viz. Honey, Dryfruits, etc. I highly recommend do not buy expensive clothes from here because I cannot assure you of the authenticity of the brands. Relished on hot Coffee – my favorite beverage then we got back to our hotel.
Day 2: Sham Valley – ( Magnetic Hills, Patthar Sahib Gurudwara, Indus Zanskar Sangam, Alchi Monastery ) and Hall of Fame
The next day we planned to visit first Patthar Sahib Gurudwara and then headed to Magnetic Hills, it is said that these magnetic hills pulled the vehicles.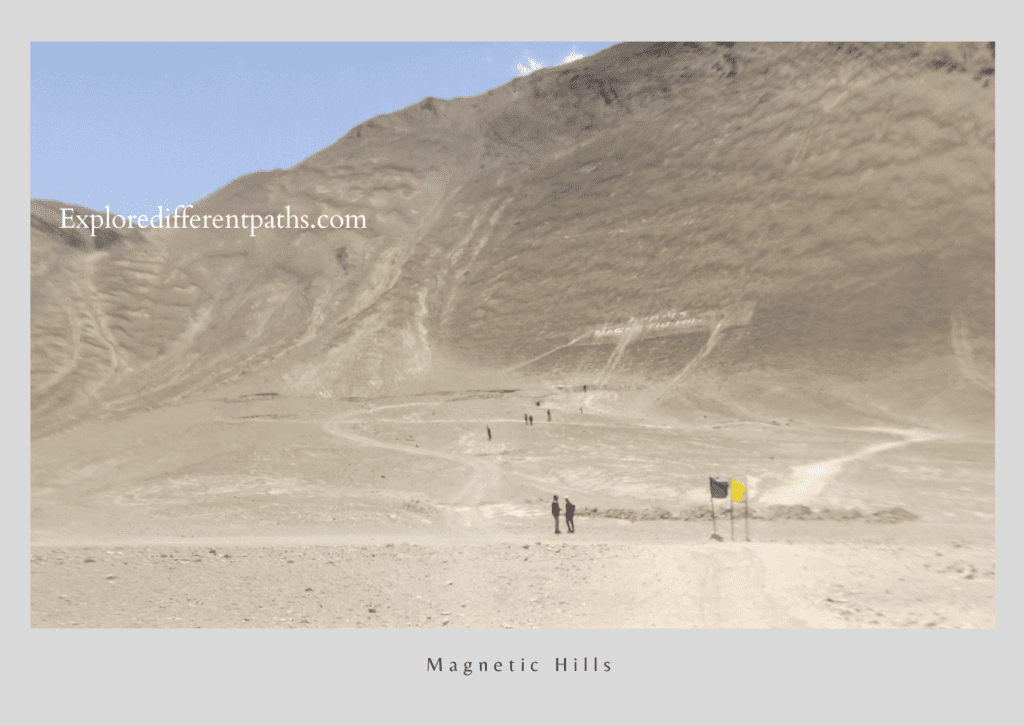 Indus Zanskar Sangam nestled amidst the majestic mountains of the cold desert offers you breathtaking views of the confluence of the Indus Zanskar rivers. You can enjoy river rafting here.
After spending quality time and clicking pictures of this vantage point, we visited Alchi monastery. You can satisfy your appetite with traditional Ladakhi cuisine at Alchi Kitchen, which is the most famous eateries in Ladakh. Hall of Fame is a museum constructed by Indian Army where you pay tribute to our brave Indian Soldiers.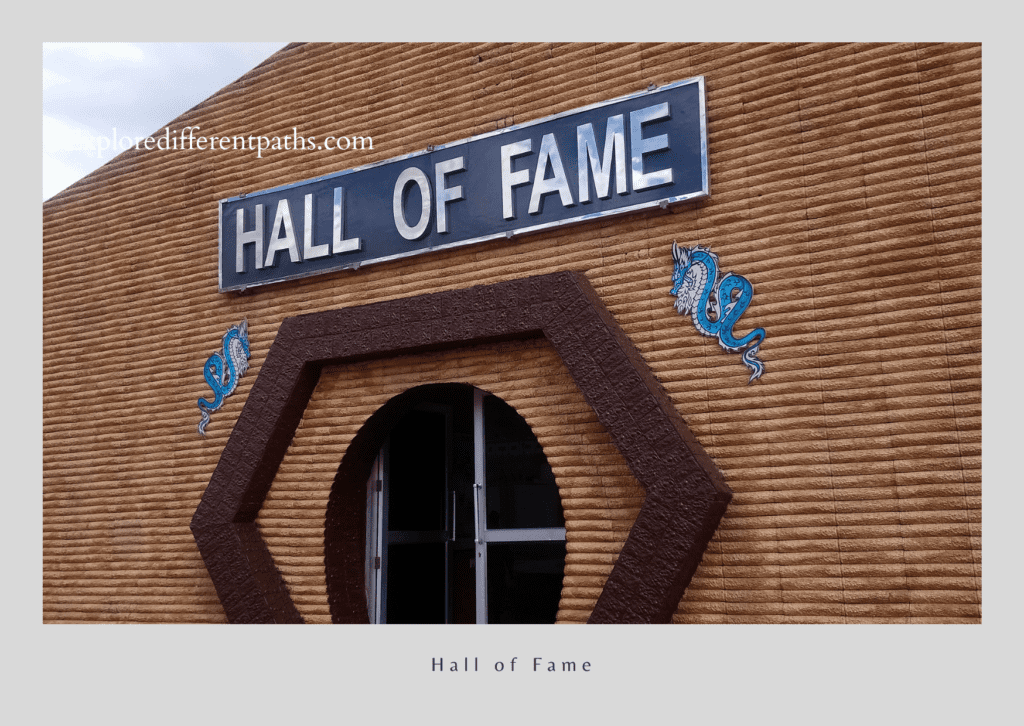 Day 3: Leh to Pangong Tso via Chang La Pass
The next day, we were ready to give a chill to our spine for our next itinerary – Pangong Tso. I've seen this beautiful lake in the "3 Idiots" movie. But at that time I'd never imagined in my dreams that I would ever see this amazing lake. We left the hotel around 7 a.m. for Pangong Tso and reached here around 1 p.m. On the way, we stopped at Chang La Pass for about 15 minutes and admired the beauty of this place. As soon as we entered we got a glimpse of the blue waters, this was Pangong, which is situated at an altitude of 14270 ft.
As the lake draw closer our faces became lit up with joy. Only 40% of this lake is in India and the rest is in China. We found much more than heard of this beautiful lake. We got mesmerized by its serene beauty and spend our quality time here admiring its beauty. Spent the night here and enjoyed the wonderful sunset view.
Day 4: Pangong Tso – Shey Palace – Thiksey Monastery – Sindhu Ghat – Druk Padma Karpo School – Leh
We visited Shey Palace, Thiksey Monastery, Sindhu Ghat, and Druk Padma Karpo School while returning from Pangong to Leh. Druk Padma Karpo School is famously known as Rancho's School. We relaxed at Sindhu Ghat and meanwhile, I didn't forget to have a Cuppa Coffee.
Day 5: Leh to Nubra Valley via Khardung La Pass
This day was reserved for Nubra Valley and to get to Nubra Valley we had to cross the highest motorable point in the world which is Khardungla Top (now it does not hold the highest ranking) and the major attraction of this trip. You can't stay here for too long you may get acute mountain sickness. There's only one cafe at the Khardungla pass where we had coffee to beat the cold.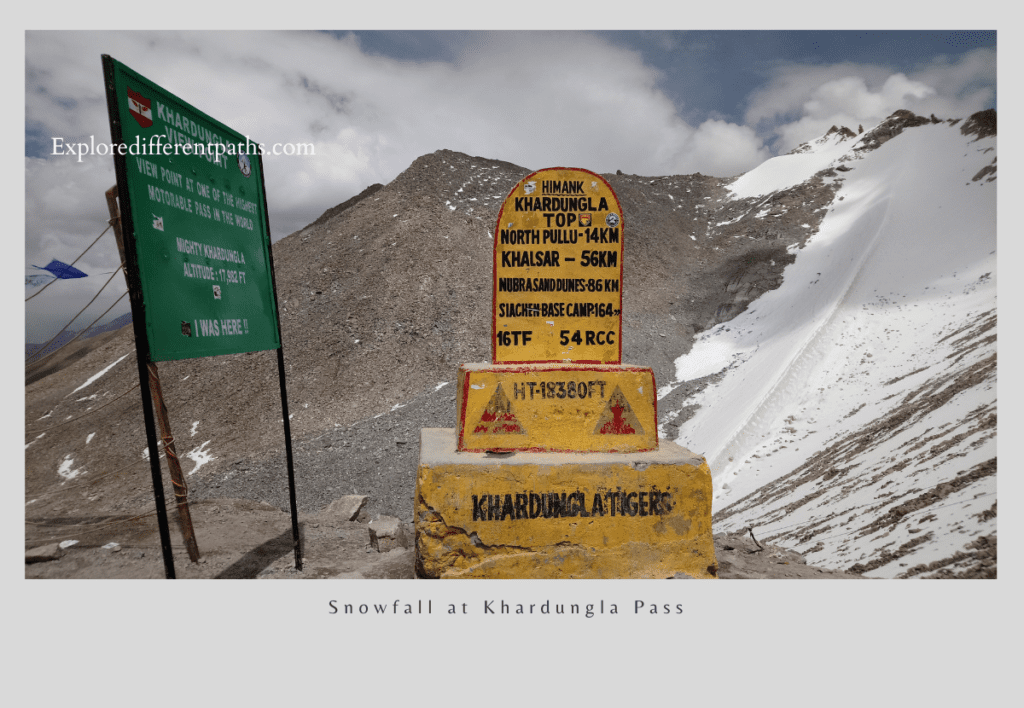 Just imagine! You are at an altitude of 18,380 and relishing coffee and noodles, amazing! Isn't it?
As soon as we reached the Nubra Valley, we saw a colossal 106 feet tall statue of Maitreya Buddha against the backdrop of rugged mountains which instantly dispelled all our tiredness. Travelers seeking to connect with their inner selves must visit this place. This Diskit Monastery, located in the city of Diskit, is the oldest and largest Buddhist Monastery, which is famous as the "Garden of Ladakh".
After we headed to Hunder which is famous for its stunning landscapes featuring white sand dunes and double-humped Bactrian camel safari.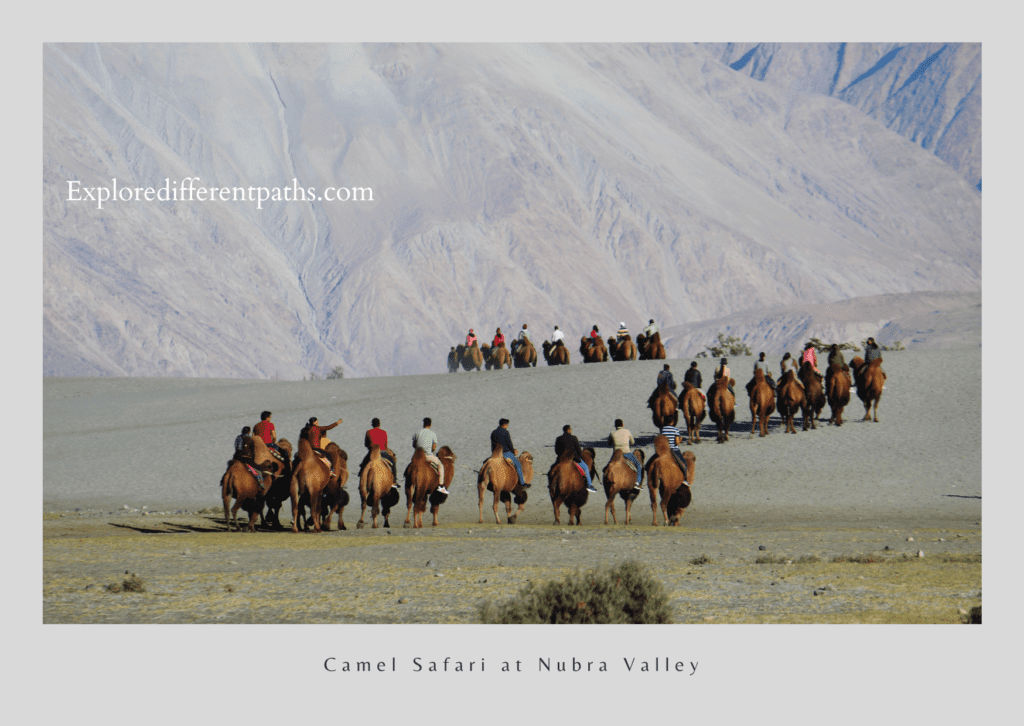 Day 6: Nubra Valley – Leh and Departure
Today we had to say goodbye to Ladakh and the flight was at 3 p.m. so we thought let's take a stroll at the market. At noon sharp we reached Ladakh and enjoy strolling on the market. Then as the flight time neared, we warmly bid goodbye to Ladakh and promised to come back once again.
How to Reach Ladakh
By Air: The easiest and best way to travel to Ladakh is by air. We took a flight from Delhi (Indira Gandhi International Airport) to Leh (Kushok Bakula Rimpochee Airport) which was at 5 in the morning. Leh is directly well-connected with many International airports also.
By Road: You can also reach Ladakh by road. There are two routes to reach Ladakh. One is via Srinagar – Jammu and Kashmir and the other is Manali – Himachal Pradesh. To reach Ladakh one has to cover a distance of 434 km from Srinagar and 494 km from Manali.
Best Time to Visit Ladakh
May to July: You can enjoy traveling to Ladakh during these months as the temperature at that time remains between 15 to 30 degree Celsius. Considered the best time to visit Ladakh as all the tourist places are open during this season, so you can plan your itinerary according to your choices. We took our trip in June and make the most out of this place this month. We enjoyed ourselves here a lot and didn't face any hurdles during our journey.
September to October: Also preferred by trekkers and can be enjoyable.
Where to Eat in Ladakh – Best Eateries in Ladakh
Although our all meal was included in our hotels and camps, still we tried local and best restaurants so that we could know more about the local cuisine of Ladakh.
Alchi Kitchen: Offers delicious Ladakhi food which is located at Alchi Monastery Road. We tried Khambir – a fermented Ladakhi bread with salted butter tea.
Bon Appetit: Immerse in the best views of Ladakh while having your meal then Bon Appetit offers you the same. Although the menu is short you can enjoy a hearty meal here. We ate Tingmo – a bun-shaped Tibetan-styled bread with vegetables and dal.
Where to Stay in Ladakh – Best Hotels to Stay in Ladakh
Ladakh offers a wide range of hotels, resorts, and summer camps according to your budget. All the Hotels and Camps we stayed at during our trip were amazing. The rooms were amazing and spacious and the food was also lip-smacking.
Accommodations where we stayed at:
The Kaal: Leh
Tyakshi Summer Camp: Nubra Valley
White Heaven Cottage: Pangong Tso
Shopping in Ladakh
We didn't do much shopping in Ladakh. Here we bought some dry fruits including apricot, blackberries, and cranberries as Ladakh is best known for them. Due to heavy tourism, you can see hikes in the prices of goodies so it is best to buy only those things which are at affordable prices. Don't indulge in much shopping here.
Some Points to be Noted
Temperature can vary in Ladakh so must pack thermals, jackets, and summer clothes. Shoes are helpful during the trip.
Dryness occurs extremely at high altitudes so 3 skincare essentials are a must e.g. sunscreen, lip balm, and moisturizer.
Do not forget to carry medicines with you in case of motion sickness. If you are having breathing problems, keep camphor to smell from time to time.
There are ATMs in Ladakh but when you are traveling to Pangong Tso, Nubra Valley, and Tso Moriri then it is advisable to keep cash with you as there are no ATMs in these places.
The permit system has been scrapped for domestic travelers since last year. So before going to Nubra Valley, Pangong Tso, and other places, you have to pay environmental fees, which is INR 400 one time, and the Ecology fee is INR 20 per day.
Get a postpaid BSNL mobile connection from any mobile shop in Ladakh as it is the only mobile connection that works in Ladakh.
You should always carry your Identity proof with you and make sure you have multiple copies of your identity proof.
If you're planning a road trip then it is advisable to carry extra fuel (petrol) as there are no petrol pumps in Pangong. And don't forget to top up petrol in Karu as there are no petrol pumps between Karu and Keylong
Things I loved the most in Ladakh
I liked those colorful flags which are always arranged in a specific order from left to right and contain five colors e.g. Blue, White, Red, Green, and Yellow.
I always used to get sick because of the high altitude and meandering roads but this time it didn't happen.
Here people greet each other by saying Jule-Jule. And I would like to say one thing, even though the mountains here are uninhibited but the people are benign here.
How to Plan Ladakh Travel Itinerary
If you want to make the most out of Ladakh then you should plan your itinerary for Ladakh well in advance as this place has a lot of sightseeing spots and are far away from each other.
It takes almost 5 to 6 hours to reach the famous sightseeing spot. So plan your itinerary according to it.
It has never been easier to plan an itinerary, take a cue from various sites and travel agencies then choose the best itinerary in Ladakh for ourselves. We spent a lot of time on research the routes from Leh to Nubra Valley and Pangong Tso so that we do not have to face any hurdles during our trip.
If you going to Ladakh by air then you should take some rest as soon as you reach Ladakh because you abruptly increase your altitude and you can get caught in AMS so it is advisable to take some rest the first day in Ladakh after you can go for sightseeing. We did the same.
You can either take the direct route from Nubra Valley to Pangong Tso via Shyok Village or Wari La. As these routes have become stable now. It takes 5-6 hours to reach Pangong Tso via Nubra Valley. We took the general route at that time which goes through Leh.
If you are going to Sumur and Panamik, which are parts of Nubra Valley, then it will take at least two more hours to reach Pangong Tso.
If you are interested in Turtuk Village, which is in Nubra Valley, then you can go for the same from Diskit or Hunder. Next day you can go to Pangong Lake.
If you have enough time then you can visit Tso Moriri Lake, which is around 240 km from Pangong. It takes 8-9 hours to reach Tso Moriri Lake and you can enjoy mesmerizing views along the route.
Always make your itinerary according to the place and the time takes to reach there so that you can travel comfortably.
If you are coming to Ladakh by road, you can start from Srinagar-Leh Highway and take the exit from Manali-Leh Highway. When we start from the Srinagar-Leh highway we do not face any hurdles as the altitude increases gradually and your body adapts to the altitude of Ladakh.
If you want to go to Pangong Tso first then you should stumble upon the general route as this route has only 1 or 2 river crossings. Pangong General Route: Leh – Karu – Sakti – Chang La – Durbuk – Tangste – Lukung – Pangong Tso (225 km)
Direct Routes Nubra Valley to Pangong Tso
Nowadays, people prefer to take the direct route from Nubra Valley to Pangong. There are two routes from Nubra Valley to Pangong: Pangong Tso via Shyok and Pangong via Wari La Pass. But you will have to face 5-6 river crossings on these routes, so make sure you leave a little early so that you don't face any hurdles on the way.
Nubra Valley – Diskit – Khalsar – Agham – Shyok – Tangtse – Pangong Tso (162 km)
Nubra Valley – Diskit – Khalsar – Agham – Wari La Pass – Sakti – Chang La – Durbuk – Tangtse – Pangong Tso (222km)
Ladakh Road Trip (Srinagar to Leh)
If you are planning a road trip to Ladakh then I would recommend you choose the Srinagar route rather than Manali as the altitude increases gradually so your body adapts to the high altitude easily. I'm sharing all the routes so you can choose according to your convenience.
From Delhi – Jammu/Patnitop – Srinagar – Sonamarg – Zozi La- Drass – Kargil – Lamayuru – Leh 
From Leh – Karu – Sarchu – Baralacha La – Keylong – Atal Tunnel – Manali – Delhi
OR
If you're planning to Tso Moriri then you should add 1-2 days more to your itinerary to enjoy your Ladakh road trip. I'm sharing the route coming from Tso Moriri.
Tso Moriri – Tso Kar – Debring – Morrie Plains – Sarchu – Baralacha La – Keylong – Atal Tunnel – Manali – Delhi