When I saw the Taj Mahal for the first time, I just kept staring at it. How wonderful, how charming, how beautiful! Really, that day I considered myself lucky as I had come to a place that is unique and amazing. The Taj Mahal is truly captivating.
The Taj Mahal is truly the epitome of love, which I considered when I visited it. Built by Mughal Emperor Shah Jahan in memory of his beloved wife Mumtaj Mahal, The Taj Mahal is situated at the banks of river Yamuna at Agra.
In childhood, I had heard a lot about it from my friends that it is enchanting, and once you come here, you will feel like going here again and again. There was always a desire in my mind to see the Taj Mahal at least once.
Then my wish was fulfilled and for the first time, I stepped into the Taj Mahal. It is the best example of Mughal architecture. The white marble structure designed intricately gives a picture of perfection of purity. Every day numerous people witness the beauty of the Taj Mahal.
In this post, I will provide a detailed Ultimate Taj Mahal Guide + places to visit in Agra in 2 days to every tourist who comes to visit the Taj Mahal, as there are many other wonderful places apart from the Taj Mahal. I will provide visiting tips and other details as well, so don't miss reading the full article:
How to reach Agra
Agra is well-connected through the major cities. You can reach Agra by flight, by train, by bus or by taxi. It is better to reach Agra around 9 a.m. Because, after visiting the Taj Mahal, you can enjoy other places in Agra or simply stroll at the nearby market.
We took a train from Jaipur to Agra at 7.05 a.m. and it took only three and a half hours to reach Agra.
Taj Mahal Timings
The Taj Mahal opens 30 minutes before sunrise and closes 30 minutes before sunset. It is important to note that the Taj Mahal is closed on Fridays, so before visiting the Taj Mahal, you should check the opening time and closing time on the official website of the Taj Mahal.
Taj Mahal Entry Fee
You can buy Taj Mahal tickets at the Western Gate, Southern Gate, and Eastern Gate. You can also buy the Taj Mahal online.
Entry fee for Foreign Tourists: INR 1100/-
Entry fee for Indians: INR 50 + INR 200/-
Entry fee for SAARC and BIMSTEC tourists: INR 510/-
There is no entry fee for children under 15 years of age for both domestic and international tourists.
If you want to visit the main mausoleum, then there is an extra charge of INR 200 for both Indians and Foreigners.
Best time to Visit the Taj Mahal
Undoubtedly, Sunrise is the best time to visit the Taj Mahal. You will be surprised to know that even early in the morning, there is a rush of people at the ticket counter. Similarly, sunset is also considered the perfect time to behold the Taj Mahal. You can come to Agra any time of the year to visit the Taj Mahal. But the best time to enjoy visiting this captivating place is from October to March, as this is the time when winter enters and the weather becomes pleasant. You can save yourself from the scorching heat and enjoy the perfect trip.
Getting Around Agra
If you've come to Agra by Flight or Train then you can hire a cab, tuk-tuk, or tam-tam to get around in Agra. Because the most captivating places in Agra are near the Taj Mahal. If you want to come to Agra by road then must book a taxi or you can come in your own car.
Useful Tips to Visit the Taj Mahal
There are three different entrances: The Eastern Gate, The Southern Gate, and The Western Gate. Choosing the eastern gate to enter the Taj Mahal, as it is less crowded than the western gate. The Eastern gate is popular among foreign tourists, the Western gate is quite popular among Indian tourists, and the southern gate is the least popular gate but attracts backpackers. But make sure the southern gate doesn't open until 8 a.m. If you planning to visit the Taj Mahal early morning then must choose only the previous two.
You should carry only must-have items in your backpack, such as a water bottle, wallet, important cards, and a camera. You can't bring tripods, drones, food, and drinks inside the Taj Mahal as security is tight here.
As you walk into the Taj Mahal's big gate, the enormous enchanting building welcomes you. Now you want to take a picture, but seeing the gathering of people, you have to wait for some time. So be patient, and wait for some time, you will get a perfect picture of this captivating site. Two hours is enough to stare at this amazing site.
When you notice the Taj Mahal closely, you will get to know how beautifully intricate designs and writing verses are carved out. Take a stroll along the Taj Mahal and marvel at its beauty.
World Heritage Week is celebrated every year in the month of November. So on November, 19, you will get a chance to free entry into the Taj Mahal.
I would suggest that if you are coming to the Taj Mahal then wear traditional dress like sarees, salwar suits, churidars, long skirts, and maxi dresses because there is a mosque inside the Taj Mahal complex. I saw many men and women from foreign countries who were dressed in traditional outfits. By seeing this, how much they are attached to our Indian culture.
Do not Buy souvenirs from the markets near the Taj Mahal as they tend to cost a lot.
Other Agra Sightseeing Places
By the way, there's not much interesting in Agra, so a 2-day tour is sufficient for you, in which you can see the Agra Fort, Mehtab Garden, Akbar's Tomb, and Fatehpur Sikri apart from the Taj Mahal.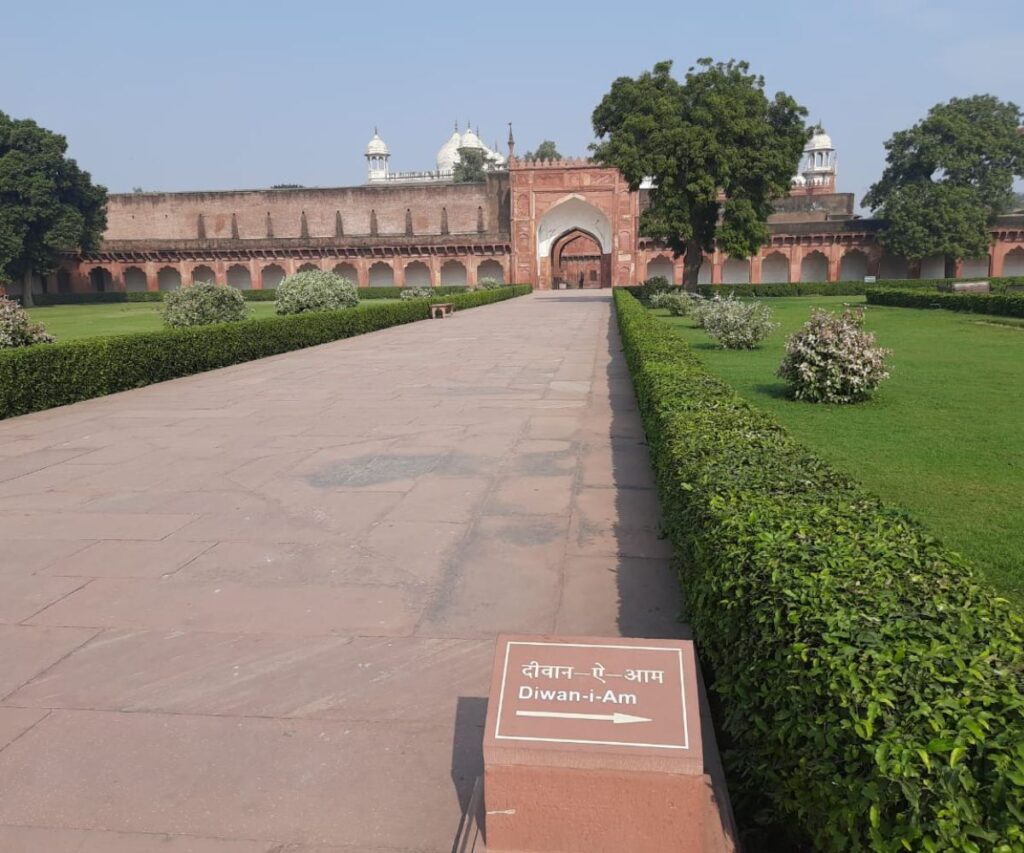 Agra Fort is worth visiting on a 2-day Agra trip. It is a famous tourist place where Shah Jahan was imprisoned for the rest of his life. It is also included among UNESCO World Heritage Sites. Built by Emperor Akbar in 1565, this fort is made up of red sandstone. It is just 15 minutes away from Taj Mahal. If you love to know about the history of Agra Fort then I would highly recommend hiring a guide.
Mehtab Bagh (Moonlight Garden)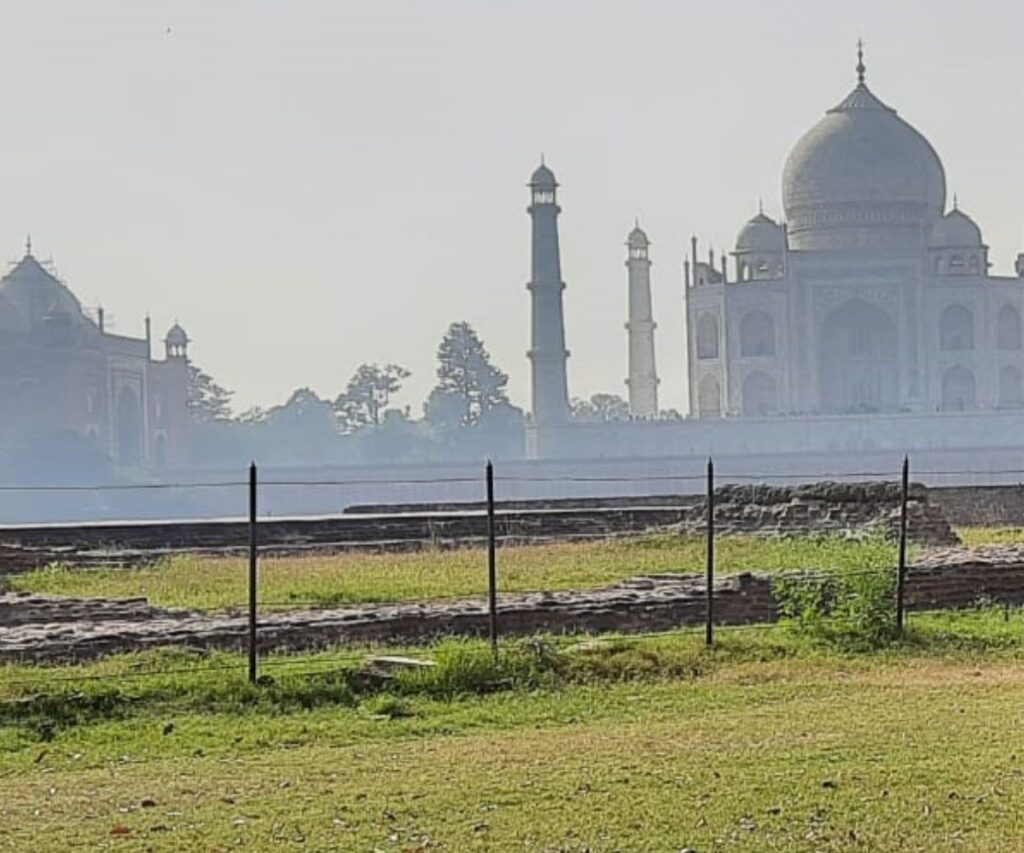 Want to take a glimpse of the Taj Mahal without any crowds? Then Mehtab Garden offers you the best picturesque views of this amazing site. Originally built by Mughal Emperor Babur, this garden is situated on the banks of the River Yamuna. A must-visit place in Agra in 2 days.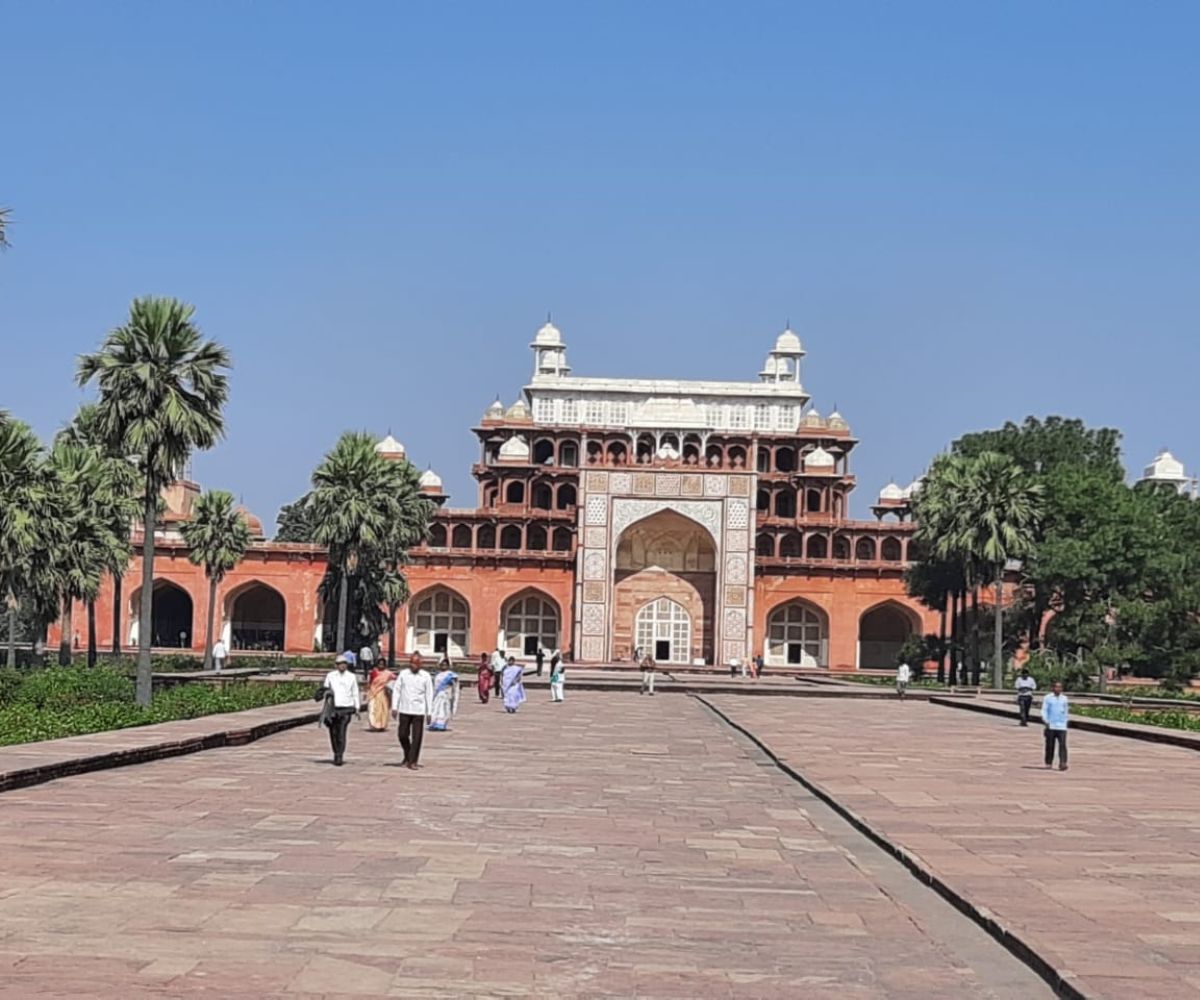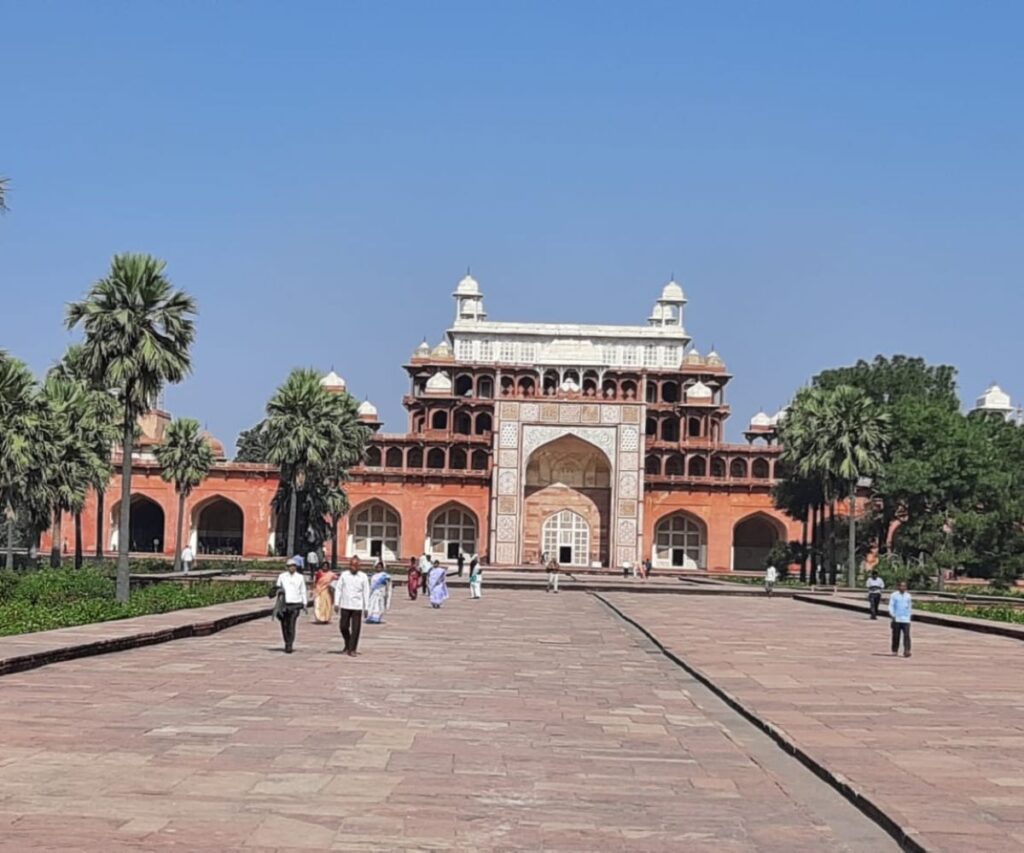 Akbar's Tomb is 13 km away from Agra Fort which is the resting place of Emperor Akbar. It was completed by Jahangir, son of Emperor Akbar, and its architecture is quite attractive and different from other Mughal monuments.
Fatehpur Sikri is 36 km away from Agra, so after visiting Mehtab Bagh and Akbar's Tomb, we headed to Fatehpur Sikri. You know what, Fatehpur Sikri was the first planned city built during the Mughal Period. We hired a taxi to get to Fatehpur Sikri. Fatehpur Sikri offers captivating views of Buland Darwaza, Diwan-e-Aam, Diwan-e-Khaas, Dargah, and much more, and it's really worth visiting.
If you want to see the Taj Mahal from a different point of view, then there is a boat ride on the Yamuna River. It's a little hidden secret, but easy to find. If you really want to live this captivating moment on a boat, then you have to go straight down to the shore from the eastern gate of the Taj Mahal. It looks even more amazing at sunset as the sky takes on a beautifully rosy glow and the Taj Mahal turns pink in color, which is sure to be a moment to remember for a long time.
Where to Stay in Agra
Agra offers various hotels, hostels, and resorts to stay at. I would highly recommend that you book your accommodation near the Taj Mahal Eastern Gate. The Taj Mahal was only 5 km from the hotel we booked, so we took Tam-Tam to reach there.
Where to Eat in Agra
There's no doubt that Agra is one of the most-visited places in India because of Taj Mahal. But there's no dearth of food outlets that offer lip-smacking cuisines from veg to non-veg. The street food of the city attracts a large number of tourists throughout the year. We too relished on gol-gappas here.
What to Buy in Agra
If you love to eat Agre ka Petha then there are numerous Petha shops where you can buy them for your family or friends.
If you are coming only to see the Taj Mahal, then one day is enough, but if you want to enjoy other places besides the Taj Mahal like me, then definitely make a two-day tour. If you live in Jaipur then can come here by train or taxi.
Did You Like this Ultimate Taj Mahal Guide and Tips + Places to Visit in Agra in 2 Days then please share your views in the comments below. I would love to hear from you. Also, contact me If you need any help in planning your trip to Agra.
Disclaimer: This post contains some affiliate links. That means if you purchase through these links then I will earn some commission, at no additional cost to you. And I can continue bringing you free travel tips and advice. If you found the content helpful and are kind enough to make purchases through my affiliates – A Big Thanks to You!
PIN IT FOR LATER