Holi is the festival of colors. As soon as the name of Holi comes, the first image of colors comes to mind, and why not because this festival is related to colors only. Talking about Holi, then why not celebrate Holi this time with friends and family at some other place? The best places to enjoy Holi celebrations in India depend on your area of interest and the kind of experience you want to have. The festival includes myriad activities ranging from age-old traditions, and unique customs to modern pasties with dance, music, and food. Due to these unique traditions, fun, and celebration, many places are explored by domestic travelers and foreign travelers to enjoy the celebration of Holi in India.
Significance of Holi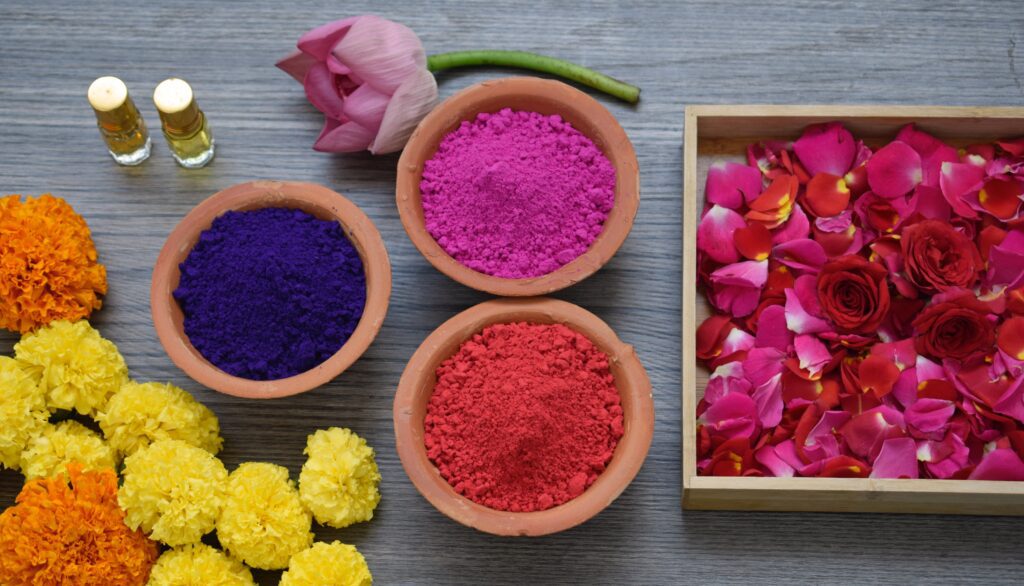 Before starting the article, I want to share a story of why celebrate the Holi festival in India. Once there was a Demon King named Hiranyakashyap who had a Son named Prahlad. Prahlad was a devotee of Lord Vishnu and he was always engrossed in his devotion. Hiranyakashyap didn't like this. He tortured him too many times but Prahlad didn't listen to him. Once Hiranyakashyap called his sister named Holika, who had the boon of being immune to fire. She then sat in the fire with Prahlad but she got burned and Prahlad was saved by the Lord. So this festival is celebrated to mark the victory of Good over Evil.
Top 15 Best Places to Enjoy the Holi Festival
If you want to celebrate Holi with great pomp and show then I've listed down the top 15 best places where you can enjoy the Holi festival with your friends and family. Let's get started:
1. MATHURA, UTTAR PRADESH
It is clear from the name Mathura, that it is the birthplace of Lord Krishna and here the festival of Holi is celebrated with great pomp and show. The holy place Mathura is the best place to enjoy Holi celebrations with your loved ones. Being a part of the Holi festival here is like stepping back in time to when Radha and Krishna used to play Holi together. The celebrations start here a week before the Holi festival. Dwareekadheesh Temple is abuzz with morning chants, prayers, and bhajans and decked up with flowers and purple gulaal. A procession takes place from the temples to the river ghats then to the Holy Gate and you experience a colorful and musical festival during Holi.
2. PHOOLON WALI HOLI, VRINDAVAN, UTTAR PRADESH
You must be familiar with Phoolon wali Holi in Vrindavan. If not, then the way of playing Holi here is completely different from other places because here Holi is played not only with colors but also flowers. Yes, you will get to see a similar scene in the Banke Bihari Temple of Vrindavan. Priests of temples throw flowers on devotees when they pay their visit to this temple. Another unique celebration that the Widow's Holi celebration in the Gopinath Temple where widows play Holi with gulaals and flowers. This celebration started a few years ago to break the societal norms of preventing widows from playing colors or wearing colorful clothes.
3. LATHMAR HOLI, BARSANA, UTTAR PRADESH
Barsana is a small village and here Lathmar Holi is popular worldwide. Every year numerous tourists visit this place to especially witness this playful Holi celebration. It is said that Lord Krishna and his friends were playfully beaten by Radha and her friends by sticks whenever they came to Barsana from Nandgaon. This special Holi celebration takes place a week before the main festival and you will experience the fun-filled event. In this event, men have to protect themselves with sticks under shields. Ladoo is distributed to devotees during Ladoo Holi at Shriji Temple. Bhajans and folk songs in the Brij language are sung by the people throughout the day.
4. HOLA MOHALLA, ANANDPUR SAHIB, PUNJAB
Here Holi famously known as Hola Mohalla is completely different from the Holi celebrated across the country in which the Nihang Sikhs display their valor and courage through martial arts from sword fighting to wrestling, and the main attraction is stunts performed under horse riding. It is said that Hola Mohalla was started by Guru Govind Singh in 1701 as a protest against the growing Mughal intolerance. Hola Mohalla is an incredible experience for those people who come to Punjab to enjoy the Holi celebration.
5. JAIPUR, RAJASTHAN
Jaipur Holi is one of the best places to celebrate Holi in India which turns this pink city into rainbow colors. People here celebrate this festival with great enthusiasm. During Holi, there is a devotional atmosphere at the Govind dev ji temple, where Marigold flowers are offered to the idols of Radha and Krishna. Bhajans and Rajasthani folk songs reverberate all around, giving a soulful effect to the atmosphere. Colorful programs are organized at different places which include traditional Rajasthani folk music and dance.
6. VASANT MAHOTSAV/DOL JATRA, SHANTINIKETAN, WEST BENGAL
Shantiniketan is an old university where Holi is known as Vasant Mahotsav. The festival was started by the famous Indian poet Rabindranath Tagore. A cultural program is organized in which students dress up in colorful attires and sing and dance to Tagore's songs. After that teacher and students smear each other gulaal. In some parts of West Bengal, Holi is celebrated as Dol Jatra where idols of Radha and Krishna are taken in procession through the streets. The festival welcomes the Spring Season in a beautiful way.
7. PUSHKAR, RAJASTHAN
Pushkar is a Holy Town in Rajasthan that is famous for its vibrant culture. Here people celebrate Holi with great enthusiasm. Holi celebrations begin with a traditional bonfire. People throw wooden logs and garlands into the fire so the flames rise higher and higher and people cheer each other. This moment adds a spark of joy to the environment. The next morning people play Holi drenched in colors, which shows the city like heaven.
8. PURULIA, WEST BENGAL
Purulia is a gem located in West Bengal and its serene environment makes it a must-visit place. The people here celebrate Basant Utsav three days before Holi in which people sing folk songs, and folk dance and display their unique folk art. Various forms of folk dance include Tejasvi Chau, Darbari Jhumar, and Natua. What makes Holi in Purulia even more special is the generous shower of Palash flowers which makes this festival unique as the Ayodhya Mountain is bathed in red color during the spring season. That's why it is also called the land of Palash. The entire hill is covered with beautiful red flowers presenting a wonderful sight to behold.
9. ROYAL HOLI IN UDAIPUR, RAJASTHAN
Holi is celebrated in a royal style in Udaipur. The Maharaja of Mewar welcomes dignitaries and foreign guests at the Manek Chowk of the City Palace on this day. Holika Dahan is done on a huge ground after which a procession is taken from Shambhu Niwas Palace to Manek Chowk, where elephants, camels, and horses are involved and a traditional folk dance Gair is presented by folk dancers. A sumptuous dinner follows this and amazing fireworks light up the night sky to make the festival more enjoyable. The festival of Holi has become a royal event in Udaipur.
10. HAMPI, KARNATAKA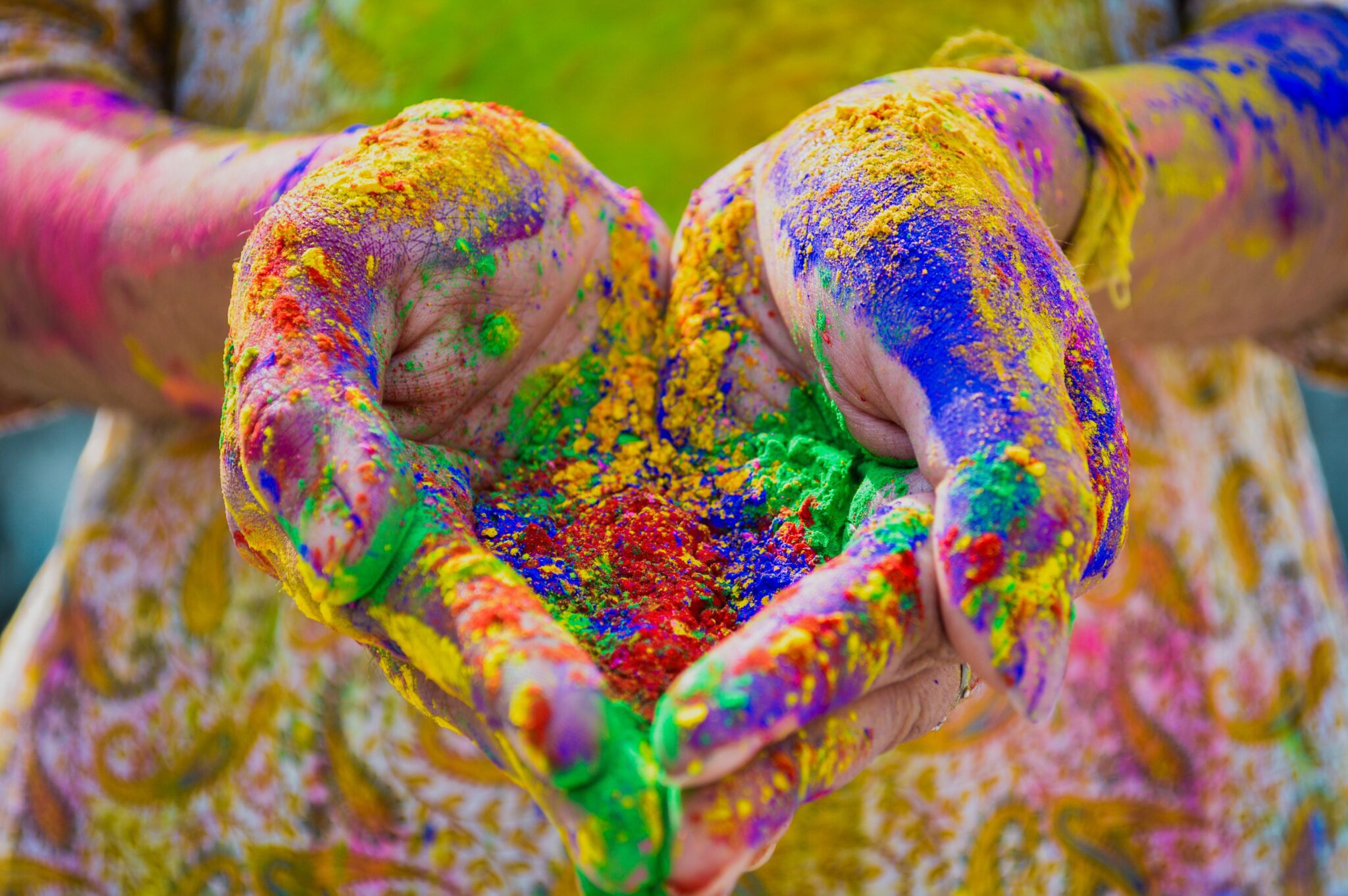 Although Holi is rare in South India, Holi celebrations in Hampi are a notable exception. The temples and other places here also resonate with the celebration of Holi as in North India. The festival begins with the Holika Dahan bonfire including songs and dances around it. The next day, people indulge in a delightful and colorful celebration. The best of Dhol reverberates everywhere which adds dynamism to the festive fervor. This festival is known by different names in the state of South India. Ukuli in Konkani, Manjal Kuli in Malayalam, Kamudha in Karnataka and Kaman Padigai in Tamil Nadu.
11. DELHI
If you want to get lost in the Holi of the metro city of Delhi, then welcome to the 'Mad Music' festival. Mad Music also known as Holy Cow, is one of the most popular festivals in Delhi. Holy Cow is where every music lover wants to enjoy spring festivities. Janmashtami Park, Jawaharlal Nehru Stadium, Mania Adventure, and Maharana Pratap ISBT are some of the places where Holi parties are organized. Then, what are you waiting for, experience the best place to celebrate Holi in India this year, right in the heart of the country.
12. MUMBAI, MAHARASHTRA
In Maharashtra, Holi is known as Rangpanchmi or Shimga and is celebrated in a grand manner. All the top resorts and clubs get ready to host this colorful festival. Every nook and corner of Mumbai gets lost in the celebration of Holi. People also enjoy Puranpoli, a traditional dish of Maharashtra. Groove to upbeat tunes, participate in rain dances, and chill out in luxurious hotels. Dancing, singing, and frolicking are a part of this celebration.
13. YAOSHANG, MANIPUR
The festival of colors begins on the full moon day of Poornima and is celebrated with great enthusiasm. Holi festival merges with Yashang and continues for 6 days. The festival starts with burning the grass and twigs, followed by a folk dance called Thabal Chongba. People wearing traditional yellow and white turbans play with gulaal amid bonfires and bright diyas. On the last day, people gather at Krishna temple where cultural programs are organized.
14. SHIGMOTSAV, GOA
Holi is called Shigmotsav in Goa and is celebrated for two weeks in the form of cultural programs, folk dances, and traditional music. You can celebrate the festival through modern Holi parties with DJs, dancing, cocktails, and colors, or visit famous temples for a traditional experience. You will enjoy a war of colors on the main beaches of Goa during Holi, where locals, as well as travelers alike, join in the festival.
15. AGRA, UTTAR PRADESH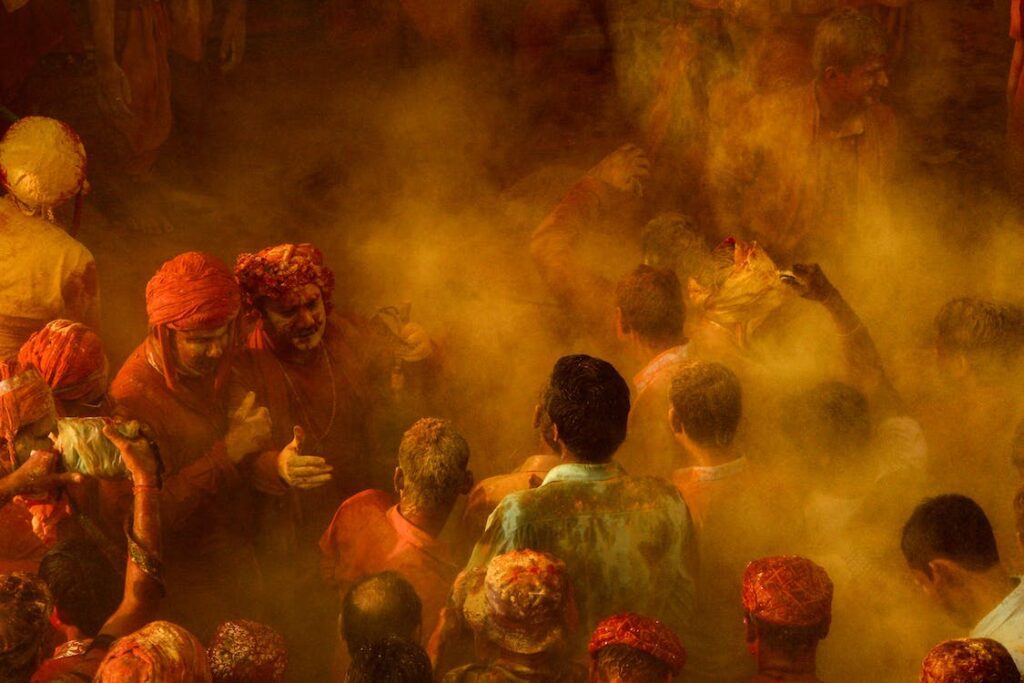 Holi festival is celebrated with great enthusiasm in Agra. The party seems to be in full swing when people drink a glass of Bhang and enjoy playing with colors. Partying, dancing, and relishing sweets are all part of the fun-filled Holi in Agra. Like many other places in India, the festivities begin with Holika Dahan in Agra to ward off spirits and bad omens. The next day people play with colors and wish each other a prosperous and colorful Holi. If you want to indulge in the enthusiasm of Holi then plan a trip with your family or friends and enjoy your holiday double with the Holi festival by choosing your favorite destination from the list given above.
What to Keep in Mind While Playing Holi
Dry Colors: If you want to really enjoy Holi then you should use dry colors instead of wet colors because wet colors can cause irritation and other skin problems, so always use dry colors as they are easy to clean.
Herbal Colors: Herbal colors are made up of natural things such as flowers, wheat flour, gram flour, turmeric, etc. You can also play Holi with flower petals to get a unique experience.
Use Hair Oil: Before indulging in the Holi celebration, make sure you must have oiled your hair because oil prevents color to stick in your hair and also save your scalp from the harm of colors.
Use lukewarm water to cleanse colors throughout your body.
Always wear dark-colored and full-sleeved clothes while playing Holi.
If you are a female solo traveler and want to enjoy the Holi festival then it is a must to avoid celebrations in Mathura, Vrindavan because intoxicated men can attack solo female travelers. It is good to travel with a group or on a guided Holi tour.
Before starting the trip, you should check all the details such as place, weather, convenience, accommodation, vehicle availability, food, etc.