Whenever I think about a perfect destination for a solo trip, one place always remains top of my travel list and that is Jaipur. With its rich culture and vibrant history, Jaipur has already made a special place in its tourist's hearts. Here one can find everything from colorful architecture to amazing destinations, delicious food to colorful attires, jewelry, and handicraft items. The Pink City of Rajasthan never fails to impress its tourists. Jaipur is always close to my heart as it is my birthplace and my upbringing is here. I've been to sort of all the places in Jaipur time-to-time through the lens of my eyes. Whenever I have been to any place I explored them solo. I would like to say my native place is perfect for a female solo trip. If you're a female traveler and want to explore Jaipur then you are most welcome in the Pink City. You can roam on your own in the streets of this place. Because people are here of gentle nature and they also help you when you needed.
Jaipur offers you a vibrant culture in which to immerse yourself and extravaganza sights to see. Here you will get to see a perfect combination of both traditional and modern culture. On the one hand, the colorful shops will mesmerize you while on the other hand, the forts and palaces will not let you take your eyes off. So without wasting time, let's check out some of the places in Jaipur that will make you amazed and your mind will explore.
Getting to Jaipur
Jaipur is well connected to major cities in India so there's no hassle to reach here. One can reach Jaipur by rail, road, and air.
By Rail: Jaipur Junction is the main railway station of Jaipur which has bagged the cleanest Railway Station award under Swachh Bharat Abhiyaan. You can reach Jaipur anywhere by train. If you take a train from Delhi then it takes 5 hours to reach Jaipur. Getting by train is considered the best and cheapest mode of transportation.
By Road: As Jaipur is well-connected by road so you can reach Jaipur by bus. You can reach Jaipur by Delhi through Volvo Bus in 5 hours or less.
By Air: Want to save time and use extra time to indulge in the city then flight is the best option for you. Jaipur International Airport operates flights to major cities like Delhi, Mumbai, Kolkata, and Chennai.
Best time to Visit Jaipur
On hearing the name Rajasthan, the Thar desert comes in front along with scorching heat. So what to do in such a situation? Which season should be chosen so that roaming in Jaipur can be enjoyed to the fullest?
October to March: Considered the best season as the weather becomes pleasant and cold and you can enjoy roaming the streets of Jaipur escaping from the extreme heat.
March to May: Scorching heat can disturb you so it is avoided to visit Jaipur during these months. But if you've planned your trip for this season then early morning and evening are the best to visit.
June to September: These months witness the monsoon season. If you want to enjoy rain then you're most welcome in Jaipur. As this is the off-season so you can get amazing deals on accommodation, air tickets, and other things. You can also enjoy the Teej festival during August and witness the grand procession along with relish on traditional sweets like Ghevar and Pheeni.
Must-Visit Places in Jaipur
Amber Fort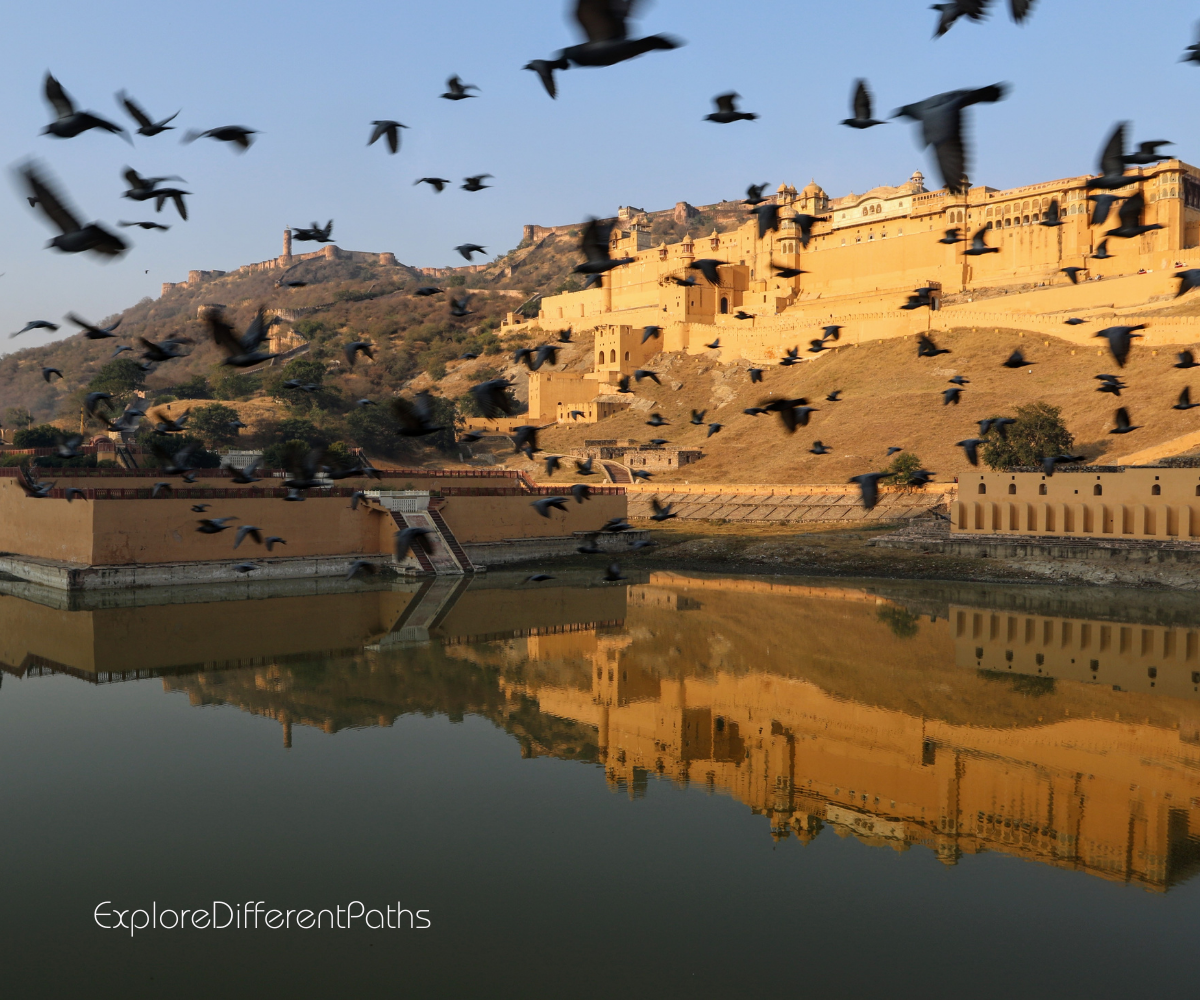 Amber Fort is situated on the Aravalli hill, about 10 km from Jaipur city center. An iconic fort of Rajasthan, Amber Fort is beautifully carved and a splendid example of architectural brilliance that exudes fairy-tale grandeur, stunningly reflected on the surface of the Maota Lake. I reached the entrance of this beautiful fort on my foot. After seeing this fort, I felt like I'm in heaven. I got there early because I didn't want to stuck in the crowd, so mornings are the best to behold this sight. Take a tuk-tuk or cab to reach this majestic fort and enjoy seeing its grandeur, attractive interiors, and breathtaking views of the surrounding landscape.
Location: Devisinghpura, Amer
Timings of Fort: 8 AM to 5:30 PM ( Day Visit ) and 6.30 PM to 9.15 PM (Night Visit)
Entry Fee: INR 100 for Indian Tourists, INR 500 for Foreign Tourists
Night Entry Fee: INR 100 for Both Indians and Foreigners
Hawa Mahal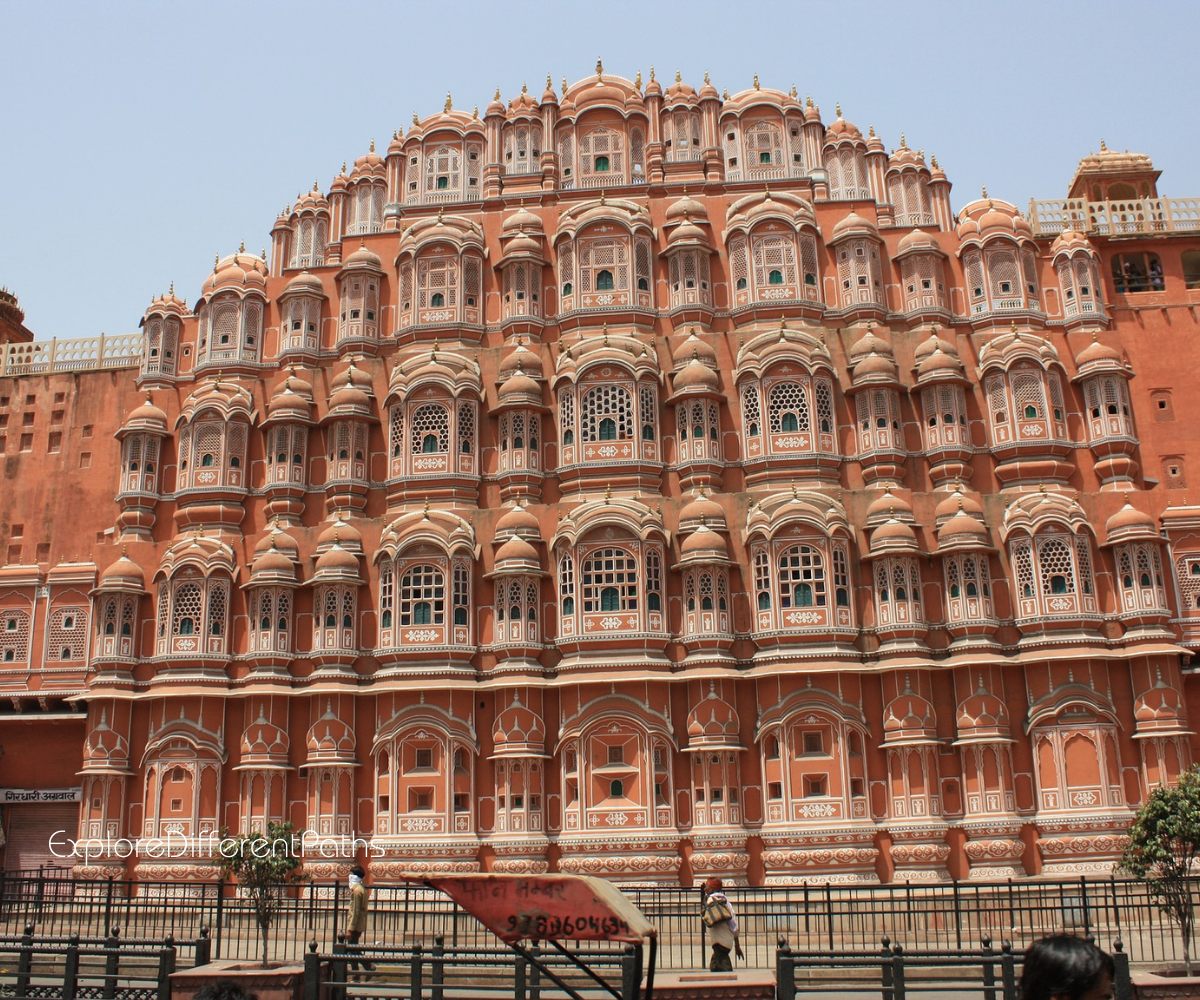 Also known as the Palace of Winds, Hawa Mahal is the crown jewel of Jaipur. Hawa Mahal was originally built for females to watch the processions and activities without being seen by the public. It has 953 semi-octagonal arched windows which are really incredible architecture. I've seen this amazing sight from outside many times while roaming in the city many times but I didn't get a chance to explore it inside, because people have said that this place is enough to admire from the outside. If you want to explore Hawa Mahal from the inside then you can. You can rent an audio guide to learn the history of this remarkable monument. I have seen the beauty of Hawa Mahal many times while enjoying my favorite beverage "Coffee" from a rooftop cafe named "Tattoo Cafe" across the road, which is difficult to describe.
Location: Badi Chaupad
Timings: 9 AM to 4.30 PM
Entry Fee: INR 50 for Indian Tourists, INR 200 for Foreign Tourists
Nahargarh Fort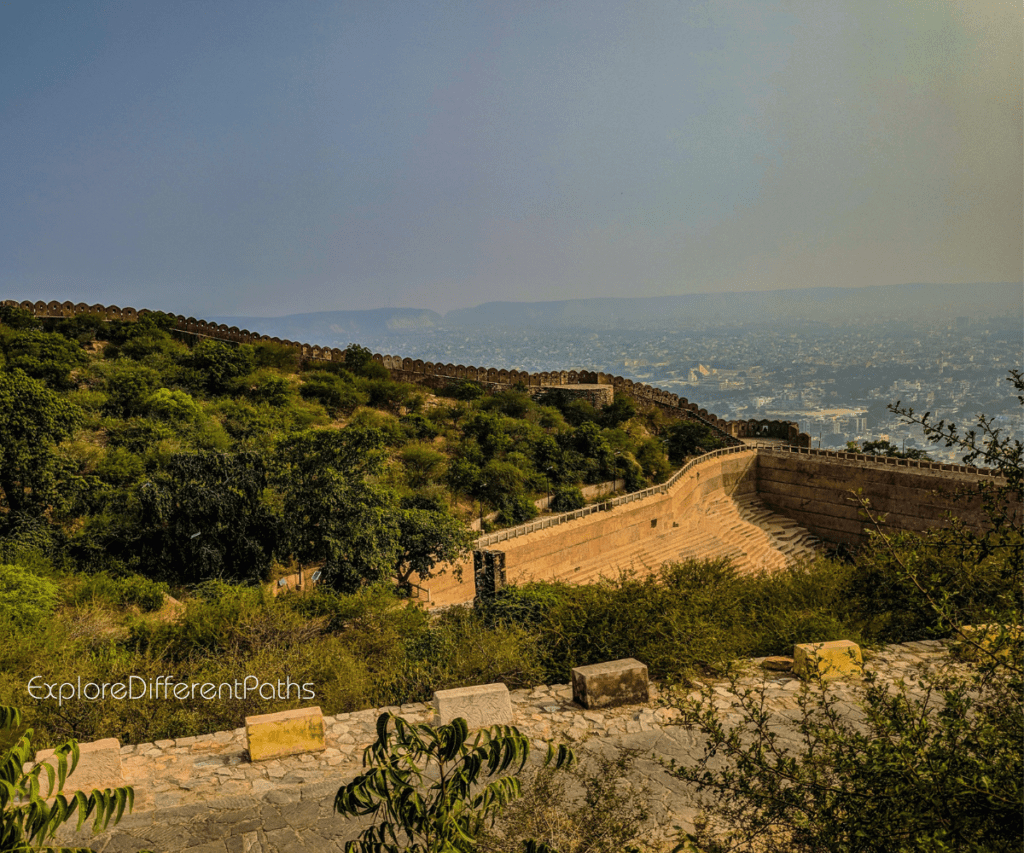 Nahargarh Fort is about 6 km away from Jaipur city. Maharaja Sawai Jai Singh II built Nahargarh in the 18th century. Nahargarh Fort is famous for impeccable views of Sunrise and Sunset and I enjoyed the latter. Nahargarh Fort served as a defense to save the Royal city and this fort never faced any attack. Since the fort is perched on hills and the paths are winding so it is best to go there by car. I booked a cab to go there with my friend. If you're going here alone then it is best to leave a bit early from Nahargarh Fort but if you wish to stay to watch the sunset then you must pre-book a cab/auto-rickshaw for your return so that you can make the most out of your trip.
Location: Brahmapuri
Timings: 10 AM to 6 PM
Entry Fee: INR 50 for Indians, INR 200 for Foreigners
Jantar Mantar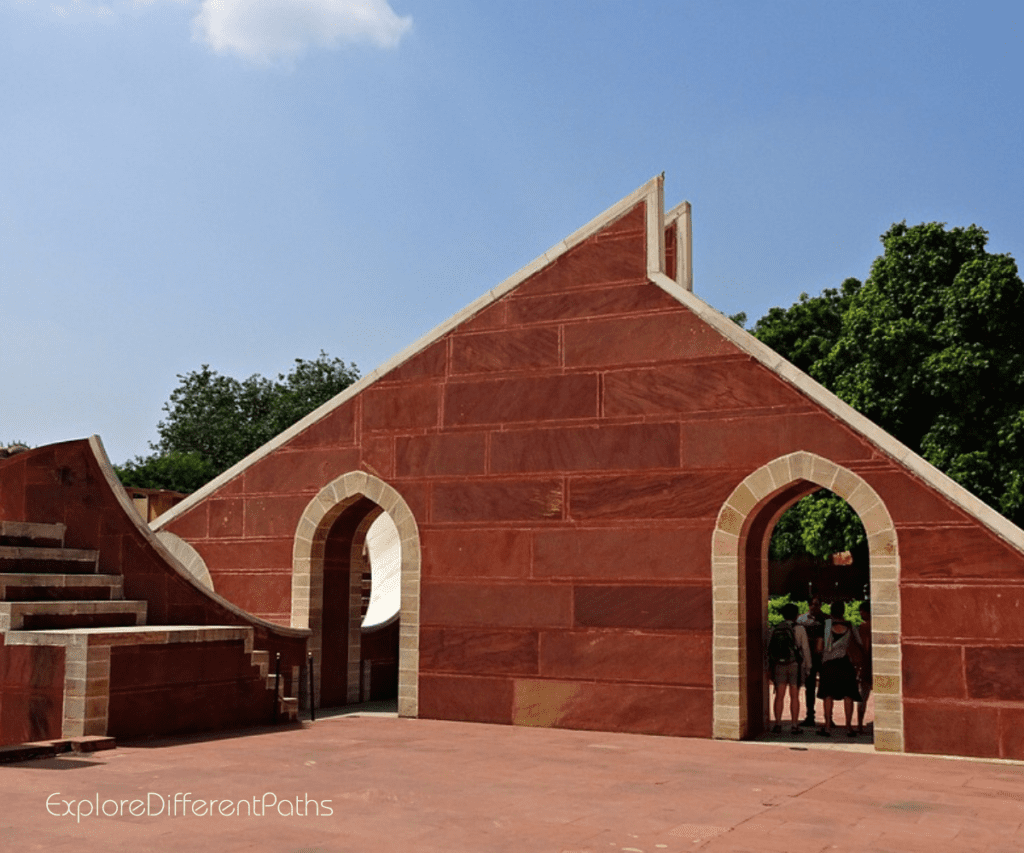 Jantar Mantar was built in 1734 to observe astronomical activities. It is UNESCO World Heritage Site. If you're interested to learn about the history of this sculpture then I would recommend you hire a guide.
Location: Gangori Bazaar
Timings: 9 AM to 4.30 PM
Entry Fee: INR 50 for Indians, INR 200 for Foreigners
City Palace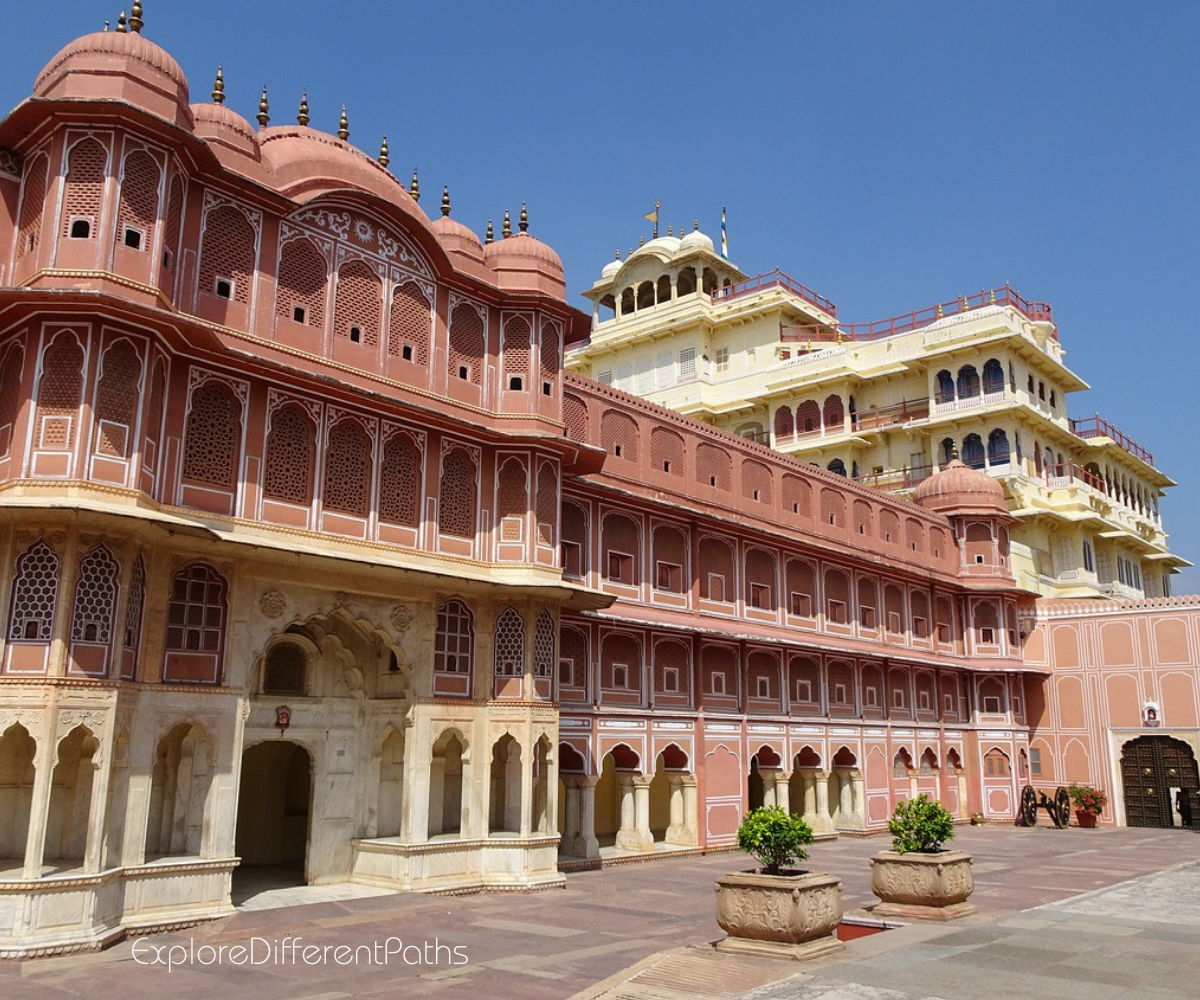 Positioned in Jaipur's walled city, City Palace was built by Maharaja Sawai Jai Singh in the 17th century and offers a perfect blend of Rajput and Mughal architecture. Here some of the rooms and floors are still used by the Royal family and are not open to the public. The city palace mesmerizes everyone through its dazzling beauty. You can take a guided tour here to know more about this palace. If you're coming to Jaipur then this palace is really a worth visit.
Location: Gangori Bazaar
Timings: 9.30 AM to 5 PM Day
Entry Fee: INR 200 for Indians, INR 700 for Foreigners
Hathni Kund
Want to soak in splendid views and relax in a fresh breeze then come to Hathni Kund, which is one of the most popular trek, and the best season to witness the beauty and greenery of this place is Monsoon. I didn't know about Hathni Kund before but one day while scrolling on Insta Reels, I got to know about Hathni Kund and my curiosity led me here. And when I came here I can't express in words how overwhelmed I was.
Location: Nahargarh Fort
Timings: Opens 24 hours
Entry Fee: Free
Panna Meena ka Kund ( The Stepwells )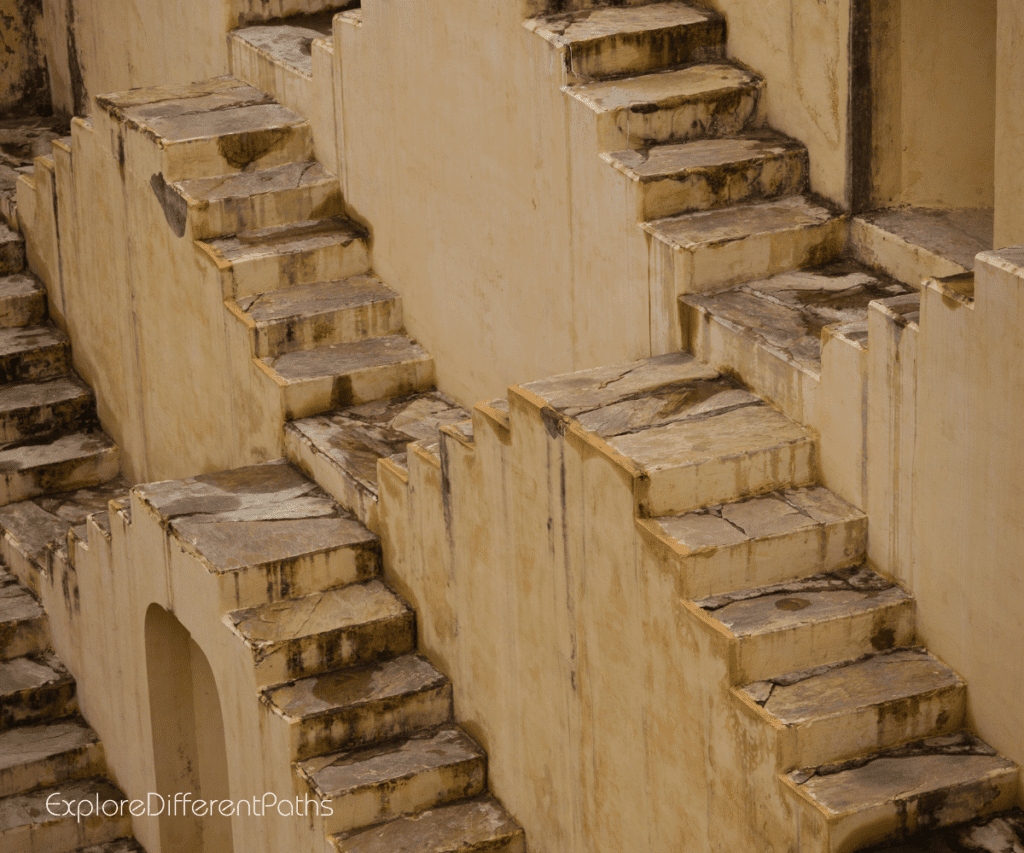 When I stepped into Panna Meena ka Kund, I was mesmerized to see its beauty. The Stepwells or Panna Meena ka Kund is a little hidden gem of Jaipur that witnesses several footfalls every year. When tourists explore Amer Fort then they do not forget to step into this beautiful stepwell. On one side of this Stepwell is an attractive Jaigarh Fort while on the other side the natural beauty of mountains. The stairs are in a criss-cross pattern, which attracts everyone, and is the main reason why people come here to explore this place and spend some quality time here. Entry is free here, but you have to pay some money if you want to walk down the stairs, I didn't walk down the stepwell stairs because I didn't want to pay extra money to guards.
Location: Amer
Timings: 6 AM to 7 PM
Entry Fee: Free
Jal Mahal
Standing amidst the center of Man Sagar Lake, Jal Mahal is one of the most spectacular places to visit in Jaipur. I have seen this beautiful palace many times but didn't get a chance to see it closely. Praise this beautiful spot every time while coming and going on the two-wheeler. But then one day I decided that I had to take a closer look at this beautiful place. Then I myself headed to this wonderful spot and spent my quality time there. Here you can find several photographers, who are ready to capture your instant photos with your loved ones in Rajasthani attire. You can also enjoy camel rides, and relish street food from various stalls.
Location: Amer
Timings: 6 AM to 6 PM
Entry Fee: Free
Galta Ji ( Monkey Temple )
Nestled among the rocky mountains to the east of the city, the Galta Ji temple is a sacred place for pilgrims. Because thousands of monkeys stay here that's why it is also known as Monkey Temple You know what, on the occasion of Makar Sankranti and Kartik Poornima thousands of pilgrims come here to take a holy dip every year. A featured attraction of this temple is the natural spring that flows through the temple and replenishes 7 kunds or water bodies. Monkeys are cute to look at but are notorious because if they see anyone carrying any sort of food item, they snatch it away. That's why I recommend avoiding feeding them.
Location: Khania-Balaji Town
Timings: 5 AM to 9 PM
Entry Fee: Free
Patrika Gate
If you're coming to Jaipur and searching for Instagrammable-spots in Jaipur, then I'm sure that Patrika Gate will definitely be top on your list. Patrika Gate is a gateway to Jawahar Circle Park, located at a distance of 30 minutes from the city center. It serves as a gateway to Jawahar Circle Garden. The grand design of Patrika Gate is truly awe-inspiring, and the vibrant and intricate pathways serve as a true reflection of Rajasthani culture. When I saw it for the first time, I was awestruck by the decor, it is really beautiful. Because of its amazing design and gorgeousness, this place has become one of the topmost photo spots not only in the city but in India also. Patrika Gate is quite famous for pre-wedding photo shoots.
Location: Jawahar Circle Garden
Timings: Open 24 hours
Entry Fee: Free
Other Places to Visit
Sisodiya Rani Ka Bagh
Want a slice of the Mughal Gardens in Pink City? Sisodiya Rani ka Bagh is the place for you, which is 10 km away from the city center located on the Jaipur-Agra highway. Maharaja Sawai Jai Singh built this captivating and impressive heritage garden as a gift of love for his wife. Peacocks often roam in the garden and do you know the shooting of the movie Lamhe was done here? This garden is famous for temples, murals, frescoes, viewpoints, paintings, and fountains.
Khole ke Hanuman Ji
Dedicated to Lord Hanuman, Khole ke hanuman ji temple offers picturesque views of lush green mountains and a serene environment. I have gone to this temple many times. The atmosphere here is amazing and many programs like Savamani and picnics are organized here. Dal-Bati Churma which is cooked in several kitchens inside the temple premises, is relishing and quite famous. You should not miss these offerings.
Gatore ki Chhatriyan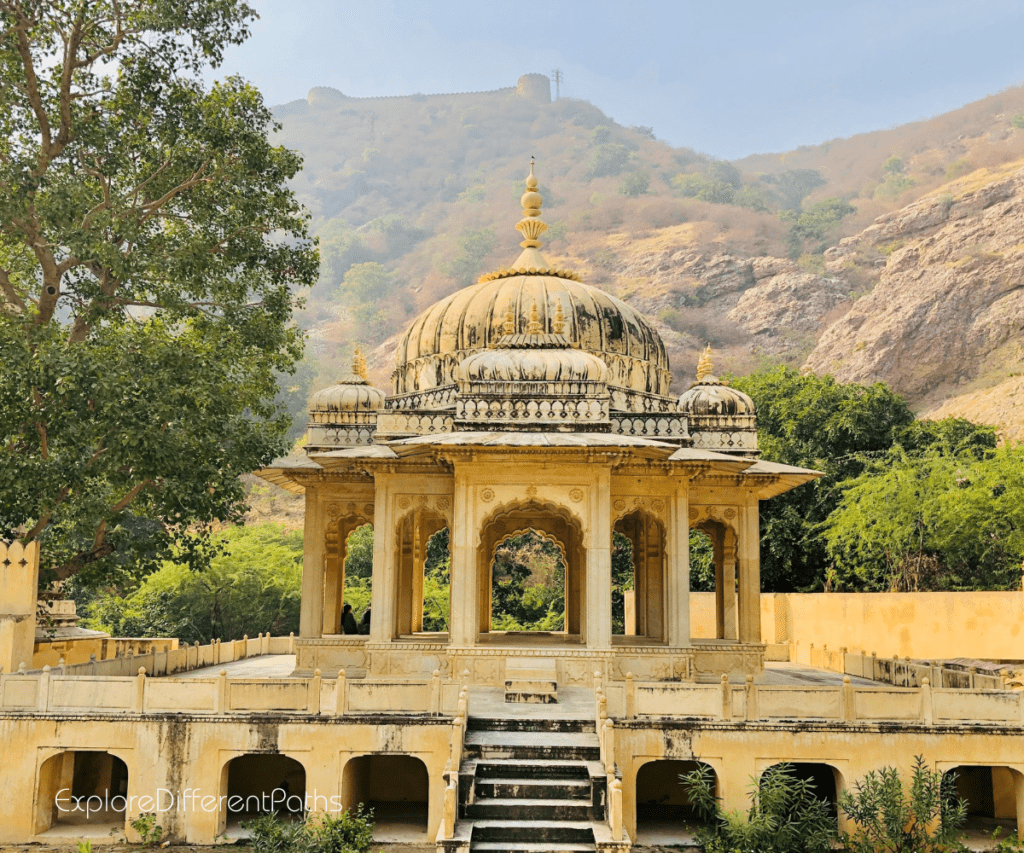 Gatore ki Chhatriyan is a collection of royal tombs. One of the Instagram-worthy places in Jaipur, this place offers a peaceful environment to click adorable pictures hence many tourists head here. The place is less crowded as compared to other tourist places and is ideal for peace seekers. An interesting fact about this beautiful place is that till a few years back, people used to gather here to light lamps to pay homage to their rulers. When dusk fell and twilight enveloped the beautiful surroundings, this place used to shine with numerous lamps. But with the passage of time, this recreational activity faded away.
Govind Dev Ji Temple
Want to immerse yourself in the devotion of Krishna and Radha then Govind Dev Ji temple is the perfect place for you. Whenever I visited this temple, I felt some kind of relaxation in my mind. You can take part in bhajans, which occur every day. You can visit Govind Den Ji temple throughout the year but the Janmashtami festival celebrates here with great pomp and show, so don't forget to miss this special occasion and immerse yourself in the devotion.
Find perfect guided tours in Jaipur on GetYourGuide.com
Where to Stay
Jaipur offers you a range of accommodations from affordable to luxury according to your choices. It all depends on your budget. Although I'm a resident of Jaipur, still, I will suggest to you some hotels where you can stay.
Best Affordable Hotels and Hostels:
Moustache Jaipur
Zostel Jaipur
Backpackers Villa
goSTOPS Jaipur
Atithi Guest House
Best Mid-Range Hotels:
Holiday Inn
Hotel Sarang Palace
Shahpura House
Umaid Bhawan – A Heritage Style Boutique Hotel
Hyatt Place Jaipur
Best Luxury Hotels:
Taj Rambagh Palace
Hotel Diggi Palace
Fairmont, Jaipur
The Oberoi Rajvilas
Trident, Jaipur
Find Hotels in Jaipur on Agoda.com
Where to Eat
If you have come to Jaipur and haven't tried sumptuous street food, why come to Jaipur? Jaipur offers a wide range of food options from street food outlets to high-end restaurants and cafes to its tourists and everyone is better than the other. There I would like to share one more thing that we Jaipurities always swear by to come to statue circle at night to grab some ice cream, hot coffee, and cold coffee to satisfy our appetite. Some eateries that you would love to grab tasty food:
Chokhi Dhani
Fort Restaurant
Masala Chowk
Ravat Mishthan Bhandar
Tattoo Cafe
Tapri- The Tea House
Sardarji Lassi Sharbat
Saras Parlour
Durga Daas Chaat Bhandar
Vibrant Shopping in Jaipur
Jaipur is a must-visit shopping destination. When you roam around the colorful markets of Jaipur then you won't be able to stop yourself from shopping in vibrant markets. There are some remarkable markets in Jaipur that will enrich your shopping experience manifold. Jaipur is the one-stop destination for all items including colorful traditional attires, traditional exquisite jewelry and funky jewelry, Lac Bangles, Rajasthani jutties, Blue Pottery, handicraft items, and many more. Here I'm sharing the list of markets from where you can everything, let's check them out:
Bapu Bazaar
Johari Bazaar
Tripolia Bazaar
Lal Ji Saand Ka Raasta
Purohit Ji Ka Katla
Experiences to Have in Jaipur
Roam around the city and colorful markets and explore Pink City. Admire the architecture and don't forget to buy souvenirs from markets.
Spend a peaceful evening at Jal Mahal because Jal Mahal can be a pleasant moment for the eyes when it lights up in the evening.
Jaipur offers both street food options to well-organized dining experiences and you will definitely not be able to resist trying the famous, delicious, and lip-smacking delicacies of Jaipur.
If you want to enjoy seeing Amber Fort, Hawa Mahal, and Patrika Gate in the evening, you must visit them because they look stunning even at this time.
Want to have a different experience at Nahargarh then cycling through the fort is a perfect option for you. You will love cycling at Nahargarh and capture some beautiful moments.
Want to see Jaipur through a Bird's-eye-view then a hot air balloon ride will offer you an incredible experience of seeing Jaipur from the sky.
The Monuments of Jaipur are so attractive that without seeing them your trip to Jaipur will remain incomplete. If you don't want to regret then come to these monuments and get lost in the golden memories of the past.
If there is a hidden artist within you then Jawahar Kala Kendra is a perfect place for you. Admire the beautiful paintings, art, and craft here. You can also participate in the exhibitions and workshops here and can show your talent.
Getting Around in Jaipur
You have come to Jaipur but wondering which mode of transportation would be better to roam in Jaipur. So the cheapest and easiest way to get around in Jaipur is by Scooter if you know how to drive. The cost is around INR 500 for 24 hours. You must have a driving license and a government-issued identity card. But if you don't know driving then you can get around by Tuk-Tuk and tam-tam and the latter is cheaper and you can explore the old city by any one of these modes. Ola and Uber taxi apps are also convenient modes of transportation to get around the city. Local buses are also another easy option for getting around the city but it can be a little exhausting, as you have to wait for them. Jaipur Metro connects some major parts of the city as it is fast and affordable. You can reach one destination to another destination in less time.
Jaipur Walking Tour
If you want to delve deeper into Jaipur city and its inhabitants here, then the Jaipur culture walk will take you to a world where you can have incredible glimpses of Rajasthani culture. Wandering the streets of the old city is like reading a novel. The view of everything from the City Corridor is mesmerizing in itself. The old town is really worth visiting and that too on foot. You will get to know why this city has a pink aura, hence the name Pink City. Then what are you thinking, let's see Jaipur on foot.
Tourist Composite Tickets
If you're planning to visit Jaipur in 2 days then the Tourist composite ticket is suitable for you as it can save you a lot of money. It is applicable for 2 days and you can access 10 monuments in 2 days including Amber Palace, Hawa Mahal, Nahargarh Fort, etc. Composite Ticket Fee for Indians: INR 100, for Foreigners: INR 500
Jaipur as a Safe Destination for Female Solo Travelers
One of the most popular tourist destinations in India, Jaipur has become quite popular among friends, families, solo travelers, and couples over time. In the last few years, the trend of solo traveling has increased and there has been a significant increase in the number of female solo travelers. Why? Because they consider Jaipur a safe place and it has offered a wide range of tourist attractions and various things to do for enjoying a lot here. Whenever we come from one city to another, it is natural to have a little fear in our minds. But don't worry, you just need to adopt some safety measures, which are applicable to every traveler so that you don't need to face any hurdles.
Choose accommodations such as Moustache, and Zostel that are quite popular among female solo travelers and have good ratings.
Avoid going to those places after dusk that are out of the city. You can roam around the markets after having dinner.
After stepping out Railway station, or Bus station make sure you book your cab because you can get annoyed by tuk-tuk riders.
Most locals are here benign in nature, you can ask them for help with your doubts about bus routes or hotels, or tourist places.
It is best to come to Jaipur in daylight as you can get transportation easily compare to night.
Jaipur is the perfect destination for female solo travelers because it offers amazing places to see, experience, eat, and stay so what are you waiting for girl, come here and enjoy and make the most out of Jaipur.
Jaipur as a Budget-Friendly Destination for Female Solo Travelers
If we talk about budget-friendly destinations then Jaipur never turns you down. It is a place where you can eat, stay, and travel at affordable prices. You don't need to check your pockets while traveling to Jaipur. You can enjoy your 4-5 days trip in Jaipur for just INR 5000. Here you will find various budget-friendly hotels and hostels which are amazing to stay, I've listed some affordable accommodations above, you can check them out. If we talk about food then Jaipur has a wide range of tasty treats where you can relish delicious Rajasthani cuisines at affordable prices. Private taxis can burn a hole in your pockets then you can get around by Bike Cab, Tam-Tam, and Bus. To know the markets of Jaipur closely, you can explore them on foot.
Did You Enjoy This Jaipur Itinerary and Travel Guide?
Did you like this post? Please share your views in the comments below. I would love to hear from you. Also, contact me If you need any help in planning your trip to Jaipur.
PIN IT FOR LATER
Disclaimer: This post contains some affiliate links. That means if you purchase through these links then I will earn some commission, at no additional cost to you. And I can continue bringing you free travel tips and advice. If you found the content helpful and are kind enough to make purchases through my affiliates – A Big Thanks to You!