Who doesn't like to watch movies? We all love them. Movies make a big impact on everyone's life. The locations shown in these movies fascinate people. People are encouraged to travel to new destinations through their favorite movies. Cinematography and picturesque locations are a famous part of Indian Cinema. There are some destinations that have become quite popular among travelers only after appearing in movies such as Pangong Lake, Nahargarh's Stepwell, etc. The shooting areas of many Bollywood films have depicted the different cultures and locations of India and travelers have taken full advantage of it and explored those places. Today we will discuss some such destinations that have become people's favorites after seeing them in the films. And if you have not explored these places yet, no worries, you can plan your next trip by reading this article.
CHAPORA FORT, GOA
Do you remember anything after hearing the name? Yes, this is the same fort that was shown in "Dil Chahta Hai", movie. In this movie, three friends went on a road trip to Goa to enjoy their life and celebrate friendship. This fort has become iconic after being shown in the movie. You can hang out with your friends at this fort and can relive the scene of the movie with your friends. Apart from Dil Chahta Hai, the fort was seen in some other movies such as Rangeela, Dhoom, and Golmaal. This fort offers a serene environment away from the glitz and hue-n-cry of Goa. The views of sunrise and sunset are worth seeing. Apart from this fort, you can also enjoy nearby beaches such as Chapora Beach, Aguada Beach, etc.
Location: Bardez, Goa
Best time to Visit: November to February
You may also like: 14 Best Places to Visit in South Goa with Family
NUBRA VALLEY, LADAKH
I'm sure you haven't seen Shamshera Movie starring Ranbir Kapoor. And no, I'm not talking about the movie. I'm talking about the location shown in this film: Nubra Valley. Nubra Valley offers stunning views and can be your next destination to enjoy your holidays.
Location: Diskit Village
Best time to Visit: April to June and September to October
PANGONG TSO, LADAKH
Who can forget that iconic scene from "3 Idiots" when Pia riding a scooter to meet Rancho? Deserted hills all around and a blue water lake in the middle. How beautiful, isn't it? After seeing this movie, Pangong Lake has become a top-most destination among travelers. They reach here to capture the iconic lake and you can see scooter props at the lake. Enjoy a ride on the scooter props to relieve this scene with your friends.
Location: Leh
Best time to Visit: May to September
You may also like: The Best 6 Days Itinerary in Ladakh
AMER FORT, JAIPUR
Jaipur has always been an inspiration for many movies and shows. An iconic fort of Jaipur, Amber has been featured in various movies including Mughal-e-Azam, Bajirao Mastani, Jodha Akbar, etc. This Fort is beautifully carved and a splendid example of architectural brilliance that exudes fairy-tale grandeur, stunningly reflected on the surface of the Maota Lake. Take a tuk-tuk or cab to reach this majestic fort and enjoy seeing its grandeur, attractive interiors, and breathtaking views of the surrounding landscape.
Location: Amer
Best time to Visit: October to March
GULMARG, KASHMIR
Jab We Met, Rockstar, and Yeh Jawani Hai Diwani are some of the movies that beautifully capture the captivating Gulmarg. Kashmir and Bollywood have always had an old and precious relationship. The beauty of Gulmarg has been used in many ways in movies. This place is like a heaven for newlywed couples to spend quality time together. The grandeur of Gulmarg lies in its expanse of mountains, the changing tones of weather, and the abundance of colourful flowers. All of these make it an iconic destination for not only Bollywood but also travelers.
Location: Baramulla
Best time to Visit: March to June
AGRASEN KI BAOLI, DELHI
Agrasen ki Baoli is featured in many Bollywood movies including PK, Dabangg, etc. This Baoli was built by Maharaja Agrasen in the 16th century. It has 108 steps and is 60 meters long and 15 meters wide. Due to its captivating architecture, Agrasen ki Baoli attracts visitors from every nook and corner of the country. Although there are many haunted stories hidden beneath this Baoli, still many tourists visit here.
Location: Hailey Road, Connaught Place
Best time to Visit: Morning Hours
Find Budget Hotels and Guesthouses here
PANNA MEENA KA KUND, JAIPUR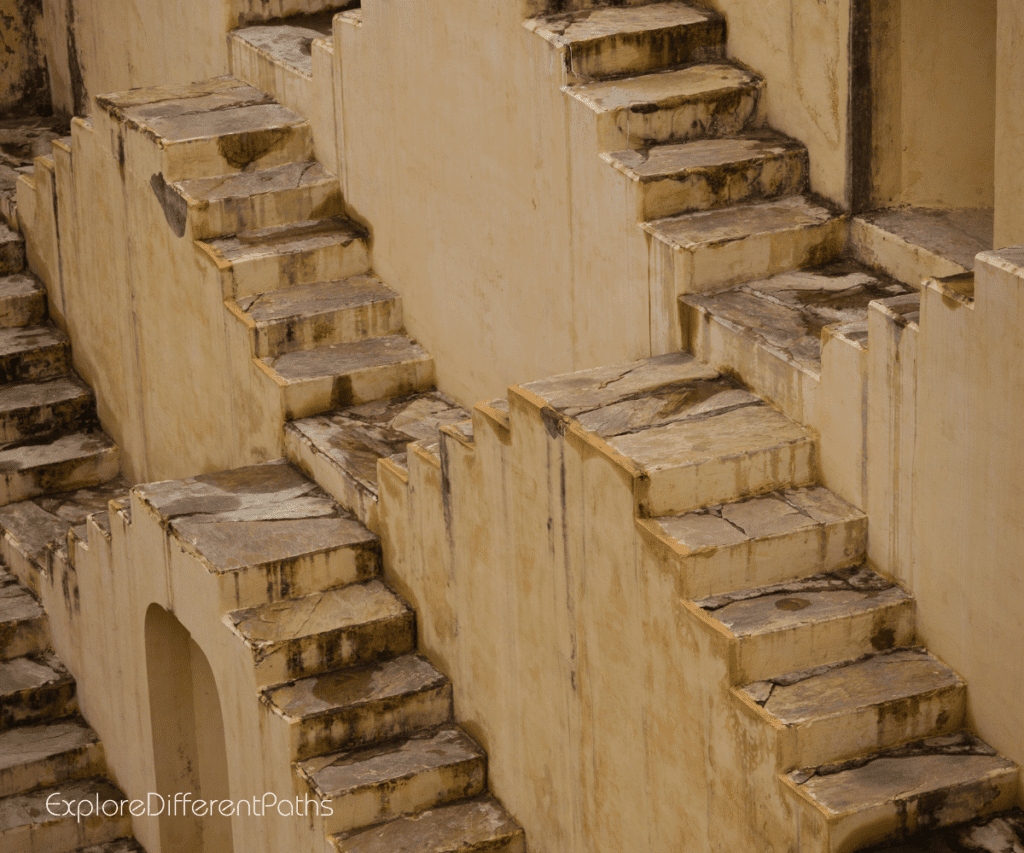 How can one forget the charm and beauty of Panna Meena Ka Kund shown in the title track of the movie "Dhadak"? Panna Meena ka Kund is such a captivating hidden gem of Jaipur. As shown in the movie this beautiful site witnesses several footfalls every year. When tourists explore Amer Fort they do not forget to step into this beautiful stepwell. On one side of this Stepwell is an attractive Jaigarh Fort while on the other side the natural beauty of mountains. The stairs are in a criss-cross pattern, which attracts everyone, and is the main reason why people come here to explore this place and spend some quality time here. Entry is free here, but you have to pay some money if you want to walk down the stairs.
Location: Amer
Best time to Visit: October to March
ATHIRAPALLY FALLS, KERALA
I'm sure all of you must have seen the iconic Baahubali movie. This movie has an iconic scene of waterfalls in which Baahubali tries to climb the falls, This mesmerizing waterfall is Athirapally Falls also known as Niagra Falls of India. Athirapalli waterfall offers captivating views of lush green forest compelling anyone to visit this place. It looks so mesmerizing to the eyes. Do not forget to visit this beautiful place when you're in Kerala.
Location: Thrissur district of Kerala
Best time to Visit: September to January
DUDHSAGAR FALLS, GOA
Have you seen the Chennai Express movie? I'm sure you have seen it. Then I'm sure you wouldn't have missed the iconic train scene of the movie. This captivating scene was none other than Dudhsagar Falls. One of the highest falls in India, Dudhsagar Falls is a masterpiece that attracts thousands of tourists every year. The milky, frothy water of this 4-tier cascading waterfall gushes from a height of 1,020 feet (approx.) making it a special place in South Goa. The entire area is covered by lush green forests that offer a spectacular view.
Location: Inside the Mollem National Park.
Best time to Visit: During Monsoon.
The Ultimate Goa Guide Apart from Beaches
NAHARGARH FORT, JAIPUR
Remember the Baori scene from the song "Masti Ki Pathshala" from the "Rang de Basanti" movie? The shooting took place at Nahargarh Fort. Maharaja Sawai Jai Singh II built Nahargarh in the 18th century. Nahargarh Fort is famous for its impeccable views of Sunrise and Sunset. Nahargarh Fort served as a defense to save the Royal city and this fort never faced any attack. Since the fort is perched on hills and the paths are winding it is best to go there by car. If you're going here alone then it is best to leave a bit early from Nahargarh Fort but if you wish to stay to watch the sunset then you must pre-book a cab/auto-rickshaw for your return so that you can make the most out of your trip.
Location: Krishnanagar, Brahmpuri
Best time to Visit: October to March
You may also like: The Ultimate Jaipur Trip Guide
HADIMBA TEMPLE, MANALI
Although Manali is one of everyone's favorite destinations and it is also budget-friendly, most backpackers like to visit here, do you know Manali is also famous for another place the ancient cave temple of Hadimba, dedicated to Hadimba wife of Bhima (among the strongest Pandavas). Located at the foot of the Himalayas, this temple has been featured in movies including Aap ki Kasam, Roja, and Yeh Jawani Hai Diwani. The beauty around this temple is worth seeing. With mysterious rows of Pine trees, wild rivers, white peeks, and a lush green atmosphere, this place seems to be a painted paradise for tourists.
Location: Manali
Best time to Visit: Late August and Early July
Find Hotels in Manali on Agoda.com
ROHTANG PASS, MANALI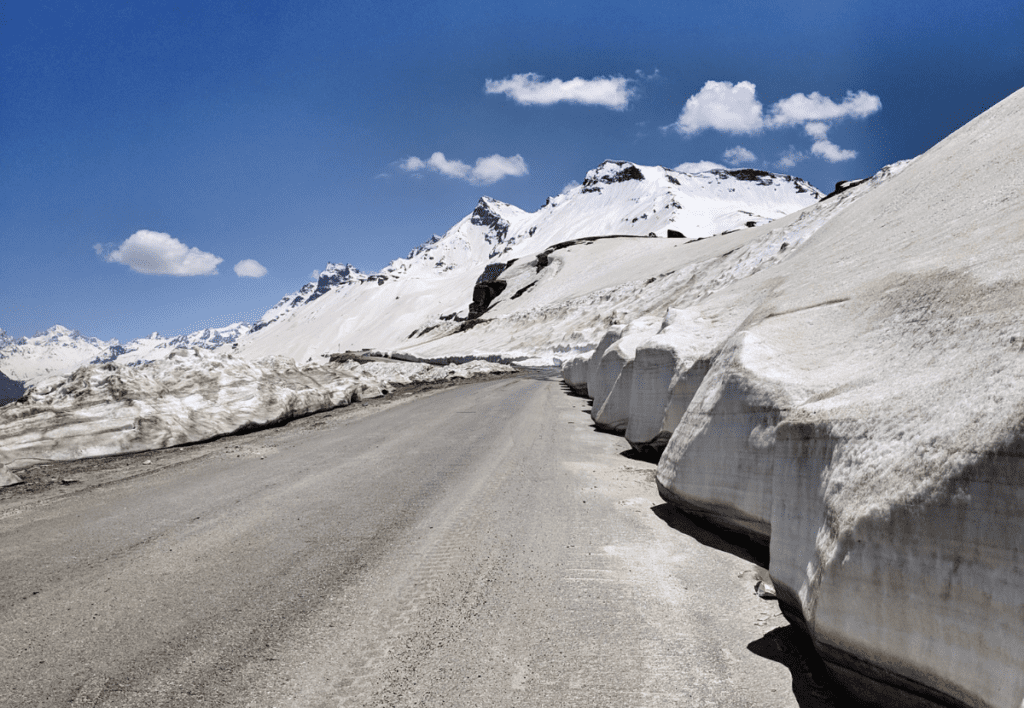 The snow-covered mountains and fascinating landscapes make Rohtang Pass one of the best destinations to visit. This place has featured the melodious song Yeh Ishq Haye from the movie Jab We Met. If you want to experience the same thrill that the lead pair of the movie experienced then you are most welcome in Rohtang Pass. Here scenic beauty and adventurous activities will take you to another world.
Location: Manali
Best time to Visit: May to October
DAL LAKE, KASHMIR
Whenever we talk about the beauty of Kashmir, the first name that comes to on lips is Dal Lake because the beauty of Kashmir is incomplete without this lake. Kashmir has always been a favorite place of directors, whether it is a classic movie or a modern one, we get to see a glimpse of this beautiful lake of Kashmir. Jab Tak hai Jaan, Haider, Jab Jab Phool Khile, Kashmir ki Kali, and many more. Dal Lake is an integral part of Kashmir tourism which offers the picturesque beauty of various landscapes. You can book a boathouse and explore its beauty.
Location: Srinagar
Best time to Visit: May to November
Find Hotels in Srinagar on Agoda.com
BANARAS GHATS, BANARAS
Do you want to indulge in Gangaji and its ghats? Then come to Banaras! It is an auspicious city that welcomes every person wholeheartedly who comes here. Sonam Kapoor and Dhanush starrer Raanjhana movie has beautifully depicted the beautiful ghats of Banaras. The only way to explore a budget-friendly trip to Banaras is to wander through narrow streets. Most of the culture flowing in this city is saturated in these "Streets of Banaras". The most captivating experience of this trip is to boat ride at sunrise.
Location: Banaras
Best time to Visit: November to February
MUNNAR, KERALA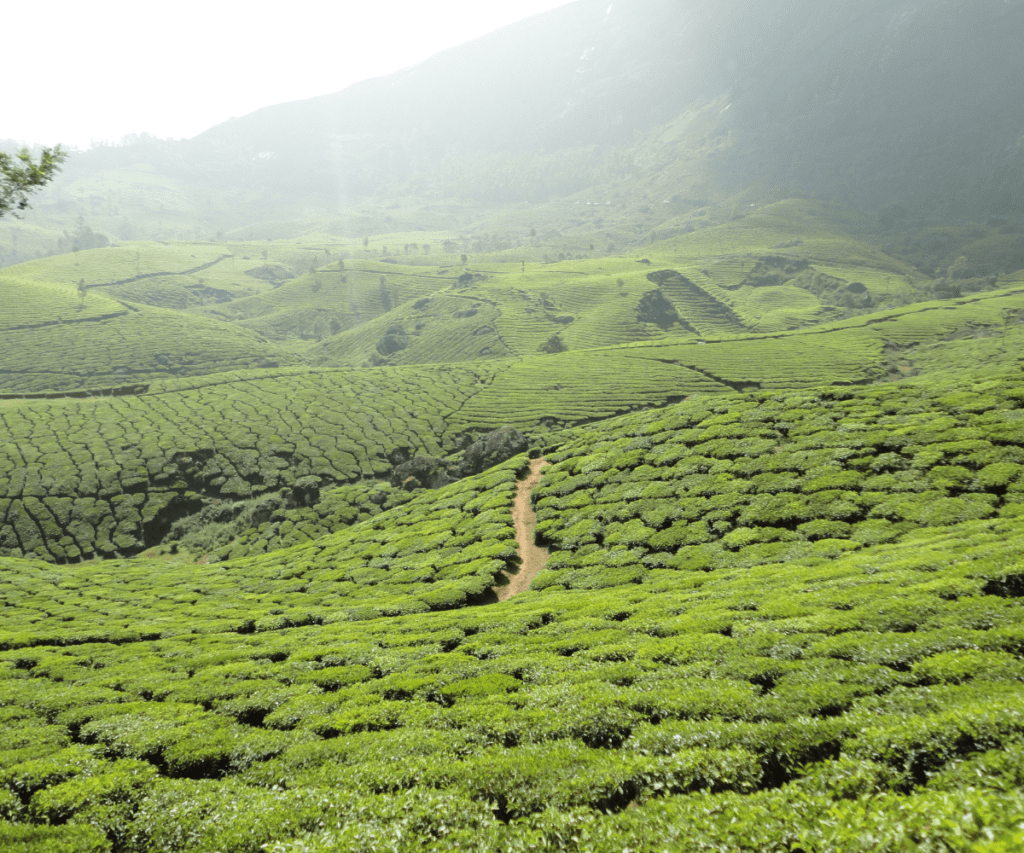 Have you seen the breathtaking tea gardens in Bollywood films including Chennai Express and Nishabd? Yes, these films offered the picturesque views of Munnar. Munnar offers countless hills laden with Tea plantations, awesome weather, and panoramic views. It takes almost 4 hours to reach Munnar from Kochi. The roads are meandering, so it is best to take some medicines with you to avoid motion sickness. There are various sightseeing places between Kochi and Munnar. You can admire their beauty. A hot tea or hot coffee will rejuvenate your soul.
Location: Munnar
Best time to Visit: From March to June
You may also like: Kerala Trip Itinerary for 9 Days
HOWRAH BRIDGE, KOLKATA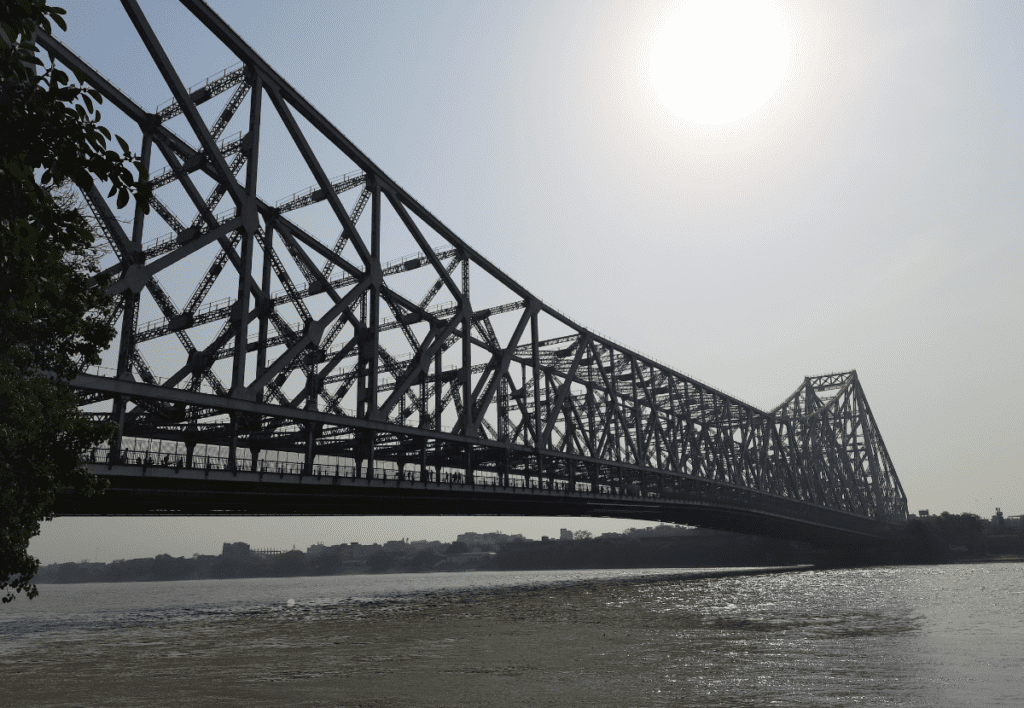 What do Barfi, Vicky donor, Kahani, Shyam Singha Roy, etc. have in common? Don't understand! It is Kolkata's Howrah Bridge. Yes, this bridge attracts not only travelers but filmmakers, which is why the shooting of films is often seen here. Howrah Bridge is one of the most popular places to visit in Kolkata. Apart from this, Dakshineshwar Kali Temple, Rabindranath Tagore Haveli, etc. beautiful places of Kolkata are also worth seeing.
Location: Over the Hoogli River
Best time to Visit: From October to February
OOTY, TAMIL NADU
Remember the train song Chaiyaa-Chaiyaa, the shooting of this song took place in the lush green valleys of Ooty. One of the best hill stations in South India, Ooty also known as the "Queen of Hills" is located in Tamil Nadu and offers a picturesque view to its tourists. Ooty has been a popular hill station since British rule. Ooty is famous for its luxuriant tea gardens. So to enjoy these lush green tea plantations, definitely visit Ooty.
Best time to Visit: Between March and June
MARINE DRIVE, MUMBAI
Mumbai, the motherland of Bollywood, has always been seen in various movies and Marine Drive is truly magical among different sites of Mumbai. Marine Drive is a popular location among not only Mumbaikars but also attracts tourists coming here from different parts of the country. The cool, gentle breeze, the enchanting sounds of the waves crashing against the shore and the majestic views of the sea offer a tranquil sight to behold. Scenes from various movies have been filmed here including Wake Up Sid, Munnabhai MBBS, Guru, and more.
Location: From Chowpatty to Malabar Hill
Best time to Visit: Early morning or in the Evening
You can book your Flight and Train tickets here
TOY TRAIN RIDE, DARJEELING, WEST BENGAL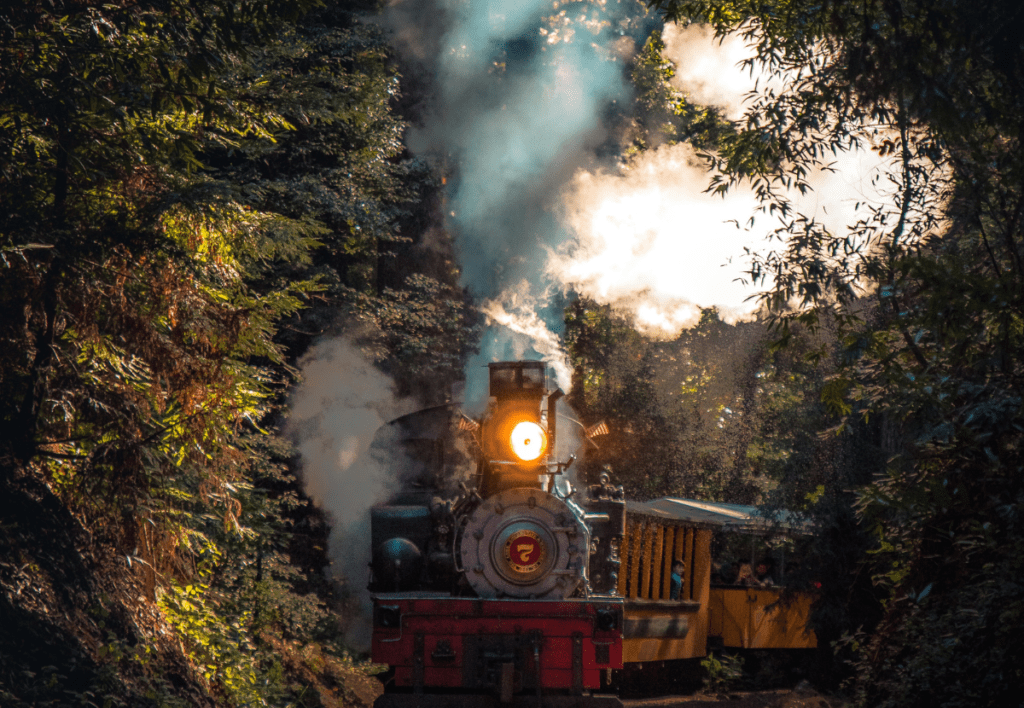 Sip Darjeeling tea while soaking in the fresh air of the hills. Darjeeling offers such picturesque views through the enchanting Toy Train ride. Also known as the "Queen of Himalayan Tea", this beautiful hill station is located in West Bengal. How can one forget the song "Mere Sapno ki Rani" in which Sharmila Tagore was sitting in a Toy train and Rajesh Khanna was singing this iconic song? Apart from this song, Parineeta, Barfi, etc. were also shot in Darjeeling and Toy Train. Here you can enjoy beautiful views, the marvelous beauty of hills, attractive sightseeing places, tea gardens, and local food.
Location: Between New Jalpaiguri and Darjeeling
Best time to Visit: October to December
UDAIPUR CITY PALACE, UDAIPUR
If you want to show royalty in Bollywood movies then there is no one better than Rajasthan, that is why period films have always been shot here. Because the filmmaker wants to show audiences uniqueness through such places by creating an authentic look. The exotic palace shown in the movie Ram Leela is none other than the royal palace of Udaipur. The glory and grandeur of Udaipur Palace are worth seeing. Apart from this magnificent Palace, there are some other amazing worth visiting sites such as Lake Pichhola, Kumbhalgarh Fort, etc. in Udaipur. Do not forget to relish the lip-smacking Rajasthani cuisine when you're in Udaipur.
Location: Nearby Lake Pichhola
Best time to Visit: September to March
Did you enjoy this Top 20 Iconic Destinations Featured in Bollywood Movies? Please share your views in the comments below. I would love to hear from you. Also, contact me If you need any help in planning your trip to these places.
Disclaimer: This post contains some affiliate links. That means if you purchase through these links then I will earn some commission, at no additional cost to you. And I can continue bringing you free travel tips and advice. If you found the content helpful and are kind enough to make purchases through my affiliates – A Big Thanks to You!