If you think that Goa is only famous for its Beaches, Pubs, Casinos, and Nightlife then you are wrong. Goa is more than that. There are many offbeat places that offer you a lot of beautiful colors away from the crowded life of Goa. If you're looking for peace in Goa then you should head towards South Goa. You can go trekking at national parks, and you can explore forts and cathedrals if you're interested in history. South Goa is a quiet place and far away from the hustle and bustle of North Goa. Here you can find a different vibe when you stroll in the lanes of South Goa. There are various best places to visit in South Goa with the family. For adventure enthusiasts, this place offers a lot more for those adventure seekers. South Goa attracts visitors towards its for its turquoise blue waters, ruins of forts and cathedrals, markets, beautiful houses, a herd of lush green coconut trees and palm trees, and many more. If you're planning to visit South Goa then read this article in which I share a lot of places that you can enjoy with your family.
Places to Visit in South Goa with Your Family
So what are you waiting for? Pack your Bags! and hop on the different sides of Goa which will fill an immense pleasure for you and your family!
Agonda Beach
Se Cathedral Chruch
Big Foot Museum
Dudhsagar Falls
Cabo de Rama Fort
Cotigao Wildlife Sanctuary
Palolem Beach
Colva Beach
Margao Municipal Market
Shri Shantadurga Temple
Xt. Javier's Chruch
Majroda Beach
Goa Science Center
The Naval Aviation Museum
1. AGONDA BEACH
If you want to spend quality time amidst peaceful surroundings with less crowding, then this place is made for you. Agonda beach is a sight to behold, with its pristine shoreline lined with pretty cottages and colorful shacks. It is one of the four beaches that have been identified as turtle nesting sites, which is a fantastic attraction that draws tourists towards the beach. You can spend quality time with your family amidst the coconut trees and palm trees around the beach. You can spot some cozy huts at affordable rates, which offer a warm and welcoming atmosphere where you can some rest while indulging in the beautiful vibe of the ocean. Hawkers are not allowed here which is a great thing. You can enjoy here a variety of local and along with cuisines from around the world. Even in the peak months, you can see less crowd here. You can do Yoga and meditation here with your family without any disturbance.
Best time to visit: November to March
Things to do: Night Parties, Sunbathing, and Water Sports
Places to Eat: Mandala Cafe, Duck & Chill Bar Restaurant, and Beach Huts
2. Se CATHEDRAL CHURCH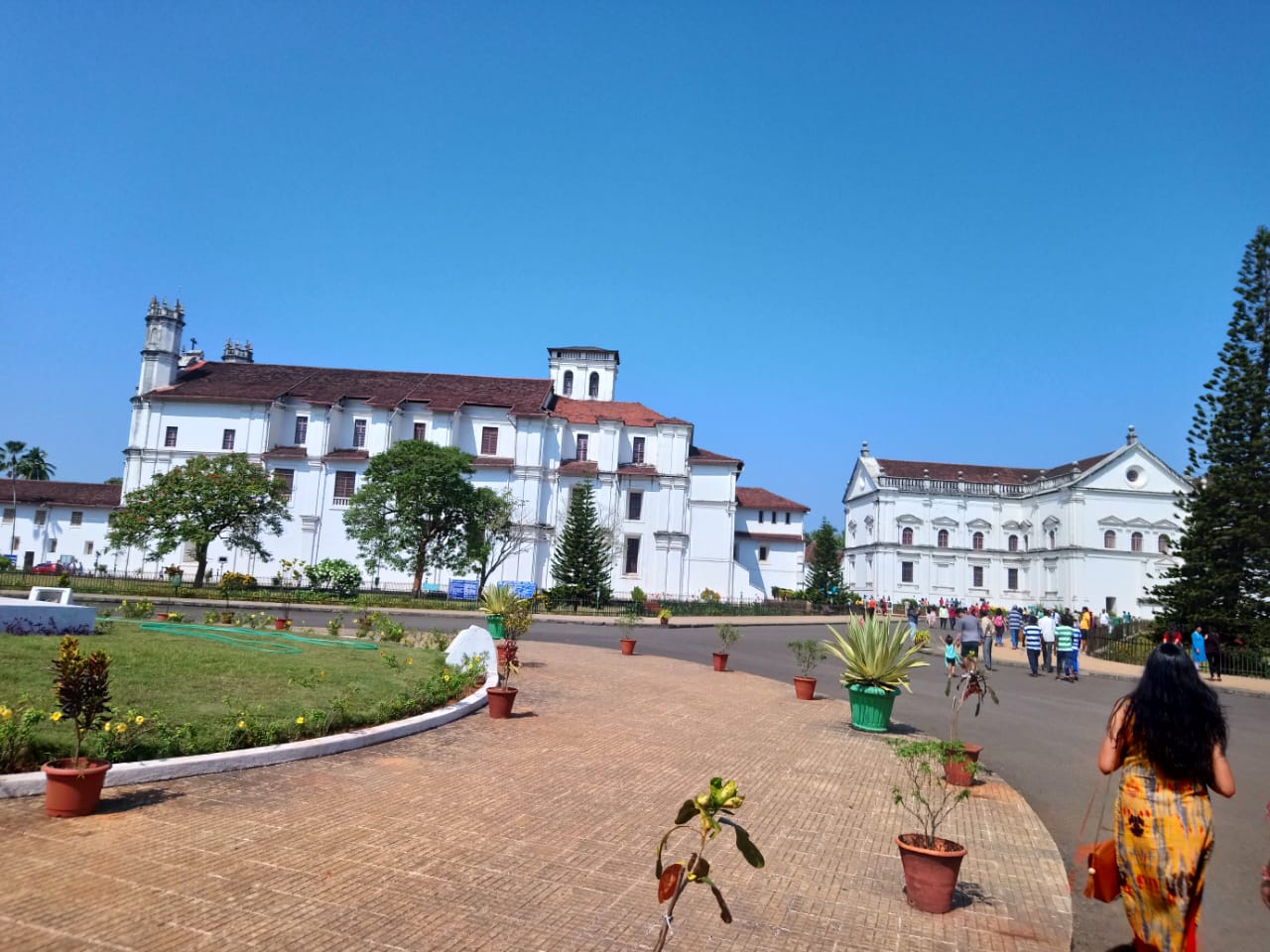 Se Cathedral Chruch is one of the largest churches in the world. Also known as St. Cathedral's Cathedral, this splendid masterpiece took 80 years to complete. There are five bells in this church out of which the golden bell is famous and the largest in the world. Because of such spectacular aura and glory, the Se Cathedral Church has been declared a UNESCO World Heritage Site. When you pay a visit to Se Cathedral Church you will be amazed by seeing the unique architecture of this church. The intricate work of wood in the interiors of the church adds to its beauty. This place is a combination of peace and beauty where you and your family will be filled with positivity.
Fee: No entry fee
Timings: 7:30 am to 6 pm, ( 7:15 am to 10 pm on Sunday)
3. BIG FOOT MUSEUM
Big Foot Museum is an open-air museum, that depicts a glimpse of the rural life of Goa through a great collection of art and other traditional artifacts. Bigfoot museum is a popular tourist spot that is privately run by the artist Mahendra Jocelino Araujo Alvares. Some of the key highlights of the museum include miniature houses that depict traditional Goan life and culture, a handicraft center selling ancient Goan artifacts, a bird sanctuary, a rubber plantation, a spice yard, etc. Another main attraction of the museum is a 14-meter-tall statue of Saint Mirabai which MJabout A Alavares carved out in just 30 days. This statue is the longest laterite sculpture in the country and holds the Limca Book of Records for the same. This place is worth visiting and is one of the best places to visit in South Goa with family.
Timings: 9 am to 6 pm, every day
Entry Fee: INR 50 for adults, INR 30 for children
4. DUDHSAGAR FALLS
One of the highest falls in India, Dudhsagar falls is a masterpiece that attracts thousands of tourists every year. The milky, frothy water of this 4-tier cascading waterfall gushes from a height of 1,020 feet (approx.) making it a special place in South Goa. Located inside the Mollem National Park, the majestic waterfall is a delectable treat to the eyes. The entire area is covered by lush green forests that offer a spectacular view.
Best time to visit: During the Monsoon and soon after Monsson is the best time to visit the waterfall.
Timings: 9 am to 6 pm
Things to do: Picnic and bathing
5. CABO de RAMA FORT
Keen to witness the rich glory of, Cabo de Rama Fort one of the most visited historical places in South Goa. This fort is situated between two famous beaches – Cavelossim and Agonda Beach. Many legends are associated with this fort. It is said that Lord Rama and his wife Site had stayed here during their 14 years of exile. The fort is said to have been named in honor of Lord Rama. This fort shows a beautiful amalgamation of different cultures and traditions such as Hindu, Portuguese, and British. The famous Santo Antonio Church is situated inside the fort. Apart from this, there is a huge defensive wall, a moat, a goathouse, a well, two springs, a large water tank, and large cannons on the top of many bastions that are still present today. This is a popular attraction you should visit with your family.
Timings: 9:00 am to 5:30 pm
Things to do: Photography, Watching the sunset, admiring the architecture
6. COTIGAO WILDLIFE SANCTUARY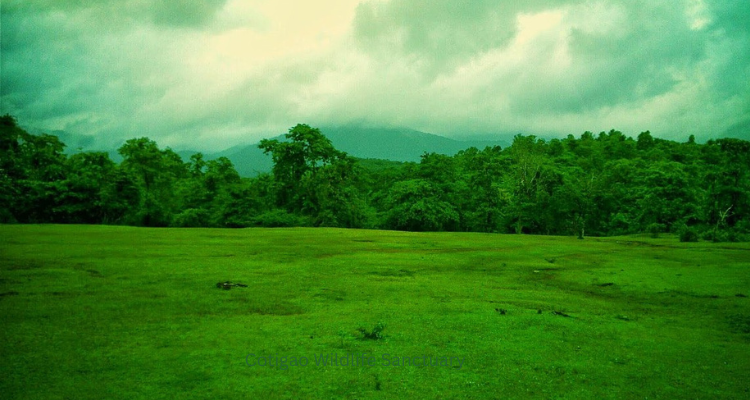 If you are seeking wildlife sanctuaries in Goa apart from beaches, colorful nightlife, and adventurous activities then Cotigao Wildlife Sanctuary is one of the best places to visit in South Goa with family. You can stroll around the lush greeneries and enjoy the beauty of this beautiful place. This sanctuary is home to varied wildlife species including Flying squirrels, Slender loris, Mouse deer, Malabar pit viper, four-horned antelope, Indian pangolin, and many more. Cotigao has a set of treetop watchtowers overlooking the water hole. From here you can watch many animals visiting the water hole to quench their thirst.
Best time to visit: During Dawn or Dusk
Timings: 7 am to 5:30 pm
7. PALOLEM BEACH
If you want to spend the day peacefully under the shady palm and coconut trees then you are welcome at Palolem beach. The beach is spread over 1.5 km of white powdery sand surrounded by thatched bamboo houses. Sunbathing and swimming in warm blue waters are the most popular tourist activities here. Whether you are looking for water sports and adventurous activities or a relaxing day under the sun, Palolem is the best place. You can savor fresh fish or try delicious South Indian food offered by the eateries at Palolem. Apart from that, you get to experience the vibrant shopping culture of Goa in the beach market, which is held every Saturday at Palolem.
Best time to visit: November to February
Things to do: Swimming, Scuba diving, Kayaking, Dolphin Spotting, Night Parties
8. COLVA BEACH
Colva, located at a distance of about 6 kilometers from Margao, is one of the best places to visit South Goa with family. Colva is famous among families and couples looking to holiday in South Goa. This beach stretches for 2.4 km and has white sand, turquoise waves, and coconut trees. If you are looking forward to enjoying watersports and watching the sunset and wonderful blue waves then welcome to Colva Beach. If you are fond of partying in South Goa then this place is suitable for you. This beach and its surrounding areas have luxurious facilities, including air-conditioned resorts and affordable tourist cottages. Colva is also famous for its vibrant nightlife and full moon parties which makes it one of the fun places among tourists.
Best time to visit: October to March
Eateries at Beach: The Madras Cafe, The Garden Restaurant
9. MARGAO MUNICIPAL MARKET
Now that you have thoroughly explores the beaches, museums, wildlife, and history of Goa, it's time to indulge in some retail treats. Yes, you guessed it right, we are talking about Margao Municipal Market in South Goa where you will find everything from cashews, spices, and liquor to clothes, souvenirs, and handicrafts. Here you can spend hours without getting tired or bored. And of course, don't forget to buy a packet of salted dried mangoes, the signature item found in all markets of Goa.
Timings: 9 am to 8 pm, every day
11. SHRI SHANTADURGA TEMPLE
Located in Kavlem, this ancient temple, more than 450 years old, is dedicated to Goddess Shanta Durga. This temple is an example of the Indo-Portugese architectural style, whose Roman arched windows are a rare sight among temples in Goa. It consists of a main shrine and three smaller shrines with a pyramidal roof and a dome. One of the richest and largest temples in Goa, the main attraction of this temple is a golden Palaquin on which the Deity moves during the Mahapanchmi festival. Other attractions include the five-storey lamp tower and the Nayan Manohar lighthouse which is beautifully lit during festivals.
Timings: 7 am to 10 pm
11. St. JAVIER's CHURCH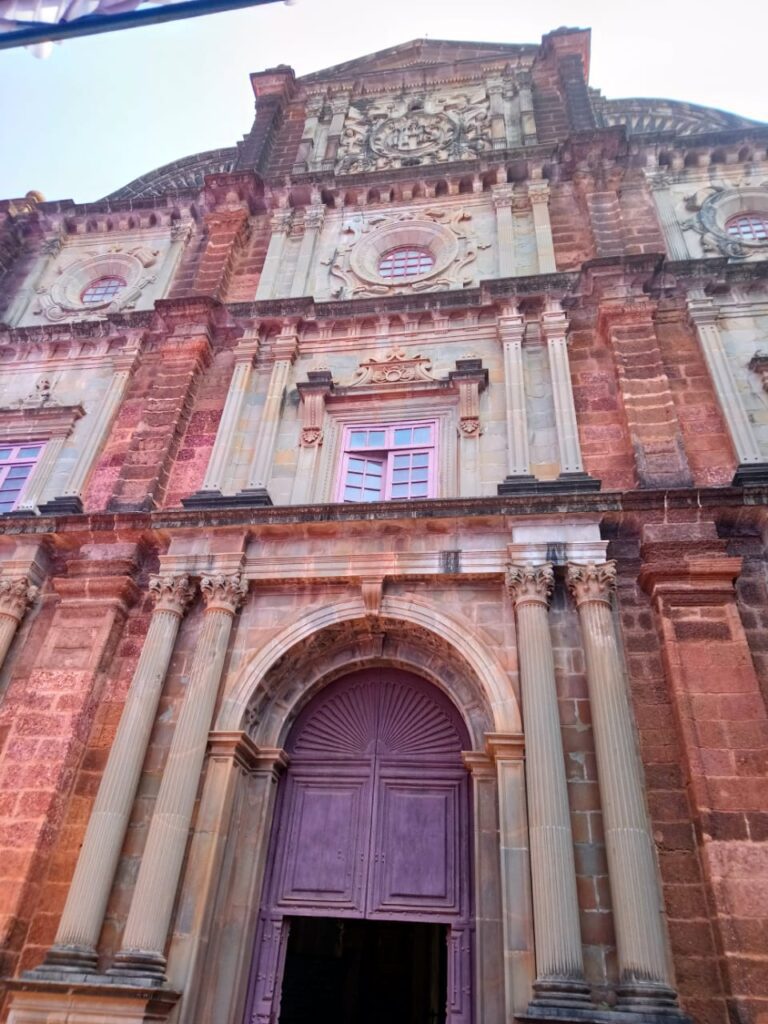 St. Javier's church is the most famous church, which was built in 1605. This church has a beautiful interior and Gothic architecture which is a must-visit place in South Goa with family. You can visit this church in December because in this month you can be a part of the festival and celebrate Christmas.
Timings: 7 am to 6:30 pm
12. MAJORDA BEACH
If you want to spend a beach holiday and enjoy delicious Goan delicacies at the beach huts then you should pay a visit to Majorda Beach. It is among the popular beaches in South Goa. Located between Utorda Beach and Betalbatim Beach, this beach is surrounded by golden sand and tall coconut and palm trees marking the authenticity of this beach. Majorda Beach is famous for its Christmas celebration. Here you can enjoy watching a breathtaking sunset graced by the blue waters. The weather is here pleasant almost the year. If you want to indulge in adventurous activities then Majorda Beach offers Parasailing, Banana Boat Rides, Dolphin Spotting, Water Skiing, Speed Boat rides, and much more to its visitors.
Best time to visit: November to February
Things to do: Watersports, Nightlife, Partying
Eateries at the Beach: Lavina Bar & Restaurant, Pentagon, Greenlands
13. GOA SCIENCE CENTER
If you are interested in Science and Astronomy then Goa Science Center is the best place to visit in South Goa with family. When you reach this wonderful place, you will clench your teeth in wonder by seeing the wonders of science, a whole ecosystem of Dinosaur sculptures, the marine science section, the 3D shows that transform science lessons into breathtaking experiences, and the mirror-maze.
Timings: 10 am to 6 pm
Entry Fee: INR 15 for the Science center, INR 25 for the Planetarium, and INR 20 for the 3D film
14. THE NAVAL AVIATION MUSEUM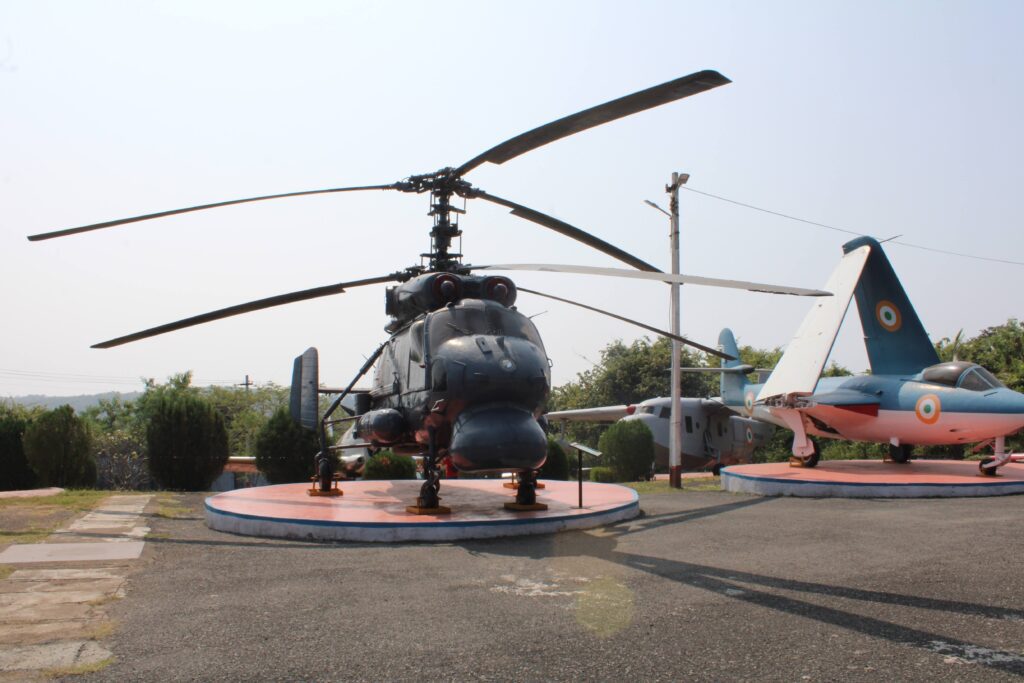 One of the popular tourist places to visit in South Goa with family, the Naval Aviation Museum is located in the vicinity of Vasco da Gama. it was established in 1998 to showcase a wide range of machinery and artifacts related to the development of the Indian Navy Air force. The rich museum is a combination of two parts, the outdoor area showcasing the evolution of the Indian Naval Air Arms and the other is two-storey indoor gallery. In addition, there is a Cockpit cafe where you can enjoy a sip of Tea or Coffee, a small theatre showing films about Naval aviation, and a souvenir shop.
Entry Fee: INR 20
Timings: 9:30 am to 5.00 pm (Tuesday – Sunday)
South Goa is both peaceful and full of energy and excitement. It totally depends on how you want to explore south goa. I have listed the best places in the South goa enjoy with family. Start your trip with this list and enjoy your trip.
I wish you have a good time in South Goa.
PIN IT FOR LATER