When we talk about beaches, churches, and gothic culture in India then only one name comes to our lips and that is GOA, a beautiful place filled with exquisite vibes. Whenever you see those beautiful pictures of Goa on Instagram, in which beach, blue-green sea, and beautiful palm trees make you yearn, then there is no doubt that Goa automatically attracts you. Because the beaches here are so pleasing that you cannot stop yourself from going here, whether it is domestic or foreign. But if you're trying some amazing things to do apart from beaches in Goa during monsoon then you're like me, because I always try to seek some offbeat things where I can spend my time with the serene beauty of nature. And during the monsoon when everything goes green, then it looks amazing to the eyes.
How to Reach Goa
Goa is well connected by Air, Rail, Road, and Sea. One can reach Goa by Flight, Car, Train, or Ship. You can according to your convenience. There are a lot of domestic as well as international flights to and from Goa. Dabolim International Airport is located approximately a 1.5-hour drive from both North and South Goa. There are 3 Railway Stations in Goa and the biggest station is Margao / Madgaon Railway Station.
Goa Weather in Monsoon
The weather is unpredictable in Goa starting from last May to August, as you can see sometimes torrential rains or sometimes no rains, so it all depends on the mood of the weather, haha. Mid-April to Mid-September is known as "Off-season" in Goa. If you don't want any hustle and bustle and also don't want to enjoy beaches, monsoon is really great for you.
On the other hand, Goa spots a high amount of tourists from October to March, as this is the "peak season". If you're a party lover then November to December is the best time for you.
15 Amazing Things to do in Goa During Monsoon
1. Admiring the beauty of Dudhsagar Falls
As the name suggests "Ocean of milk", Dudhsagar Falls one of the highest falls in India offers spectacular views, especially during the rainy season. If you want to witness the serene beauty of this milky, frothy waterfall then monsoon is the best time to admire its beauty. Located inside the Mahavir Wildlife Sanctuary, this majestic waterfall is a delectable treat to the eyes. The entire area is covered by lush green forest that offers stunning views. So this monsoon, don't stop yourself from admiring the picturesque views of Dudhsagar waterfalls, and upload your Instagram with amazing photos.
2. Sunset Point at Cabo de Rama Fort
If you do not want to miss the chance to immerse yourself in the soothing vibes of a perfect sunset view then come to Cabo de Rama Fort. By coming here you will disconnect yourself from the outer world and get lost completely in soaking views. Strolling along the fort with yourself or your loved ones is one of the best things to do in Goa in the monsoon.
3. River Rafting in Mhadei River
Another adventure that Goa offers to monsoon travelers is River Rafting. When the rafting season is closed elsewhere, the Mhadei River wholeheartedly welcomes all adventure seekers in its beautiful waters flowing through dense forests. The fun of rafting during monsoon is just amazing. As the river meanders through dense forests with dark clouds above and beautiful rains, the excitement multiplies. It is a wonderful and captivating experience that can never be forgotten.
4. Admiring Greenery
At the time of monsoon when everything goes green, it captivates the mind a lot and wherever your eyes look, everything seems charming and attractive. Looks like we should just stay here and keep admiring the beauty of nature. Goa offers such breathtaking views of forts and wildlife life sanctuaries to its visitors that we cannot help but amazed. Just smiling at the greenery and feeling the smell of the wet mud of rain.
5. Visit the Sahakari Spice Farm
If you want to know what spices go into your food and where they come from, then Sahakari Spice Farm is your go-to destination. This plantation is one of the best things to do in monsoon in Goa and your guide will take you around the farm and give the information about spices grown here. You can also enjoy the elephant rides here.
6. Go on Safari Tours
Monsoon is the time when nature dons new colors and there is greenery all around. This is the time when nature takes a breath and everything becomes new and authentic. This is the time when you can explore the wildlife of Goa and enjoy safari tours in any of the nature reserves including Cotigao Wildlife Sanctuaries and others. You can spot some rare species also.
7. Witness the Goan Culture on Scooter
Want to witness the Goan culture closely then riding on a scooter is the best option. You can go anywhere on your own and will enjoy your trip without any hassle. But make sure you have a driving license, because without it you can catch problems. It is the more convenient option as you can visit every nook and corner of Goa. Imagine! You're riding a scooter under the open sky and some raindrops splashing across your face, wow! How beautiful it is.
8. Participate in Monsoon Festivals
If you want to know the culture of Goa even more closely and want to immerse yourself completely in the colorful moments, then you are most welcome in the Monsoon festivals here in Goa. The Feast of Sao Joao, Feast of Saint Peter, and Bonderam festival in Divar Island is celebrated with great pomp and show. You can also witness Ganesh Chaturthi in which you can taste the local Goan cuisine.
9. Relishing on Goan Food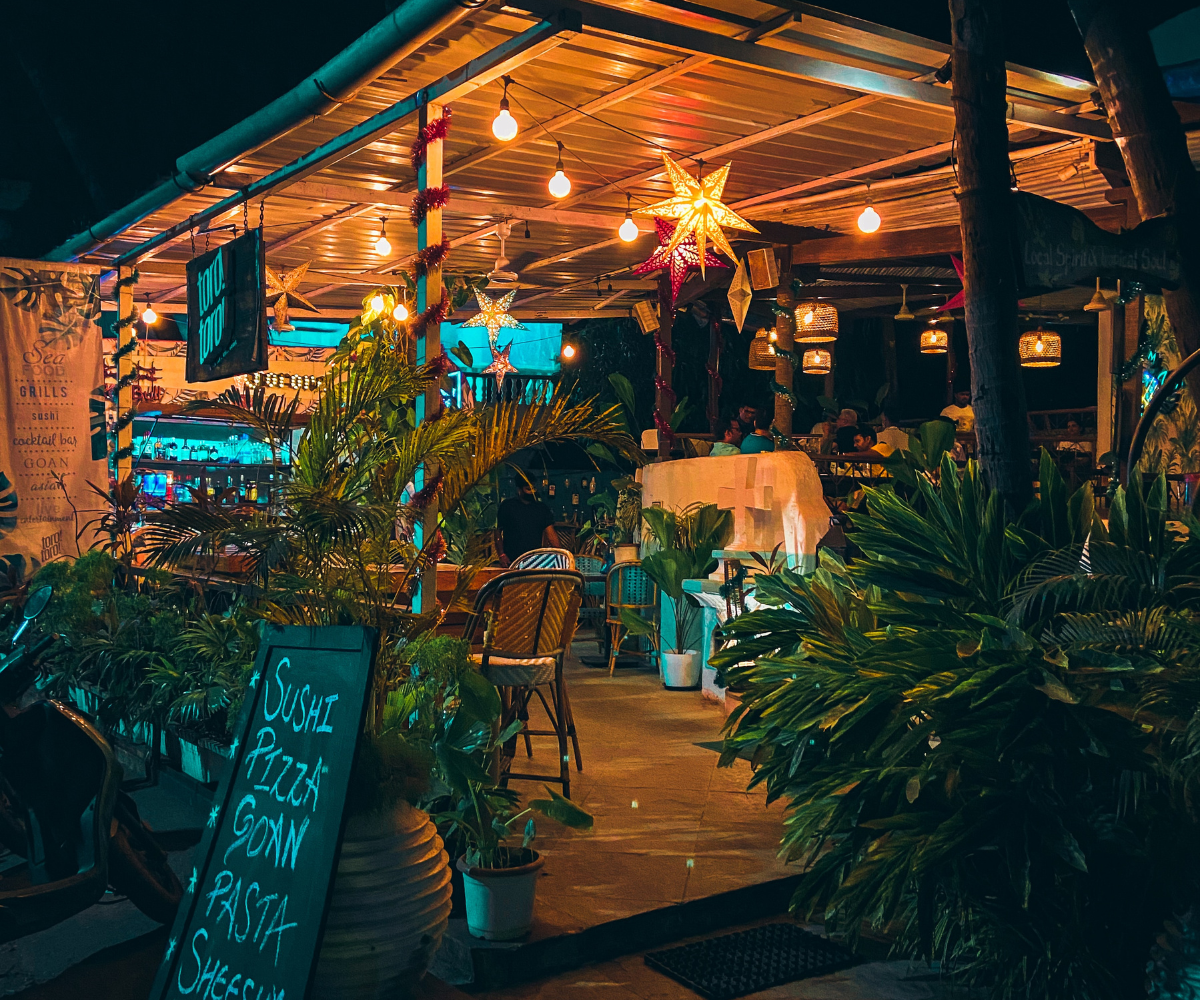 There is no doubt, Goa is an absolute delight for foodies. If you're a seafood lover then you should try delectable Goan fish curry and other seafood during the monsoon season. Because the seafood here is absolutely fresh and tasty. If you're a vegetarian like me then there are plenty of vegetarian food options which are tasty and spicy. Hot drinks like soups, tea, and coffee look so tempting during the rainy season.
10. Spending quality time at Chapora Fort
Imagine you're spending quality time with yourself or your loved ones sitting in a place that is completely cloudy and you're witnessing some light raindrops falling then this place is none other than Chapora Fort. Do you remember the iconic fort in "Dil Chahta Hai" Movie? That's Chapora Fort. The mesmerizing beauty of this fort makes it one of the best things to do in Goa in the rainy season.
11. Cruise along the Mandovi River
After you have explored the culture and churches of Goa during a busy day, now you want to end your day with a relaxing boat ride in the evening. There are a lot of casino boats near Mandovi River in North Goa and it's a 2-hour long cruise, you can choose one of them and enjoy your evening soaking in spectacular views. If you want to party the night away at sea, then here you go.
12. Drive up the Ghats
On one hand, you are driving through the Green Ghats while on the other hand, the enticing smell of tea and Maggi at the roadside stalls just can't stop you from relishing them, and that's truly a wonderful road trip. Goa has many enchanting ghats such as Chorla ghat, Amboli ghat, and Anmod ghat which will make your trip memorable.
13. Shopping in Goa Markets
If you are looking to buy some souvenirs for you and your family then Old Goa is the perfect place. Here you will find everything from traditional Indian clothing and spices to handmade jewelry and cashews. Even if you're not looking to buy anything, you can enjoy roaming the streets and the local atmosphere.
14. Pay a Visit to Church
Goa is home to picturesque churches. You can spend your half day exploring these churches as each church has a unique architecture that will charm you. Some of the most popular churches to visit include the Basilica of Bom Jesus, St. Francis of Assisi, St. Augustine, and many more. You will find peace in every nook and corner of here.
15. Trekking
It is really wonderful to go on a trekking adventure amidst immense natural beauty and monsoon is the best time to experience this. If you are an adventure lover then get mesmerized by an awe-inspiring journey through the jungles that will be etched in your mind forever. Goa offers many captivating places for trekking such as Dudhsagar Trek, Udaan Dongor, Netravali Waterfall Trek, etc.
Things must need to know if you're planning to visit Goa during Monsoon Season
The weather gets unexpected during monsoon season, sometimes heavy downpours or sometimes really strong winds that go on for multiple days.
You have to face frequent power cuts during the rainy season.
If you are wishing that you get the buzzes in the rainy season like November-December then you will have to be disappointed because these months spot a few tourists visiting.
If you're planning to spend your days on the beach, then monsoon is not the best time, as many beaches are inaccessible during heavy pours.
This time very less tourists visit Goa so you can feel lonely if you're on a solo trip.
The Advantages of Visiting Goa during Monsoon Season
Since fewer tourists visit Goa this season so you can easily get cheap flight tickets, good hotels, rent bikes, food, and goodies on a low budget.
Everything goes green and beautiful at this time, so you can explore them with your motorbike or scooter.
You can interact with locals and know more about them.
You can spot fewer crowds so you can enjoy more and more by yourself.
It is amazing to watch the rain that looks dramatic.
Where to Stay in Goa during Monsoon
If you're coming to Goa during Monsoon then you can't access the beach shakes as almost are closed during this time. You can stay at hotels, resorts, hostels, etc. Goa is a vibrant and budget-friendly city that offers mesmerizing experiences in the world. You can meet amazing people from across the globe. If you're seeking adventure, party, and relaxation in one place then no one can be better than Goa. Goa is always open for tourism and this guide is about off-season tourism, so without wasting a minute, skim through the article and make your plan to visit Goa during monsoon.
Did you enjoy these amazing things to do in Goa during the Monsoon travel guide then I hope you will love also this: