Jaisalmer is a beautiful city in Rajasthan, which is known as the "Golden City". This city is famous for its forts, havelis, Jain temples, monuments, and desert safari. The city attracts a large number of visitors every year to enjoy its natural beauty. There are various places to visit in Jaisalmer in 2 days that attract everyone towards it such as Sonar Fort, Gadisar Lake, Jain Temple, Desert Safari, Tanot Mata Temple, Longewala War Memorial, and many more. Any tourist who visits these wonderful places once can never forget the wonderful experience of traveling in Jaisalmer. If you're busy and you have only two days then no issues, in 2 days you can enjoy the top attractions of Jaisalmer. If you want to make 2 days of your trip memorable, enjoy your best time with your family, friends, or loved ones. Get lost in the serene beauty of the desert! Immerse yourself in the wonderful places of the Golden City. Apart from visiting places in Jaisalmer, I'll share some important things like where you can stay, where to eat, and other things. So fasten your seat belts! And let's check it out!
Top experience in Jaisalmer in 2 Days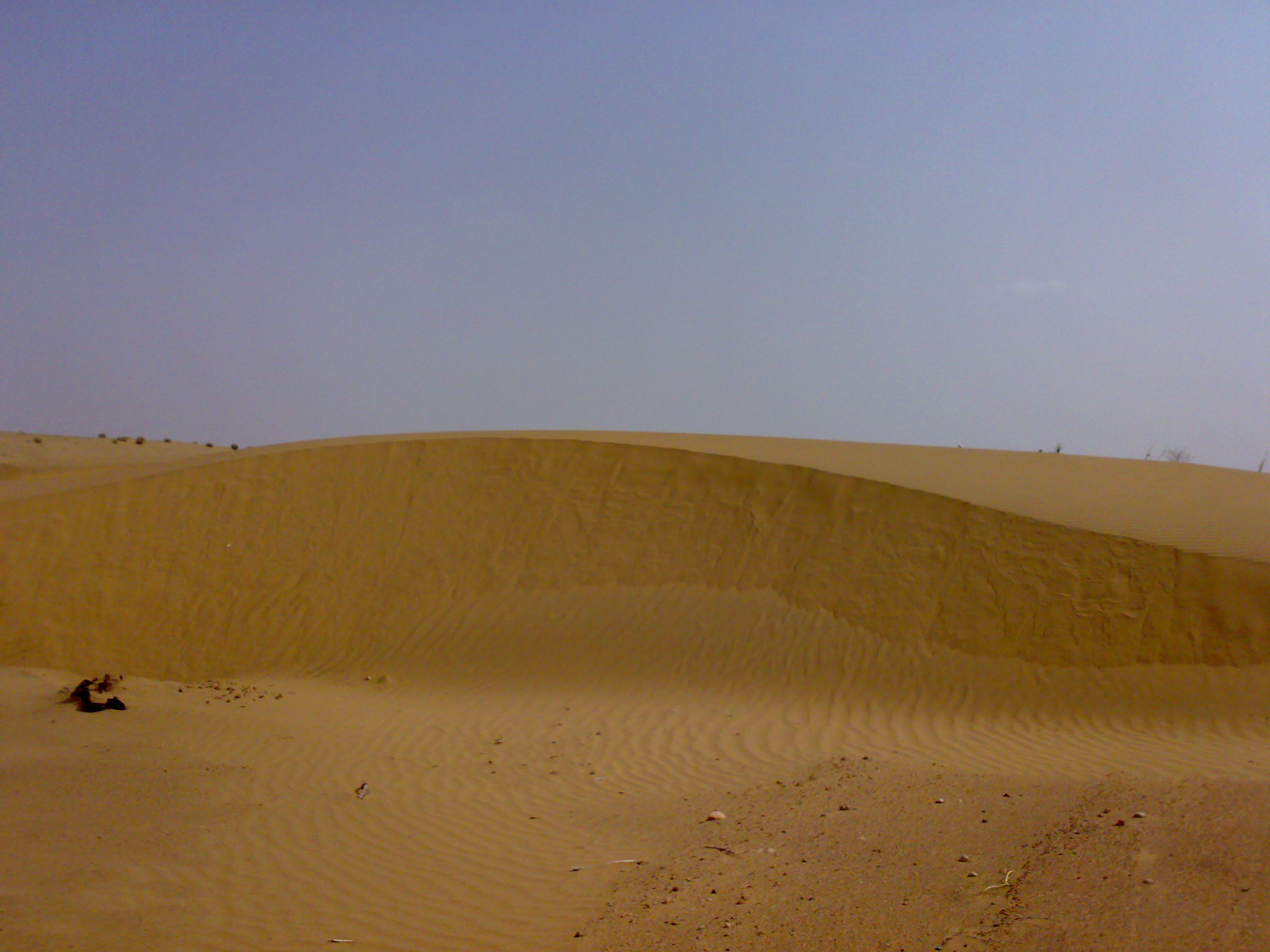 I'm sharing my top experiences while traveling to this wonderful city in Rajasthan. It was a 2-day Itinerary in which I covered the top places to visit in Jaisalmer in 2 days. And I can then you can do also. Some amazing places in Jaisalmer which you can enjoy:
Sonar Fort
Jain Temples
Patvon ki Haveli
Gadisar Lake
Tanot Mata Temple
Longewala War Memorial
Desert Safari
How to Reach Jaisalmer
I've tried to cover more places in this 2-day Itinerary. It was a family trip and we live in Jaipur, so we decided to take this trip by hiring a Taxi. You can get there either by Air, Bus or Train according to your choice.
By Air: If you're coming from another city (far away from Jaisalmer) or country then you should choose to travel by air. By this, you can save time and can enjoy a lot of attractions in this Golden City. Jaisalmer has no airport but you have to come first to Jodhpur by air and then head to Jaisalmer either by train, bus, or taxi
By Train: Jaisalmer is well connected to the rest of the country via train. But it may seem tiring if there is no direct train to Jaisalmer as you may have to change trains. A few days ago my relative went to Jaisalmer by train and they had to change two trains during the journey to Jaisalmer.
By Bus: You can come here by Bus as the city is accessible by bus throughout the country. Book your tickets from the renowned travel agency so that you may have not any trouble during your journey.
By Car: If you like road trips then a car is the best option. I did my traveling by taxi so I enjoyed it. You can stop anywhere and take some rest meanwhile your journey.
Getting around Jaisalmer
To visit Jaisalmer you can book a cab or can hire a taxi like me or you can contact tour companies who offer you half-day or full-day sightseeing tours at good rates.
Best Time to Visit Jaisalmer
October to March: If you are planning to visit Jaisalmer then you should come here during the winter season because there is neither too hot nor too cold. We visited Jaisalmer in February so we enjoyed a lot this city in this weather. It is best to avoid visiting here during Summer and Monsoon.
2 Days Itinerary in Jaisalmer
Jaisalmer Day 1 Itinerary
On the first day, you can visit all the important sightseeing places of Jaisalmer and do the shopping for souvenirs from the colorful markets of this Golden city.
1. Explore the Sonar Fort / Jaisalmer Fort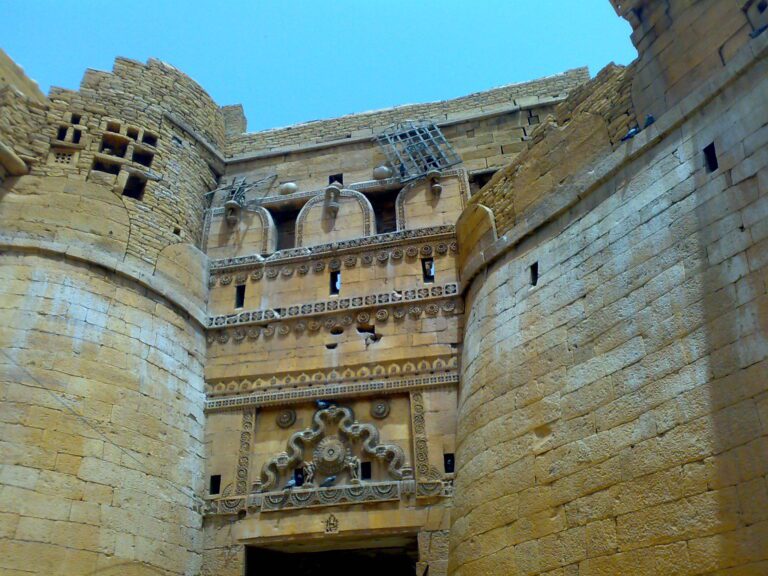 Sonar Fort or Jaisalmer Fort was built in 1156 AD by the Bhati Rajput ruler Maharawal Jaisal Singh atop the Trikuta Hill. It is included in UNESCO's World Heritage Site under the group of hill forts of Rajasthan. Entry inside the fort is free but for some places, you can have to pay little amount. The fort is made up of yellow sandstone, is known for its unique designs, and is the only surviving Forts in the World. When you enter this fort, you will feel that you've come to the ancient era. The fort houses several museums and art galleries which showcase the history and culture of the region. Take time to wander the small lanes of the fort and immerse yourself in the different views of the Fort. You can find various souvenirs at the shops located in the fort.
2. Find Peace at Jain Temples
The set of Jain Temples is situated in the middle of Sonar Fort. This is a group of 7 temples has been constructed with similar stones. These old temples were built between the 12th and 15th centuries. Jain Temple is dedicated to the ascetics of the Jainism Pilgrimage, which is an integral part of Jainism. When you enter the courtyard of the temple, you will find immense pleasure and peace within you. Famous for their architectural style, the walls of these temples are decorated with beautiful paintings. Tourists can see Dilwara-style paintings, beautiful birds, and human figures on the walls of the temple.
Timings: 9 AM to 12 PM.
3. Mesmerized by Patvon Ki Haveli
After visiting the Fort and temples, we headed to Patvon ki Haveli, which is the largest and most important haveli in Jaisalmer. A wealthy business had been built this haveli for his 5 sons, is now become a famous tourist attraction. It is a group of 5 havelis made up of yellow sandstone and it took around 50 years to build. In true Rajasthani style, these grand buildings are a work of exquisite artistry and craftsmanship. This haveli is beautiful from the outside as well as from the inside you will be blown away by its unique atmosphere. The paintings and glasswork inside the haveli will take you to a different world. Many domestic and International tourists visit every year Jaisalmer to visit this beautiful place.
Timings: 9 AM to 5 PM.
4. Relaxing at Gadisar Lake
Situated 1.5 km from Jaisalmer Fort, Gadisar Lake is one of the best relaxing and beautiful things to do in Jaisalmer in 2 days. After having our lunch, we moved to Gadisar Lake which was our final destination of the first day's Itinerary. This lake reflects the history of Jaisalmer. Palaces, Canopies, and Temples are built on the banks of the river that seem to be floating in the water which looks mesmerizing and adds charm to its beauty. We simply immersed ourselves in the calmness of the environment. Some people were meditating, some were reading, and some were enjoying boating in the lake. A 30-minute boating ride will give you a closer look at the lake. When we came here in February, we got to see many migratory birds. If you want to see those birds, you can visit here in winter. If you want to catch a picturesque view of sunrise then you can come here in the morning. Since it was our first time, we weren't about it. Talking to other tourists revealed how amazing it looks at sunrise.
Timings: 6 AM to 6 PM.
Jaisalmer DAY 2 Itinerary
On the second day, you can start your day by visiting the Tanot Mata temple, and after that can enjoy the whole night in the SAM dunes.
5. Tanot Mata Temple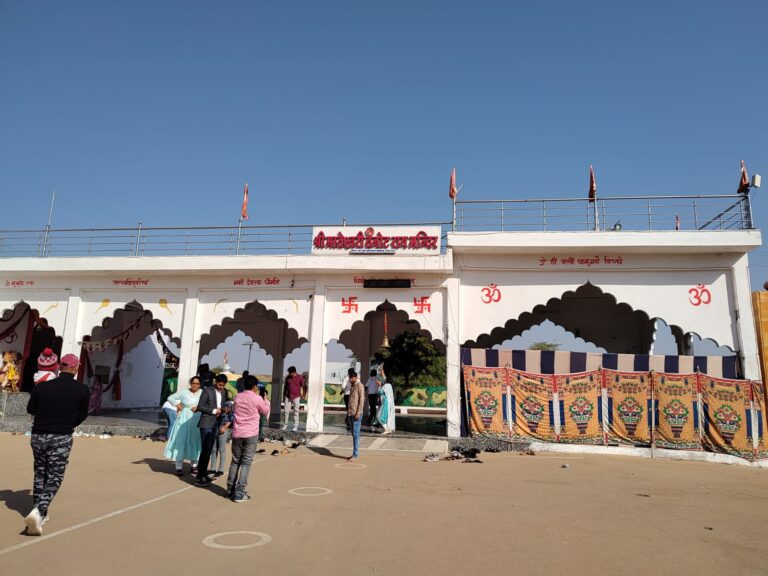 As the Tanot Mata Temple is 120 kilometers away from Jaisalmer, so we left the hotel by 8 AM after having our lunch. It took 2 hours to reach here. This temple is situated on the India-Pakistan border. This temple is believed to be the family Goddess of Bhati Rulers and is about 1200 years old. It is said that during the Indo-Pak war of 1965, about 3000 bombs were thrown at this temple, out of which 450 did not explode. These bombs could not shake the foundation of this ancient temple. These 450 bombs have been kept safe in the museum built on the temple premises.
6. Laungewala War Memorial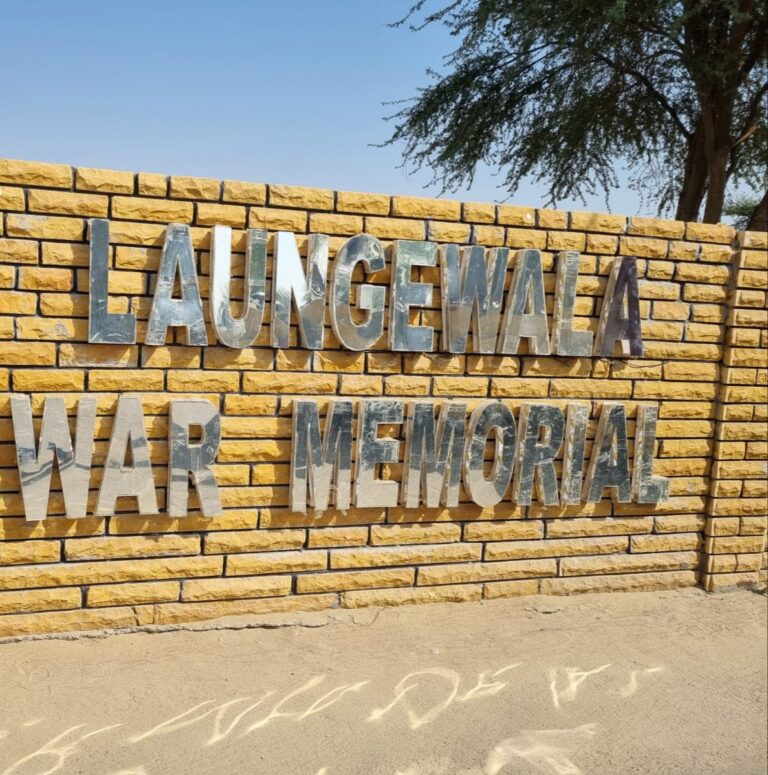 After that, we headed back to the Laungewala war memorial. The museum has been built as a memorial to the memory of Indian soldiers who laid down their lives to protect India's pride and self-respect in the wars of 1965 and 1971. Many war trophies, tanks, weapons, guns, combat vehicles, and many other things are displayed in the museum.
7. Enjoying Desert Safari
After having lunch at The Thar Family Restaurant, now the best experience of Jaisalmer was waiting for us and that was Sam Sand Dunes. Situated amidst the Thar Desert, these dunes are one of the most popular places to visit in Jaisalmer in 2 days. You will have to see various Desert houses, where you can stay for half-day or a full day according to your choices. Immerse yourself in the dunes while taking a camel safari and indulge in the magic of the dunes to the fullest. Evening and night are the best time to visit the dunes as the silvery rays of the moon cast on the dunes, they shine like a jewel. Apart from Camel safari, one can enjoy many other activities such as Jeep safari and desert camping in Sam dunes. Folk dance and music performances by local artists add to the magical charm of the atmosphere.
Where to Eat in Jaisalmer – Best Eateries and Cafes in Jaisalmer
There are a lot of eateries available in Jaisalmer. We tried different-different restaurants during our two-days itinerary. Jaisalmer is famous for its Gatte ki sabzi, Dal-baati-churma, Ker-sangri ki sabji, and many more. But I highly recommend that Paradise Rooftop Cafe and Jaisalmer Oasis Restaurants are the best eateries where you will find delicious cuisines. As I am a Coffee lover, so I stepped into Kuku Coffee Shop to satisfy my craving for Coffee.
Where to Stay in Jaisalmer – Best Hotels to Stay
If you are looking for luxury or budget-friendly hotels in Jaisalmer, there is no dearth of great accommodation options. We booked our rooms in Hotel Paradise, which has clean and private rooms, with free Wi-Fi and other amenities. So this was our 2-day trip to Jaisalmer and we enjoyed Jaisalmer more than we could have in these 2 days. I hope you will also enjoy this beautiful Golden city when you come here. And don't forget to keep a water bottle with you!