India is the only country, which has continued to worship women's power. Here culture gives us the freedom to set up our own Gods according to our needs. In every village of South India, we will see the temples of Amman (Amma) or Devi. In North India, we will see Vaishno Devi temple, Naina Devi temple, Hadimba Temple, etc. In the Eastern part, we will get to see Kamakhya Devi temple, and in the west, we will get to see Tanot Mata temple, Shri Mahakali Mataji temple, Karni Mata temple, etc.
Festival of Navratri
The Shardya Navratras that fall in the lunar month of Ashmin is considered the most popular and auspicious. This Navratri is commonly known as Maha Navratri. Navratri festival is dedicated to the female form of Goddess Durga, Goddess Saraswati, and Goddess Lakshmi. These three are the symbols of the three dimensions of woman power. They are symbols of Stability, Activeness, Purity, and knowledge. Pandals are decked up and not only elders but also children celebrate this festival with great joy and reverence. In the evening, People go to temples, worship Goddess Durga, and enjoy Garba and dandiya, dance forms of Gujarat. People especially women Fasting for nine days and on the eighth and ninth day, Kanya pooja, a ritual in which pre-pubescent girls are ceremonially worshipped as Goddess. Bengal's pandals or Gujarat-Maharashtra's garba-dandiya from Navaratri to Dussehra, which cannot be compared to any time of the year. Each state has different ways of celebrating this auspicious festival. In this article, You will get a chance to know the different ways of celebrating Navratri in different states, then what are you waiting for? Let us know in which way Navratri is celebrated in which state. Don't forget to read the full article.
GUJARAT
Talking about Navratri, and we do not talk about Gujarat then it would be quite unusual, wouldn't it? Gujarat is quite famous for its Grand Navratri Festivals which last nine days. In this festival, devotees fast for nine days and immerse themselves in the worship of Goddess Durga. The famous folk dances Garba and Dandiya here brighten up the day and night. You can join exciting Garba and Dandiya nights, relish mouth-watering Gujarati food, and pay your reverence to the lavishly decorated temples of Goddess Durga. During the festival, you can enjoy visiting Ahmedabad, Surat, Baroda, Junagarh, and many more places.
KOLKATA
There is no doubt that Kolkata is one of the best places to Celebrate Navratri festival. You can find huge idols of Goddess Durga in every nook and corner of West Bengal. These idols are guarded by elaborately decorated Pandals. This festival is famously known as Durga Pujo or Durgotsav in Kolkata. In these pandals, you will get to see the grand idol of the Goddess Durga in which she is seen killing the demon Mahishasura. The pandals look spectacular. If you want you can meet the artisans who create these pandals and see how they create these magnificent Pandals and idols of Goddess Durga. Women wear white-red sari on the occasion of Durga Puja. They perform dance, sing songs, and offer Sindoor Goddess Durga. Sindur Khela – a most sacred ceremony performed on Vijayadashmi by married women. They apply vermilion on the forehead of Goddess Durga, and after that apply each other. On Vijaydashmi the idol of the Goddess is taken out on an opulent procession and immersed in water.
Find Hotels in Kolkata on Agoda.com
KULLU
The color of the Navratri festival in Kullu district of Himachal Pradesh is unique. While in many areas Navratri celebrations end on Dusshera (the 10th day of Navratri), in Kullu the festival starts on the tenth day which is known as Kullu Dusshera. This festival is celebrated to symbolize the return of Lord Ram to Ayodhya. On this day, the entire valley is decorated with brightly colored decorations. A huge procession is also organized on this day in which the idols of God and Goddesses are taken to Dhalpur Maidan with great pomp and enthusiasm. The entire valley is enthralled with various cultural performances, dances, and music. Devotees from all over the world witness this fair and get a unique opportunity to get acquainted with local culture. The festival lasts for 7 days and ends with the famous performance of Lankadahan on the banks of River Beas.
VARANASI
On the festival of Navratri, the beautiful ghats of Varanasi are illuminated with thousands of lamps and the hymns of Ramcharitmanas keep resonating for the entire 10 days. The famous Ramleela – a dramatic enactment of the life of Lord Rama from the Hindu Epic Ramayana is staged from the very first day of Navratri with great enthusiasm. Navratri pandals are decorated and Goddess Durga and her incarnation are celebrated for 9 nights. The majestic Ganga Aarti is worth seeing. The festival ends up winning good over evil.
Find Hotels in Varanasi on Agoda.com
MYSORE
In Karnataka, the Navratri festival is celebrated as the "Nada Habba" festival. It is a 10-day festival. To see this festival, not only domestic but also foreign tourists show enthusiasm to participate in it. Actually, one more reason is to visit Mysore during Navratri to witness the Mysore Royal Palace which is illuminated with thousands of lights. The most awaited of all the celebrations is the Dussehra Parade on the last day of Navratri in which the idol of Goddess Chamundeshwari is installed on the back of a decorated elephant and taken around the city. This grand procession includes elephants, horses, and camels as well as music bands, dance groups, and decorated floats. If you want to celebrate Navratri with great pomp and show then come to Mysore with your family and enjoy this festival to the fullest.
BASTAR
The color of Navratri is completely unique in Bastar of Chhattisgarh because here Navratri is celebrated for 75 days. Yes, you heard it right. If you want to experience Navratri the tribal way, welcome to Bastar. In this festival, the local Goddess Devi Mavli joins her other sisters, and processions of various deities from neighboring towns reach Danteshwari temple in Jagdalpur city. The deities are carried in beautifully decorated chariots that are made by local artisans.
VIJAYAWADA
Navratri festival is known as Bathukamma Pandunga in Telugu. Bathuka means life and Amma means mother. This festival is dedicated to Goddess Bathukamma and celebrates her as a patron Goddess of Womenhood. Women make flowers heaps in honor of the Goddess Bathukamma, especially using marigold flowers which are arranged in seven concentric layers. These flowers have medicinal properties. They worship these heaps for nine days. On the last day of the festival, this heap is immersed in the river. Here Navratri festival is more feminine than others and women wear traditional attire and adorn themselves. If you want to celebrate this festival with your family and friends then come to Vijayawada and visit Kanak Durga Temple and Manglagiri Lakshmi Narasimha Temple.
Find Hotels in Vijayawada on Agoda.com
TAMIL NADU
During Navratri, Tamil Nadu has a notable tradition of celebrating the festival of dolls, known as Bommai Kolu. Dolls including Gods, Goddesses, Animals, Birds, Farmers, etc. are collected especially for this festival. These dolls have been placed on the stairs. You will find these in every home, shop, and temple. These dolls are kept as if they are narrating some mythological story. Women make huge white rangoli in front of homes and temples to welcome the Navratri festival. While other states of India emphasize the worship of Goddess Durga or Goddess Lakshmi, people in Tamil Nadu emphasize more on the worship of Goddess Saraswati. People worship their kitchen tools, agricultural equipment, account books, etc. and children worship their books. They pray to Goddess Saraswati for all knowledge.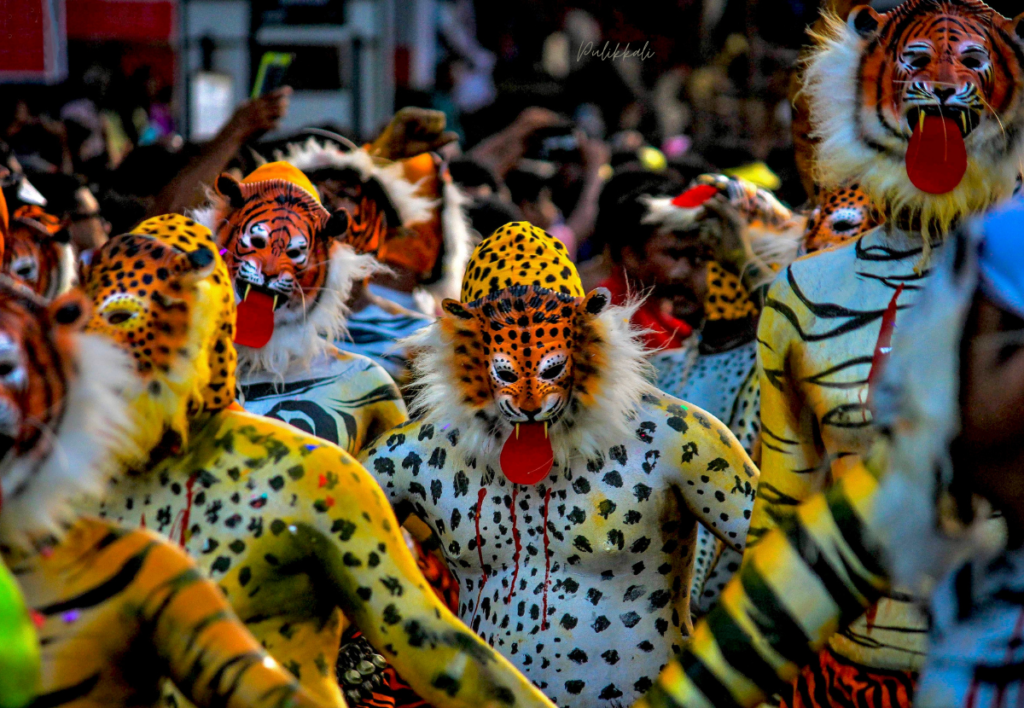 If you want to see Navratri in its full swing then definitely visit a temple. You will get to see the dance performance, Pulikali (Tiger Dance) where the performers portray themselves as tigers and dance in the temple halls. Another dance form is Silambu Attam where the dancers perform dance wearing anklets on their feet and hands which is worth watching. If you visit any house during Navratri, you will not be sent back without coconut, gifts, and offerings.
RAJASTHAN
The way of celebrating Navratri festival in Rajasthan is unique. Fairs are organized in many cities here, of which the Dusshera Fair of Kota is the most famous. Starting from Navratri, this fair ends on Dhanteras, two days before Diwali. This fair has some attractions for everyone like Ferris Wheel, Jumping, Racing, Merry-go-Round, etc. games for Kids and souvenirs for Adults, and many more. Apart from this, on the day of Dusshera, the biggest effigy of Ravana is burnt in Jaipur which is a symbol of good over evil.
Find guided tours on Viator.com
Navratri is one of its kind of festival that lasts for nine days. These nine days are fully dedicated to Goddess Durga. Devotees completely immerse themselves in the reverence of the Goddess. They fast for nine days and enjoy it to the fullest. If you want to celebrate this festival with great reverence and pomp then choose any of the places as each one has a unique way to celebrate this festival in full swing. So what are you waiting for, pack your bags, and let's begin the journey.
Book your flight tickets on Agoda.com
Did you like this post? Then don't forget to like, comment, and share. And share your views in the comments below. I would love to hear from you. Also, contact me If you need any help in planning your trip to any of these cities during Navratri.
PIN IT FOR LATER
Disclaimer: This post contains some affiliate links. That means if you purchase through these links then I will earn some commission, at no additional cost to you. And I can continue bringing you free travel tips and advice. If you found the content helpful and are kind enough to make purchases through my affiliates – A Big Thanks to You!