If you want to relax and get lost in the lush green fields then Alleppey – The Venice of the East is the best place to relax in the ever-present houseboat. Alleppey is a wonderful city in Kerala. Alleppey Backwaters is famous for picturesque views of lush countryside, lagoons, calm backwaters and picturesque canals. Relax in the houseboat, enjoy delicious Kerala cuisine and Seafood, and have a ton of fun on a floating boat. The region is diverse as you will find historical temples, beautiful beaches, spectacular views, endless backwaters, delicious traditional Kerala cuisine and swaying palm trees. To refresh yourself from the tiredness, spending time in the houseboat is icing on the cake.
Best time to Visit Alleppey
The best time to visit Alleppey is between October to March, as this is the time when the weather is cool and pleasant. The temperature is neither high nor you experience rain at this time. You can enjoy to the fullest this time. April to June is considered the hottest months to visit Alleppey. If you can bear the hot and warm temperature then you can come here. This time is also considered off-season. July to September months witnessed heavy downpours.
Must Read: A Complete Kerala Travel Guide for Lifetime Memories
Alleppey Trip Cost
The cost of your Alleppey trip may vary according to your visiting time, transportation mode, activities, accommodations, etc. Here are some helpful budget estimates through which you can plan your trip:
Accommodations: There is a wide range of accommodations such as Houseboats, Hostels, Hotels, Guest Houses, and Luxury Resorts. Ranges start from INR 1000 to INR 10,000 per night.
Transportations: It all depends on how you want to get around Alleppey. If you just want to spend your whole night at Houseboat then the cost is around INR 5000 per night. If you want to enjoy 3 hours of Alleppey backwaters then the Shikara boat is perfect for you (cost around INR 1000/- for 3 hours. ). You can also enjoy other sightseeing in Alleppey or nearby by renting a car or bike per day around INR 800 to INR 1000. and a bus ride would cost around INR 50 to INR 100 per person.
Activities: Alleppey offers you plenty of activities such as exploring backwaters ( by Houseboat, Canoe, Public Ferry, Shikara Boat, etc.), yoga retreats, kayaking, kalarippayattu, etc. The cost may vary according to activities in which you want to indulge.
Overall, the total budget trip cost of Alleppey for 2-3 days is around INR 5,000 to INR 10,000 per person. And the cost of a luxury trip starts from INR 20,000 per person.
How Many Days to Spend in Alleppey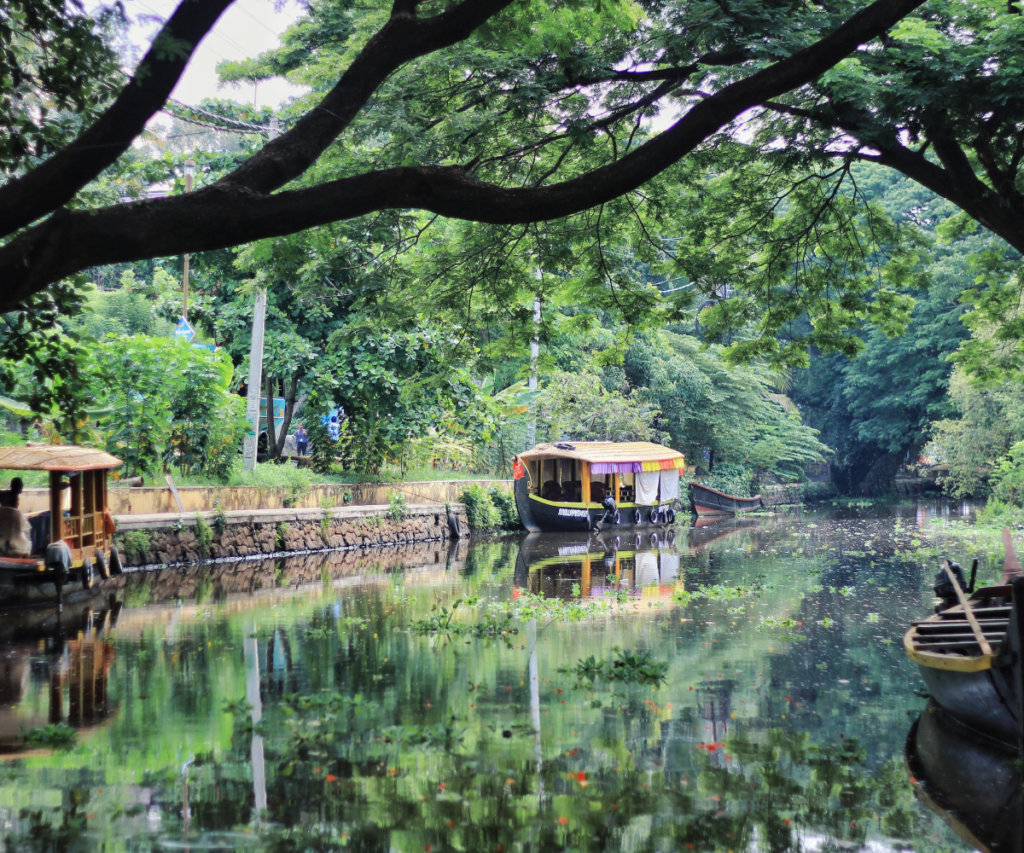 The answer to this question all depends on your choice. If you just want to indulge in Alleppey backwaters by Houseboat then a whole day is enough to spend in Alleppey. But if you want to enjoy other activities along with the backwaters, then a 2-day trip is perfect for you.
Getting to Alleppey Backwaters
By Air: If you're coming to Kerala by air, then the nearest airport is Cochin International Airport. It took approximately one and a half hours to reach Alleppey. You can hire a taxi or take a bus to reach there.
By Rail: If you're coming by train then Alleppey has a Railway Station named Alleppey Railway Station which is well connected to major cities in India.
By Road: You can hire a taxi or take a bus from nearby cities to get there.
You can book your Flight and Train tickets here
Where to Stay in Alleppey
There are many options for accommodations available in Alleppey, so do your research and choose the best fit for your needs and budget.
LUXURY STAYS
Houseboats: Want to immerse yourself in the backwaters? Then a truly unique and luxurious experience is waiting for you. A luxury houseboat offers you amazing views of the backwaters, offer you modern amenities, personalized service, and delicious Kerala cuisine.
Resorts: Alleppey has a wide range of luxury resorts offering luxury amenities. Lake Palace Resort and Lemon Tree Vembanad Lake Resort are some luxury resorts.
Hotels: Alleppey also has heritage properties offering a blend of traditional architecture with modern comfort.
Find Luxury Hotels and Houseboats here
BUDGET-FRIENDLY STAYS
Hostels: If you're a backpacker and seeking budget-friendly hotels then Alleppey offers you a wide range of hostels where you can stay and is also offers two meals per day.
Guest Houses and Homestays: There are several guest houses and homestays at affordable prices in Alleppey.
Backwater Cottages: Backwater cottages do not offer luxurious things but offers you the picturesque views of Alleppey backwaters.
Find Budget Hotels and Guesthouses here
Best Activities to do in Alleppey Backwaters
1. Overnight Houseboat Stay
Tourists usually think of spending time on a houseboat when they hear the name Alleppey. These are basically private floating hotels, just like a mini-cruise! They are perfect for couples, families, and friends. Houseboat gives you the comfort of a perfect home, and you get a chance to relish on home-cooked Kerala food. Most people opt for overnight houseboats which is what I opted for. But if you want, you can also take a houseboat that lasts for 2 nights, or you can choose a houseboat that runs only during the day. I enjoyed an overnight Houseboat tour with my family which I can never forget.
2. Kayaking Tour
If you want to get up close to the local life and immerse in natural scenery then opt for a Kayaking tour. This is a budget-trip and perfect for backpackers. A backwater Kayaking activity is a half-day tour. You can choose either a sunrise or sunset tour. During your Kayaking trip, you can enjoy a sip of tea.
3. Shikara Boat Tour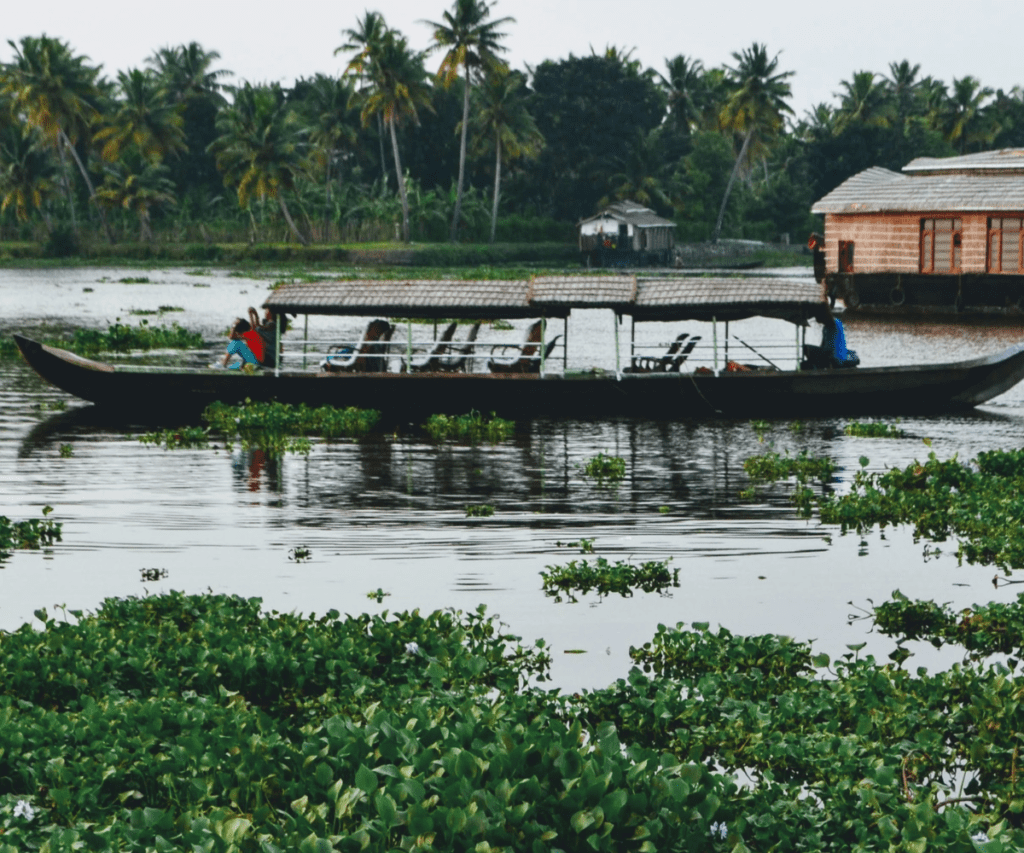 Inspired by Kashmir, a Shikara boat in Alleppey backwaters is a motorboat with a roof over it. Adorned with vibrant colors, intricate wooden work, and comfortable seating, the Shikara boat can hold approximately 8 people at a time. Shikara usually takes you through some of the narrow canals and waterways that cannot be accessible by a large houseboat. The duration of the ride lasts for an hour or two and you can ask for negotiation.
4. Public Ferry
The public ferry is the cheapest way to experience Alleppey backwaters. It is a budget-friendly option to explore the scenic views. The fare of this ferry ride starts from INR 20 to INR 30 per person. You can hop on and hop off like a local. During this trip you will get to see locals going to work, kids going to school, and also some tourists enjoying riding this ferry. You can go for a village walk along the backwaters and enjoy seeing vegetation, birds, and locals indulging in their daily chores.
5. Village Canoe Tour
Most tourists including me, when thinking about Kerala Backwaters, always end up in a Houseboat. But there are other amazing options and the Village Canoe tour is one of them. If you're seeking luxury then you must opt for the Houseboat as it offers you luxurious amenities. But I must say, a canoe tour is the perfect way to enjoy Kerala backwaters. This is an environment-friendly tour that includes visit to a village home, getting to see village life closely, relishing traditional Kerala cuisine at a village home, riding through narrow canals, and 2 stops (Kerala Palm Wine and Coconut).
6. Cycling and Village Walks along Backwaters
Want to do something crazy to immerse yourself in backwaters? Then rent a bicycle or simply take a leisure walk to explore the backwaters and nearby villages. You can stay at any village home and enjoy traditional cuisine. It is a great way to explore nature and its beauty at your own pace.
Find guided tours on Viator.com
Where to Eat in Alleppey
There are various restaurants and eateries that offer delicious traditional Kerala cuisine. When I was in Alleppey, I relished Seafood at Houseboat. I can't tell you how delicious it was. I thoroughly enjoyed it. In the evening, we enjoyed Tea and Biscuits while enjoying the scenic views of backwaters. At night, I enjoyed Chicken Curry and it was the best chicken curry I have ever eaten.
Nearby Attractions of Alleppey
If you're in Alleppey 2 to 3 days then you can go for nearby attractions which are a few kilometers away from Alleppey.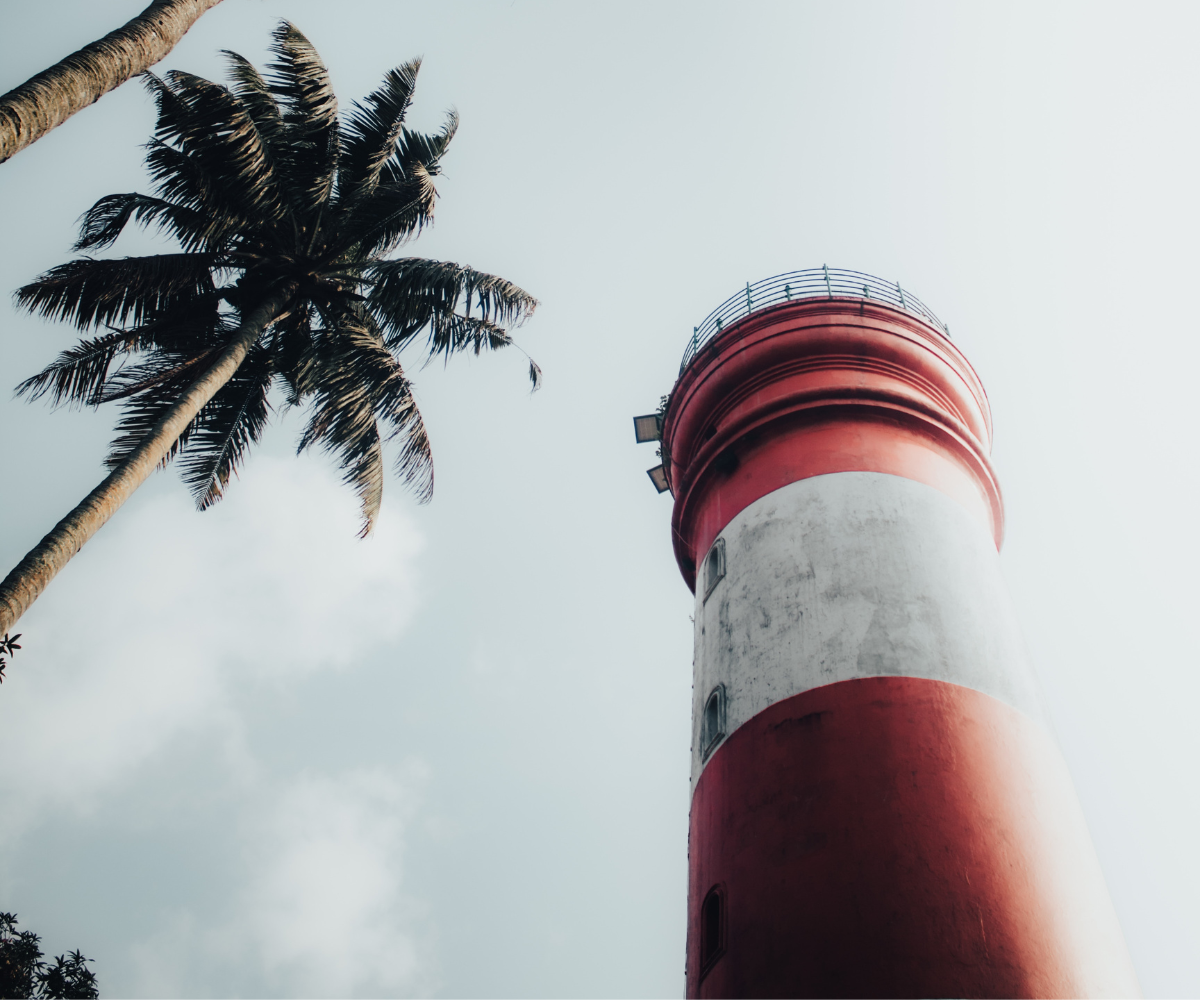 Alleppey Beach: It is a popular spot where you can relax, take a stroll along the beach, or simply enjoy your favorite drinks while seeing the coastal views.
Kumarakom Bird Sanctuary: If you are interested in bird watching up close then Kumarakom Bird Sanctuary situated on the banks of Vembanad Lake is perfect for you. It is home to a wide variety of bird species, including both resident and migratory birds.
Krishnapuram Palace: If you are interested in historical palaces, then hop on to this palace, which houses one of the largest murals in Kerala, Gajendra Moksham Mural.
Chettikulagara Devi Temple: This temple is dedicated to Goddess Bhagwati and is known for its grand annual festival and colorful procession. Come and get indulge in the reverence of Goddess Bhagwati.
Alappuzha Light House: If you're interested in history and architecture then Alappuzha light house is a must-visit place for you. This iconic and beautiful lighthouse offers a glimpse of the rich cultural history of Kerala and breathtaking views of the surrounding area. It also serves as a beacon for ships and boats.
St. Mary's Forane Church: It is one of the oldest Christian churches in Kerala which is known for its beautiful architecture.
Essential Tips
Make your trip plan in advance which includes bookings of accommodations, mode of transportation, the houseboat, and other desirable activities.
Always consider the weather before making a trip to Alleppey so that you can enjoy it fully.
Always carry light clothes, sunscreen, hat, essential medicines, etc.
Must respect local customs and traditions. When you're visiting a temple or church always wear appropriate attire and remove your shoes before entering. Always ask for permission while capturing pictures of people.
If you're visiting villages, towns, or local markets then must carry some cash with you.
Always carry a refilled water bottle with you to avoid dehydration and it is also best for nature.
Don't miss the opportunity to relish mouth-watering Kerala traditional cuisines including Veg, and Sea Food.
While doing bargaining in the local market do it appropriately.
If you're getting around nearby attractions of Alleppey then rent a car or taxi or simply use ride-sharing apps. You can also go for public transport.
Be a mindful tourist. Always consider nature as your first priority, do not litter here and there.
English is widely spoken in tourist places but if you want you can learn basic Malayalam to interact with locals.
Enjoy Festivals and Events at Alleppey
If you want to enjoy festivals and events that occur in Alleppey then you can plan accordingly so you can enjoy your trip as well as take part in different events and festivals.
Alleppey Beach Festival: If you are planning to visit Alleppey in December then you can enjoy this festival as it takes place this month. It is a five-day event which offers local culture, lively art, and traditional music.
Onam Festival: Onam is the main festival in Kerala like Diwali which lasts for 10 days. In this festival, Keralites adorn their houses with colorful Ragolis made up of colorful flowers and they organize a grand feast in which they make traditional cuisines and serve their relatives.
Nehru Trophy Boat Race: It is one of its kind of event that takes place in Alleppey on the second Saturday of August. This event truly attracts tourists and takes place on Punnamada Lake. Various teams compete in long and narrow boats known as snake boats that hold up to 100 rowers. This event offers a spectacular display of rowing skills and coordination.
Did you like this Ultimate Alleppey Backwaters Trip Guide? Feel free to comment below, and don't forget to share it with your friends and community.
Disclaimer: This post contains some affiliate links. That means if you purchase through these links then I will earn some commission, at no additional cost to you. And I can continue bringing you free travel tips and advice. If you found the content helpful and are kind enough to make purchases through my affiliates – A Big Thanks to You!